A rather grey, showery day greeted me as I loaded my car with kit ready for the annual Good Friday match at Perry St Pond. There were some faces I hadn't seen for ages at the draw including Scott and Roger Russell and Alvin Jones, were we to be mugged again? It was time for the draw and once again my drawing hand deserted me and I pulled out poxy peg 2 – not good. The only good news was that I had Steve Chant on peg 1 so at least I would have a laugh.
I made myself comfortable and started setting up my usual two rigs, one for 11.5 metres straight out and a little margin rig for the right hand side. This would also double up as a shallow, up in the water rig if the fish started showing. For bait I had maggots, pinkies, corn and pellets. I was hoping Steve would frame but this still wouldn't make winning the section any easier as I had Alan Dunn, Scott Russell and Alvin Jones on my left. Scotty was going to fish the pellet waggler and had loads of pellets so it would be interesting to see how he got on.
On the whistle I cupped in some maggots, pinkies and pellets on the long line and the same plus corn on the inside. I started out with double red maggot on the hook and it wasn't long before I started to get bites and was soon swinging in a small skimmer. In the first hour I had three skimmers and a roach, Chanter on the other hand got off to a flier and had three tench! Not much else seemed to be happening, Steve Bishop opposite on peg 18 had lost two carp but that was about it.
I came on the inside and the float shot under but it was only a tiny rudd, what did become apparent was that there were loads of brambles under the water where I had fed and I kept getting snagged up. I saw a couple of carp move so tried my shallow rig for a bit while constantly flicking a few maggots over the top but I never had a bite. Scotty's pellet waggler didn't seem to be the answer either as he hadn't caught on it yet. Dunner was struggling and only catching the odd small fish although Alvin Jones had landed a small carp.
By now we were a couple hours in, Chanter had slowed up and Mike Thomas was catching him up in peg 20 and had landed a couple of carp. I tried the longer line with my bottom rig and had another skimmer before catching a decent eel which I was sure wouldn't be in my net come the weigh in. Les wandered by, he had drawn peg 10 again but had only had a couple of carp. Nobody down our end seemed to be catching, apart from the odd small fish. Scotty was still feeding pellets like they were going out of fashion (it's a good job he owns a tackle shop!) but the carp still weren't playing ball.
I flirted with the inside line again but every put in I got snagged and at one point ended up with the tip of the float embedded in my finger – ouch! Pegs 1 and 20 (Chanter and Mike T) were having a right peg to peg battle although Chanter was currently just on top with a carp to add to his earlier tench, Mike was now on three carp. The rest of us were just going through the motions although Steve Bishop had landed a carp and Scotty had finally got one to surrender under the constant hail of pellets! Another look on my long line saw me add another skimmer to my bulging net!
I decided my best chance of hooking a carp was on the inside so fed up with getting brambled up, I plumbed up a little further out where it was also a little deeper. Using just a pole mounted toss pot (no, not me!) I kept small amounts of feed going in, a couple of early indications soon gave way to me sitting like a gnome once again. Reports suggested that Les was getting a few although my nemesis Janders was on the opposite corner peg, number 11, and had only had one carp. Cheeky git, when he drew it he suggested we up our side bet to a fiver!
After three and a half hours I finally hooked a carp and was mightily relieved to net it, a bit later on a better mirror of around 4lb joined the first one in the net and I started to think a good last couple of hours might even see me push Chanter or Mike. At the least I was now in a good position for the section, as long as Chanter framed. The scores on the doors for them was now 5-4 in Chanters favour. Dave Abrams opposite me even got in on the act with a carp of his own (although he was fishing Mikes peg!)
Time was ticking by and apart from a bumped fish there was no more action for me, a few people were even packing up early and Roger walked past me to see how Scotty was getting on. Just as he reached him Scotty hooked and landed a good tench with only five minutes to go, had he pinched the section off me right at the death? Les shouted the all out and I think the majority were relieved as it had been pretty dire.
As always the weigh in started at peg 1 and Chanters three tench and two carp went 12lb 12oz. I pulled my net out and was amazed to see the eel was still in there, I weighed 9lb 4oz and one more fish would have seen me a lot closer to Steve's weight. Dunner didn't weigh and Scotty's carp, tench and silvers saw the needle stop just short on 9lb 1oz. When Alvin weighed 3lb 8oz I was praying that Chanter would frame. Nobody else had much until we got to Steve Bush on peg 7, he'd had five carp (and lost five) for 13lb 4oz. Steve lead until we got to Les who'd had six carp and three tench for a level 29lb and I knew he'd win with that.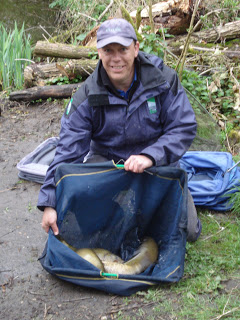 Chanter with his 12lb 12oz catch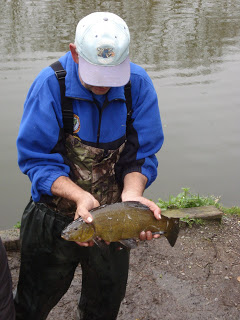 Les with one of his tench
Picky had only weighed 3lb 6oz from peg 9 and handed over his quid, things got better when Janders only had one carp from peg 11 and all of a sudden he didn't seem so keen on upping the bet to a fiver! Terry Niblett came close on peg 14 with 10lb 10oz and then the weights dropped again until we got to Mike T who had four carp for 12lb 8oz. Apart from Les it had been pretty close and one more fish would have rocketed me from sixth to second so once again I wasn't too far off. Still I picked up £30 for my section to keep the winnings ticking over.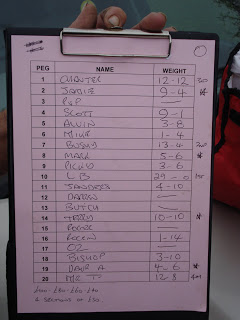 The weighboard (not great reading!)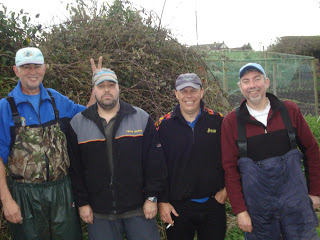 The top four (from left to right) – Les Braunton, Steve Bush, Steve Chant and Mike Thomas. I'm not sure why they're all at an angle – must have been rough at sea!
On Sunday we're off to Frome to fish Chris's pond so lets hope I can catch a few then, I'll update you with how I get on.
1 – Les Braunton (Chard Remains) – 29lb
2 – Steve Bush (Chard) – 13lb 4oz
3 – Steve Chant (Chard) – 12lb 12oz
4 – Mike Thomas (Chard) – 12lb 8oz
Sections
A – Jamie Rich (Chard Remains) – 9lb 4oz
B – Mark Leahy (Street) – 5lb 6oz
C – Terry Niblett (Sillybait) – 10lb 10oz
D – Dave Abrams (Weymouth) – 4lb 6oz