No rain on Saturday and although some was forecast for Sunday, it was all looking good for us to actually get on the river today. Loading the car up, there hadn't been a frost overnight and the dashboard display was reading five degrees so hopefully we should be in for a few fish today. I got to the pub hoping we'd be on the top end but the general consensus was for us to head to the lower end. Rob decided to use Redbridge and Isle Brewers and with all the pegs being possible winners I wasn't too bothered where I drew. I pulled out 109 at Redbridge and was happy with that as Heardy had done 16lb 8oz of roach off it in the Xmas Fayre.
On arriving at the river it had quite a bit of pace and a tinge of colour and things looked all set for a roach fest. My peg was pretty featureless, just a long straight leading up to some overhead wires, I was a little concerned while setting up that I hadn't seen a fish top which I thought might be a bad sign. With (hopefully) roach on the agenda I set up a 1.5 gram Drennan Trio to inch through overdepth in the flow and a 1 gram Top bodied float to run it through just off bottom. Both rigs had 0.12mm bottoms and size 18 B611's (a little heavy for roach I know but I could always scale down if I wasn't getting bites) with light elastic through the top twos. Bait was the usual maggots, casters and hemp.
I was just about ready and Fieldy wandered down from peg 108 and said he was getting small fish scattering which was probably a jack pike lurking about, still at least he knew there were some fish in his swim. He went back to his peg and it was time for us to start, I baited up with double red maggot and shipped out to the middle and fed some maggots and casters upstream and some hemp straight out in front of me. Normally if you are in for a good day's roach fishing, you'll catch quite quickly, I was inching the float through but after 20 minutes I hadn't had a single indication and was starting to worry.
Then I've had a bite and the strike saw loads of my light elastic come streaming out of the pole, this was no roach! I was thankful I'd started with the heavier hooklength and with no real snags about I was soon netting a chub of around a pound and a quarter – bonus! Next put in I missed a bite and then I had chub number two, this one was about 1.5lbs and I'd got off to a great start. Chub number three soon followed and then number four and number five!!!! The biggest one was nudging 2lb and after an hour I'd already had five chub for probably 7.5lb. I was sure this couldn't last but hopefully I'd start getting a few roach as well.
Going into hour two, the float went again and chub number six was on, this was another around the 2lb mark and I just couldn't believe what was happening. The swim didn't look chubby at all and it was a little concerning that I couldn't catch a roach. Then I saw Justin (who was down in the weirpool on peg 120) on top the bank with his landing net running downstream and I was guessing he'd dropped something in the river! Fieldy walked down to see what I'd been netting and when I told him I'd been catching chub he seemed a tad surprised too. He said he'd had a couple of roach but it was a bit of a struggle so for whatever reason the roach seemed to have shut up shop today. I now couldn't buy a bite and was pinning my hopes on getting a few as the light started to fade in the last hour or so.
Just after Graham walked back to his peg I brought the rig in to discover one of the two red maggots was ragged right out and this renewed my interest somewhat. Then Justin came up and said he was struggling too with just a few small fish in the net and his cause wasn't helped by dropping a pole section in the river – whoops! While he was with me I had another sucked maggot where I hadn't seen a bite and I felt sure it was only a matter of time before I added to my six fish. I tried caster and double bronze maggot with no response and went 13 metres down the swim but nothing.
I kept going through the motions waiting for the 'golden' last hour, I guessed Fieldy was getting odd fish as he hadn't been back down and I also felt the pegs at Isle Brewers would do a weight as well. I still hadn't seen a fish top and just couldn't buy a bite anywhere. The last hour arrived and went without incident and I ended up with just the six chub, I couldn't believe I hadn't caught a roach or even a minnow! I had the scales yet again so packed up and walked down to weigh Justin in, he started getting odd small fish near the end and weighed 1lb 11oz.
Me and Fieldy helped Justin with his gear back to my peg and then they weighed me in, my six fish went 9lb 12oz so I wasn't too far out with my estimate for once. We then walked up to weigh Fieldy in and he had found a few more roach to finish with 1lb 14oz and just pip Justin. I still felt pegs 124 or 126 could beat me but hopefully I'd done enough to frame. Back at the results and Steve Parker had blanked in 124 and Rob had 5lb 13oz from 126 so I'd won my second match of the year. With the depleted turn out I picked up £30 but it all helps my holiday fund!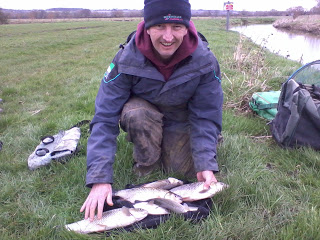 My six chub, caught in just over an hour!
1 – Jamie Rich (Against Men and Fish) – 9lb 12oz
2 – Robin Cox (Ilminster) – 5lb 13oz
3 – Graham Field (Taunton) – 1lb 14oz
Well an enjoyable day although some roach to top my net up would have been nice, in the league I'm still leading with 79 points followed by Rob and Graham who are both on 67. With one match to go, I don't think I can be caught. Next week it's the open so come back next week to see if I can keep this good run going.