After going to watch Ilminster's juniors on the canal last Saturday, I was off to watch Chard AC's youngsters at Perry St Pond this week. There was a good turnout of ten with a few faces I recognised from last week including George Baker, Clifford Richardson and Courtney Pas. Most of the youngsters were fishing the short pole and catching carp, skimmers and small fish.
Fourteen year old Charlie Rudkin was on peg 2 and had landed a nice carp but had lost one as well, Ethan Collins (eleven years old) on peg 3 was being looked after by Butch Baker and was doing okay. On the next peg was Clifford Richardson who had expressed his wish to catch an eel on the canal last week but didn't manage to get one, his wish was granted this week though as he'd caught a small one of around 4oz.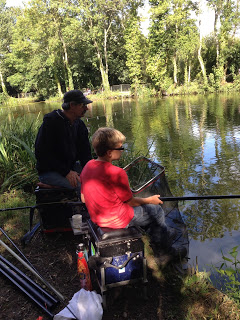 Eleven year old Ethan Collins was on peg 3
Last weeks winner, Courtney Pas was the next peg along and getting a few and young nine year old Sam Dunning on peg 6 had landed a couple of nice carp and was amongst the early leaders. The next peg was number 12 on the other side and thirteen year old Bobby Lord was being assisted by Steve Bishop and had landed three carp of his own. Little George Baker was on peg 13 and catching some nice skimmers on soft pellet.
Fourteen year old James Battersby was on peg 15 and with three carp he was in with a chance as well. On the next two pegs were brothers Ben (fourteen years old) and Matthew Adams (eleven years old), Ben had landed a carp but Matthew was struggling a little bit but was catching roach, rudd and perch on the waggler.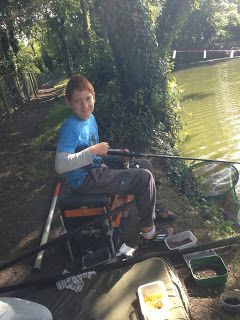 Eleven year old Matthew Adams was catching on the waggler
Again I have to say it was lovely to see so many adults and parents giving up their time for the youngsters, they even had flasks of tea and donuts to keep them going, the donuts were lovely so thanks to Mike Collins for them.
With an hour to go there were several youngsters with four carp and it was anybody's guess who would win this one. I was back behind Bobby on peg 12 when he landed his fifth carp and he looked like he would be heading for first spot. But then across the pond, young Sam on peg 6 had another carp and as we approached full time he latched into another which he landed after the whistle.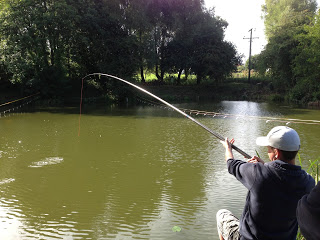 Fish on!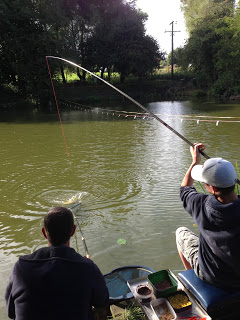 A nice carp is safely netted for Bobby Lord
After they all packed up we gathered at peg 2 to start the weigh in, Charlie had 5lb 10oz before Ethan just pipped him with 6lb 8oz and then Clifford had 4lb 6oz and he had caught his first eel! Courtney had done well again and weighed 7lb 14oz to go in to the lead.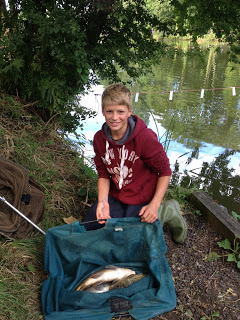 Charlie Rudkin had 5lb 10oz in peg 2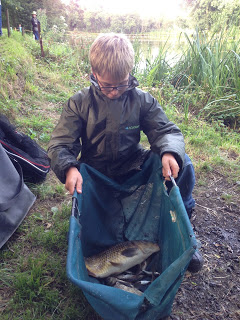 Eleven year old Ethan Collins had a lovely carp in his 6lb 8oz catch
Clifford Richardson had this nice bream (and don't forget the eel!) from peg 4 for 4lb 6oz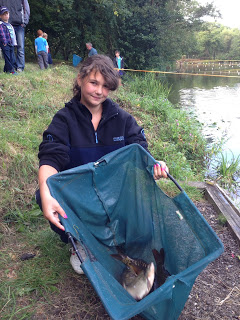 Courtney Pas had done well again with 7lb 14oz from peg 5
Then Sam put 15lb 14oz on the scales to go in front before we walked around to weigh the other side. Bobby's five carp weighed 18lb 2oz to push Sam down into second and then we got to five year old George who had caught some lovely skimmers in his 10lb catch.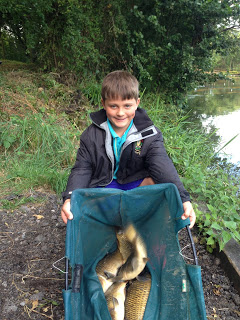 Nine year old Sam Dunning came second with this catch of carp weighing 15lb 14oz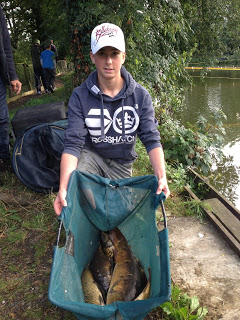 Thirteen year old Bobby Lord won with this great catch of 18lb 2oz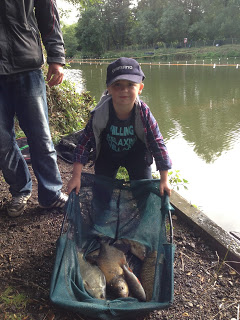 Five year old George Baker had some lovely skimmers in his third placed 10lb net
James on peg 15 had 8lb 4oz before Ben had 3lb 14oz to claim the bragging rights over Matthew who had worked hard for his 14oz.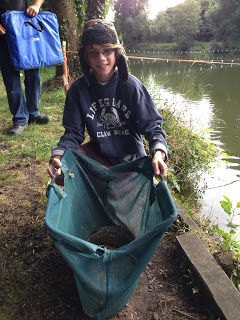 James Battersby came fourth with this 8lb 4oz catch from peg 15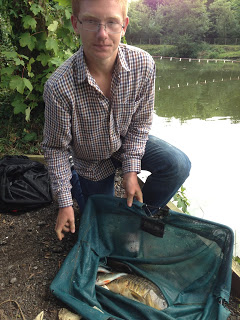 Fourteen year old Ben Adams had 3lb 14oz from peg 17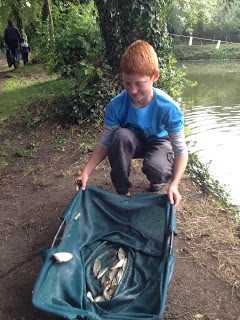 And his brother Matthew (eleven years old) had 14oz from peg 18
1 – Bobby Lord – 18lb 2oz
2 – Sam Dunning – 15lb 14oz
3 – George Baker – 10lb
4 – James Battersby – 8lb 4oz
5 – Courtney Pas – 7lb 14oz
A huge thank you to the sponsors Bait Tech, Tackleuk, Dave Lawrence and Clarke & Cridge and it's great to see tackle and bait firms putting something back into the sport and also local firms supporting the youngsters.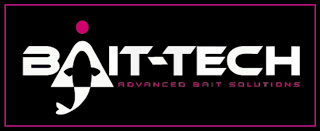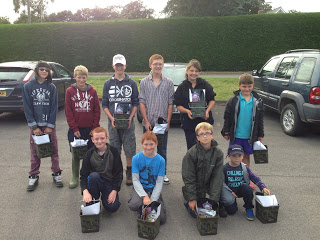 All the anglers took home a goody bucket supplied by Bait Tech
Next week there is an Ilminster AA junior match at Dillington fishing from 2pm – 5pm, names to Scott Jackson if interested.