The weather was gorgeous again and it was starting to look like Spring had actually sprung! I met Rob at the Little Thief and we headed to Bridgwater, on arriving the car park was rammed as there was a match on Longs as well today. With a good turnout of sixteen for our match, the net bins were almost empty, the other match had already drawn their pegs so we paid our pools and the lovely Adie made us a coffee. As per usual I had one of the last balls in the bucket and was a little disappointed when I pulled out peg 15, now don't get me wrong it's one of the best pegs on Sellicks, a proper flier but for a carp and as you all know I like to fish for silvers. Still I had done alright off it last time so maybe lightening will strike twice! I had side bets with Reece and Rob on silvers today.
When I was on this peg last Sunday I had Ray Wickham on my left and Martin Addicot on my right, this time they were both in the same area again as well but Ray was on 14 with Martin on 13. Jess Jordon was on 17 and it was also the golden peg, also if you win the silvers off a golden peg you pick up half the pot which I think is a cracking idea as a lot of anglers just fish for silvers. I set up two Malman Pencils, a 0.4 gram and a 0.6 gram, both with 0.10mm bottoms and size 16 Tubertini 808's. Bait was dampened micros plus some Bait Tech 4mm and 6mm expanders.
On the whistle I cupped in half a pot of micros on two lines at 10 metres and the same at 5 metres. I started on the line straight out in front with a 4mm expander on the hook and my first bite resulted in a foulhooked carp which came off so I switched lines to the left hand 10 metre line and hooked another carp which gave me the run around and came off as well, this wasn't going too well! I did manage a 4oz skimmer off this line before the first hour was up to get me off the mark. Jess was having similar problems and had lost several foulhookers on the trot and Ray had lost a couple too.
I had a couple of small carp off the left hand line but also added a couple of decent skimmers and they settled me down a little bit. It was already looking like it might be fishing hard and with lots of carp moving about and getting foulhooked I wondered if they had other things on their minds! I tried the 5 metre line for the first time and had another 4oz skimmer and followed this up with another decent one and was getting quite a few indications.
Both Jess and Ray were still losing fish and there was a lot of head shaking going on, I couldn't really see how Martin was getting on but I hadn't heard any moaning yet! I lost what felt like a decent carp when it did me in the lilies and had to tie another hooklength on. I was getting odd skimmers from the left hand 10 metre line and the short line but hadn't caught off the other line straight out in front of me but I kept toss potting in some feed there and trying it for five minutes or so.
By the half way point I had about 9 skimmers and 4 carp and was doing as well as anybody I could see on our side and then in a carbon copy of the last match I started struggling for bites. I kept swapping between my three lines but bites were now very few and far between. Going into the last hour or so I was up to 12 skimmers and thought I must have around the same weight as the last time I was here (5lb) and felt I needed a couple more decent skimmers. Then I had another carp off the short line but then bumped a skimmer before losing a carp from the 10 metre line when I really should have taken more care.
Time was running out and I hadn't added any more to my nets when I've hooked another carp from the short line and that one did me in the lilies as well! After tying on another hook I just about had time to go out again and managed a 4oz skimmer on the whistle. Lost fish seemed to be the order of the day as I'd lost four or five carp, Ray had lost half a dozen and Jess had lost nine! To be fair I think the majority had been foulhooked and they just weren't feeding properly today.
I took my kit back to the car and Rob had caught a couple of nice carp but had lost several as well and when Reece said he'd only caught a couple of bits, I should at least have two nuggets to come! With Pete not fishing him and Adie were soon starting the weigh in on the other side and I caught up with the scales as they weighed Martin in. He'd weighed 12lb odd and looking at the board I was amazed to see the top weight so far was a lad called Adam on peg 6 with 18lb 1oz and he was also leading the silvers with 5lb 5oz. I was starting to wish I'd taken my time with a couple of those carp!
Ray had some decent lumps and went into the overall lead with 22lb 6oz and then it was my turn, my carp went 13lb 8oz and then my silvers weighed a level 7lb to give me 20lb 8oz and I was just short of Ray's weight although I was leading the silvers. Jess had 23lb 3oz and went into the lead for a bumper payday, Andy next door had 15lb 2oz and then Reece had 23lb 6oz meaning he had stopped the golden ball going by 3oz! Bill 'The Redfin' Hopping had 21lb 7oz and the weights were incredibly tight with only a single carp separating the top five. Rob's two carp went 6lb 8oz but he had lost several as well and said he'd really enjoyed it once again.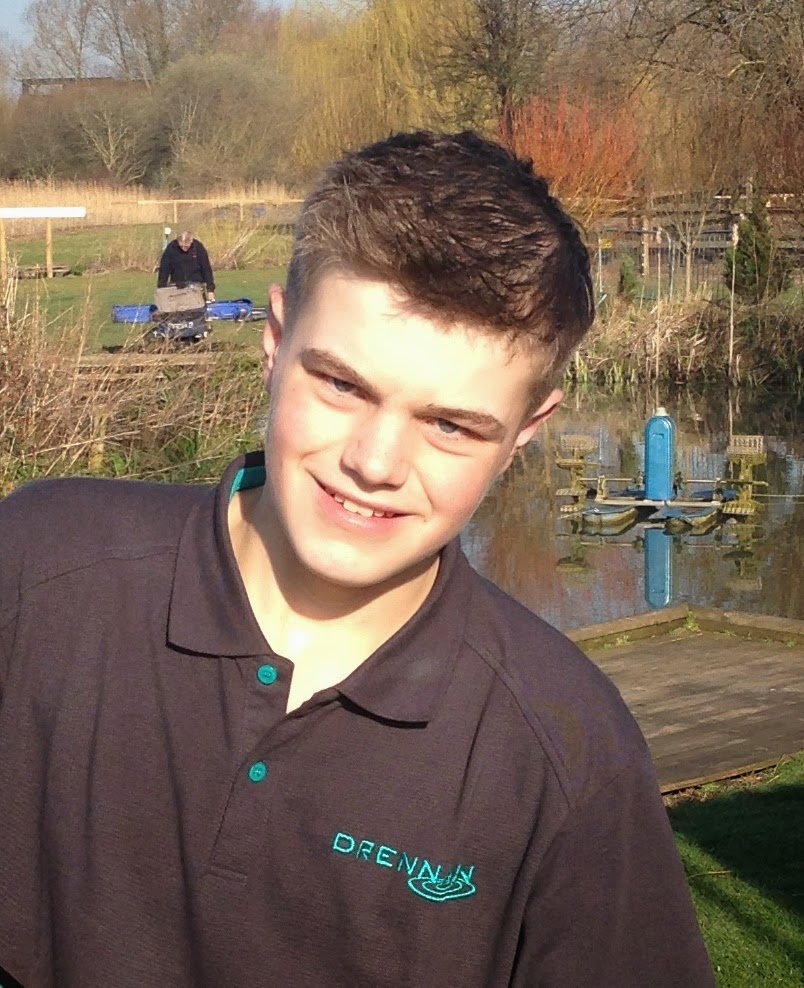 Reece was on the winner's podium again.
Back at the hut for the results and Reece was confirmed as the winner with Jess second, Ray third and Bill fourth. I won the silvers and picked up a nice little envelope with £42 in it and Adam was second in the silvers. To be honest I really should have done better and that's twice I've drawn this peg and should have won off it but the others also lost enough to win it too.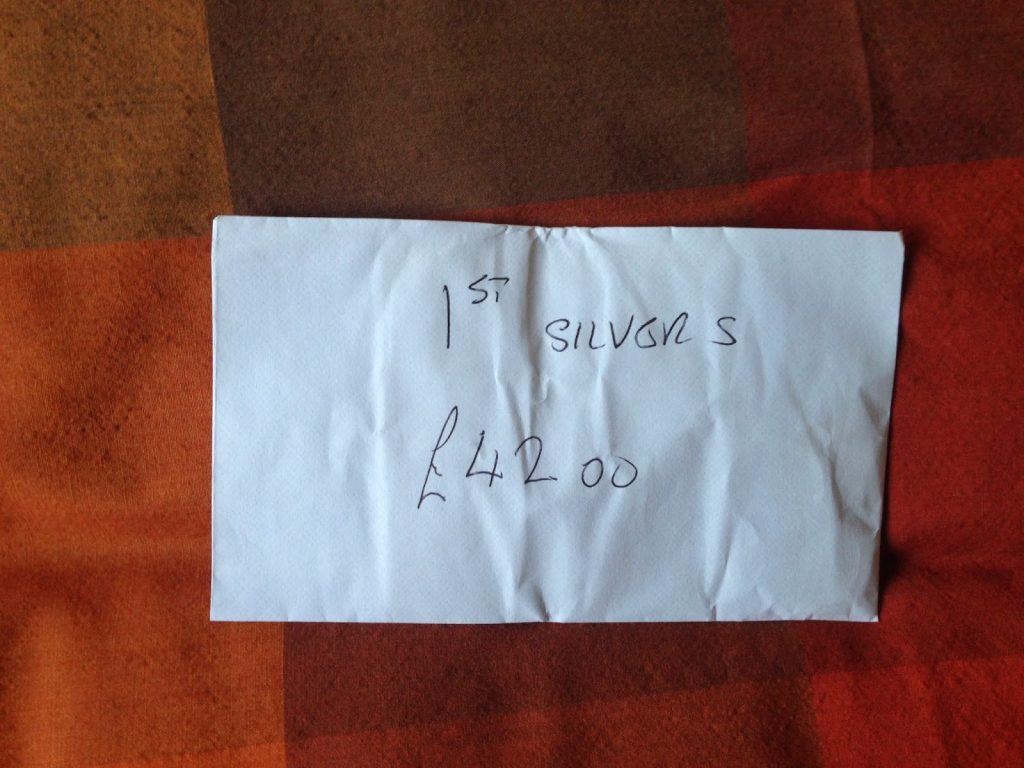 A nice little envelope today
1 – Reece B (Summerhayes) – 23lb 6oz
2 – Jess Jordon (Summerhayes) – 23lb 3oz
3 – Ray Wickham (Summerhayes) – 22lb 6oz
4 – Bill 'The Paste King' Hopping (Summerhayes) – 21lb 7oz
Silvers
1 – Jamie Rich (Against Men and Fish/Burt Baits) – 7lb
2 – Adam (Summerhayes) – 5lb 5oz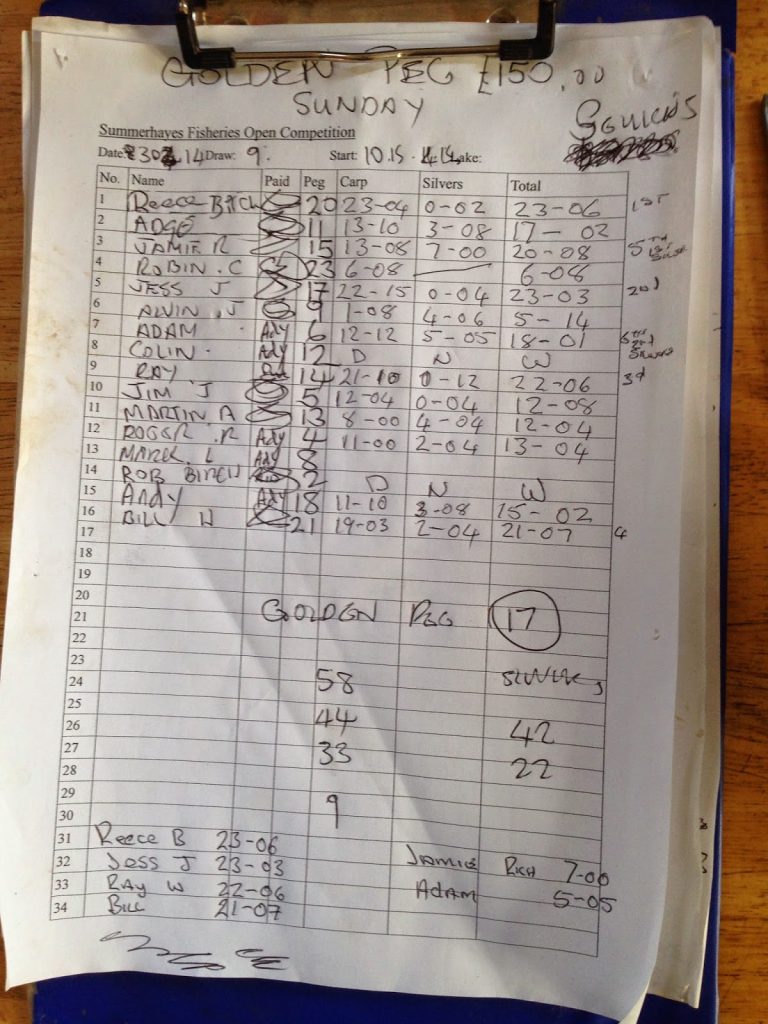 A very tight frame today
So another good result and a very profitable March! I'm back again next week and it's on Longs I think so come back to see how I get on then (peg 34 please!).
Next up – Summerhayes
What's new – Lots of page updates
Check Out – My last match (below)
Blog of the week – The Silverfox had a good day at Trinity Waters today – Mike's Blog