After seeing all the posts on Facebook about the Northern Angling Show last week, I was really looking forward to seeing all the new gear being released this year at The Big One. We got there around dinnertime and first stop was the Daiwa stand where we had really nice chat with Bob Roberts, what a top bloke and he showed us some of the new Prorex predator range, it looks the business and I would love to do some more of the type of fishing, maybe this year!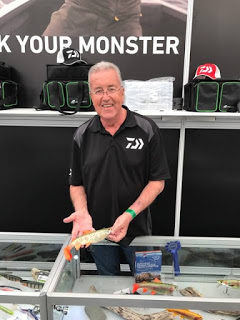 Bob Roberts on the Daiwa stand
We then headed to the Gillhams stand where it was great to catch up with Geoff Akroyd and Daniel Swann and I also met Ian Breslin for the first time, as well as being a mad keen angler, he's the lead singer of punk band, The Outbursts, a fabulously fun and chaotic band, well worth checking out and right up my street. As always I bought some more draw tickets in the hope of a free holiday to paradise.
For the third year running we just couldn't get near Des Shipp, the man is in huge demand and this year he was making rigs for people with his new Preston float range, maybe next year! We checked out Garbolino and said hello to Steve Tucker and Darren Cox before having a long chat with Richie Hull who I hadn't seen since I was in Thailand last year.
It was then time to bite the bullet and have something to eat, the grub is very good but also very expensive, I went for a pulled pork roll and with a coffee it came to an eye watering £9.10 – ouch! The Guru and Korum stands were really busy which is hardly surprising when they were manned by a host of stars including Steve Ringer, Dean Macey, Matt Godfrey, Paul Holland, Ali Hamidi and Adam Rooney among others. Ali was signing copies of his book and posing for photos but despite walking by three of four times during the day, there was always a long queue which was a shame as I would have liked to have picked up a signed copy.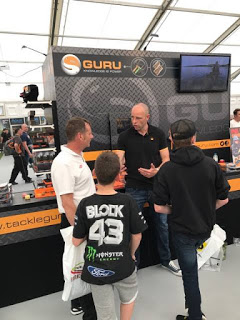 The Guru stand was very busy
We did finally manage to have a talk with Matt Godfrey and what a lovely lad, I can't praise him enough, he seemed genuinely interested in what we had to say and he couldn't have been more helpful, he also agreed do an interview for the blog which will hopefully happen over the next few weeks and I'm quite excited about. Despite probably talking about the same things and answering the same questions all day, he had a smile on his face and it was obvious he is passionate about fishing and his job, an absolute credit to Guru. I bought some of the new Guru micro shot and will try it out over the next few weeks.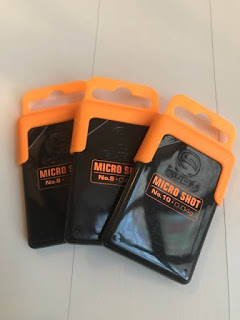 Looking forward to trying the new Guru micro shot
Some of the other big brands should take note because judging by the bored and in some cases, downright sullen, expressions on their big 'stars' faces, they didn't particularly want to be there. I realise being an angler and at the top your game doesn't necessarily make you particularly good with people but at the end of the day, people like me are paying our hard earned money to come and see you guys, c'mon a smile wouldn't hurt!
We also stopped by the Bowler's Thai Fishing stand and had a nice long chat with Martin and his lovely wife.
The new MAP seatboxes were attracting a lot of attention and the one with the carbon frame looked stunning although it should do with a price tag well north of a £1000!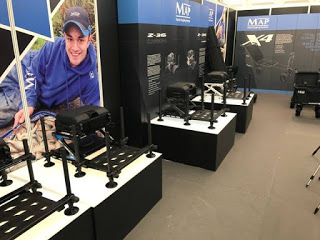 Box porn!
Then it was time to head to the Bait-Tech stand which is always one of my highlights as it's great to catch up with the lovely Hayley, all the new products were on display with some great show deals and I restocked with some of my favourites, Pro Natural Dark and Special G Dark. Such a great friendly bunch and you're always made to feel welcome, I had a nice long chat with Jamie Harrison, Andy Neal and Dean Barlow both said hello and it was great to finally meet Wayne Bartholomew, Phil Spry and Tom Downing in the flesh.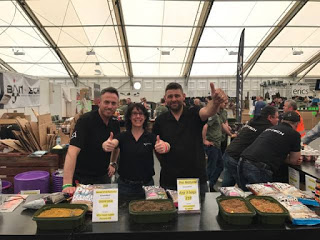 Phil Spry, Hayley Goldsmith and Wayne Bartholomew on the Bait-Tech stand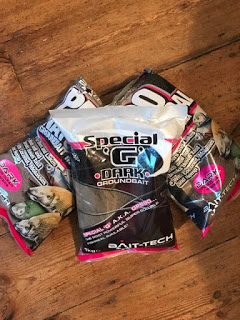 I stocked up with my favourite groundbaits
So another Big One drew to a close and we packed a lot in although there were a few more stars I'd liked to have had a natter with but I say that every year! Walking out we still managed to blag one more star selfie when Dean Macey was in front of us, another thoroughly top bloke, he had a chat about the Big Fish Off and was happy to pose for photos, a great end to another great show.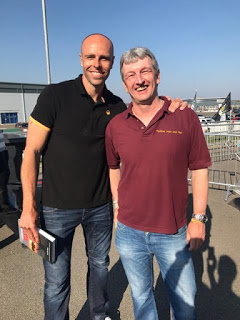 What a top bloke
Next up – Summerhayes
Coming soon – Some more great reviews
Check Out – My latest 'Quick Bite' (below)