I always get excited about fishing somewhere new and when some of our club members had an invite to fish a fairly local lake, a fact finding match was organised. A few of the lads went to have a look and fished a pleasure session. I was expecting them to report it was mainly carp and although a few were landed, they caught lots of skimmers and crucians along with the odd tench, my idea of heaven!
After the usual fantastic breakfast at the bowling club, we did the draw and I got peg 9 which obviously meant nothing to me and then we headed to the venue. A cracking looking, well established lake with ten pegs around it. My swim was on the far side and I had Andy Welch on peg 10 with Norts on my right and Rob C next to him. On the opposite bank, Dave Pope was on peg 1 with Big Frank on 2, Terry 'The Toast' and Steve 'The Pole' on 3 and 4 and then Max (fishing his first match in a very long time) and The Grand Wizard were on 5 and 6 which apparently was the shallow end.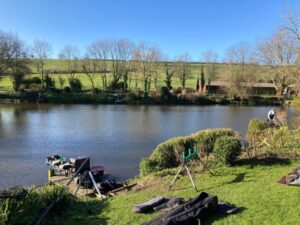 Plumbing up I had a decent depth, about six foot at 11.5 metres and about five at top two plus two. I set up a 0.5 gram Guru Carbon Pinger for the longer lines, and a 0.45 gram Guru F1 Carbon for the short line, both rigs had size 16 F1 Pellet hooks to 0.10mm. Not really knowing what to expect, I had loads of bait with me, a pint of casters, red and white maggots, disco pinkies, a couple of pints of dead reds, micros, expanders, corn and Bait-Tech Special G Dark and The Juice groundbait.
Rob got us underway and I potted in two balls of groundbait at 11.5 metres straight out, half a cup of micros at the same distance but angled to the left and finally the short line received a ball of groundbait. Steve P had a bit of a nightmare start when his cupping kit came off but he managed to retrieve it and then shipped out and had a decent skimmer first chuck. I had a bite first put in but bumped it and Norts did the same.
There were obviously some fish there as I shipped back out, the rig settled, went straight under and a 3-4oz skimmer got me off the mark. More followed of a similar stamp along with the odd 6-8oz fish, Norts was catching also catching well and most people were getting a few with the exception of Max and Chris W who couldn't get a bite. Dave got off to a great start with an 8lb carp on the feeder.
I was toss potting maggots every put in at 11.5 metres and also feeding casters short, it was a bite a chuck, mainly skimmers and the occasional cute little 4oz crucian. I did try single and double caster, corn and expanders on both the longer lines to see if I could get a bigger stamp of fish but I was just waiting longer for bites and the skimmers were the same size.
After two hours, I fed the longer lines again and had a quick go at top two plus two but never had a bite there. Back out on the groundbait line and it was still a bite a chuck on treble dead red maggot, I kept the micros line topped up and although I couldn't seem to catch on it, resting my main line would see me catch two or three fish in quick succession when I went back over the groundbait.
There was a 30lb net limit for silvers so when I reached 60 fish with around two and half hours to go, I started another net. As far as I could tell, I was doing well, Andy had landed a couple of better skimmers on the waggler and most people were getting regular bites apart from Max and the Grand Wiz. Rob was paying the top three carp and the top three silvers but so far the only person who had caught carp was Dave who had weighed and returned several between 8-11lb.
With two hours to go, I started getting the odd fish on maggot over the micros line including another crucian and a nice 2lb skimmer. Things were all going rather well when I shipped back out but then couldn't see my float and the orange hollow tip had come off! Now I'm a big fan of Guru floats but when you're paying a premium price of £2.49, you don't expect them to fall apart for no reason.
Plumbing up again with the lighter rig, I was soon back in action and catching skimmers, I also had my first tench, a nice fish of a pound or so. Dave kept Terry busy on carp weighing duties with a couple more double figure fish. Max's first match back hadn't gone well and he headed off for an early bath.
Big Frank was catching quite well and Rob started landing some big skimmers as we approached the end. Norts shouted up that my float tip had turned up in his peg so he retrieved it for me but as nobody had any superglue, I carried on with the lighter rig. Although bites slowed up a little, I carried on catching well and finished up with 98 fish (5 or 6 crucians, 1 tench and the rest skimmers).
We had a set of scales on each side so I started the weigh in with Andy who had 7lb 4oz which included three better skimmers, then it was my turn and my second net (with 38 fish in) went 15lb 8oz and the other net added 24lb 9oz to give me a total of 40lb 1oz, a fantastic days fishing. Norts had another nice net of silvers for 17lb 9oz, Rob had some big skimmers for 12lb 12oz and Grand Wiz didn't weigh.
In the other section Dave had 41lb 4oz of carp (plus 5lb of silvers) and was the only angler to catch carp. Big Frank had 19lb which included lots of crucians, Terry weighed 7lb 8oz and Steve had 8lb 9oz. Thanks to Terry for the photos*
Carp
1 – Dave Pope (Stoke) – 41lb 4oz
Silvers
1 – Jamie Rich (Against Men and Fish) – 40lb 1oz
2 – Frank Woodard (Ilminster) – 19lb
3 – Chris Norton (Stoke) – 17lb 9oz
4 – Rob Cox (Ilminster) – 12lb 12oz
5 – Steve Parker (Ilminster) – 8lb 9oz
As only one angler caught carp, we paid an extra two silvers places, I had a very nice pick up of £60 plus nuggets off Steve P, Terry and Norts to boost the world famous charity Nugget-O-Meter to £22.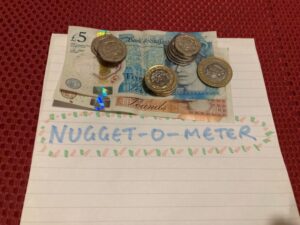 I do apologise for the slightly 'Secret Squirrel' nature of the post and a few people have asked where the venue is but as we were invited to fish, it's not really for me to say.
There's still a great offer running if you fancy treating yourself to some new fishing gear, use the exclusive discount code AgainstMenandFish10 to get 10% off when you shop online at Somerset Angling
If you don't fancy getting out on the bank in this awful weather, you can still get your fishing fix with a copy of my book from eBay here or Amazon here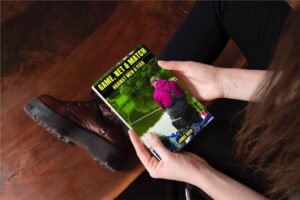 And if you could spare five minutes to leave a nice review on Amazon, it would be very much appreciated.
Next up – Revels
Coming soon – Lots more match reports
Check Out – My last match (below)