After winning this event last year I was keen to do well again. I picked my mate Andy up who normally does well on the resi and we went to the draw. We got there to be met by Les in full organisational mode, complete with walkie-talkie! This year the match was to be split into two pools, float anglers and those who wanted to fish the feeder. The majority (including me) would fish the feeder for the venues bream. Les managed to get seven mugs, sorry I meant volunteers, to fish the dam wall and the rest of us then drew for the pegs in the woods. Andy drew spot on with peg 49, I just missed out on the most consistent pegs with peg 38, I would still fish the feeder though.
After another mammoth yomp, I reached my peg to find I had Fred Brown on the next peg so at least it should be an entertaining day! On my right hand side I had Dave Lawrence. I quickly set up my Drennan 12ft 6in Stillwater Feeder rod with a medium Drennan groundbait feeder, a size 16 B611 hook and 0.12mm bottom completed the rig. I have also started including a tiny swivel which really helps reduce spin ups. Finally I mixed up some Sensas Bream 3000 groundbait and added some Brasem.
On the whistle I had several quick casts to get some feed down at around 30 yrds, with double red maggot on the hook I was soon getting indications from roach. Fred was first on the score sheet with a small skimmer, I quickly followed with a skimmer of my own. The resi was as flat as a witches tit, which isn't really great for bream fishing but hopefully the skimmers were a good early sign. After an hour I'd had one skimmer, a roach and a small perch. I shouted down to Bruce Hunt next to Dave to see how he was getting on, as he was fishing the pole, he replied he'd only had one roach.
Into hour two and me, Dave and Fred still hadn't caught a bream and I was starting to think it might be quite a struggle. I was still getting the odd small skimmer around 4oz or so, as was Fred although I was just ahead of him. His cause wasn't helped when he had a couple of crack offs on the cast. He also had a tangle around the tip of his rod and typically of Fred, as he was sorting this out he could feel a fish pulling on the line and he went on to net his biggest skimmer of the day. It could only happen to Fred!
News from the hot pegs in the 40's was that only a couple of bream had been caught so it was still all to play for. My maggot bait kept getting ragged out by roach so I kept trying corn but only had the odd dig on it. Just past the two hour mark I hooked a good fish which I was convinced was a bream but on the way in it suddenly ran off and with my anti reverse on it snapped me – bugger. Not sure if it was a small carp or a hybrid but it certainly would've helped. Bruce was now on the whip and catching quite well, Dave was still struggling and I was still getting the odd skimmer to keep myself ahead of Fred.
With time running out I was pinning my hopes on maybe catching a couple of bream in the golden last hour. Down on peg 34 I saw Scotty Russell netting a bream and shouted down to ask how many he'd had, when he said four my enthusiasm was renewed somewhat as at least some bream were feeding. It wasn't to be though and I plodded on getting the odd fish to end with 22 (mostly small skimmers). On the all out I quickly packed up and started taking some of my kit part way back. The scales started at peg 51 where Picky had 4lb, I thought I might have a chance of beating this and taking a pound off him. My mate Andy had an early decent bream and not much else for 7lb 4oz from peg 49 to take a squid off me. Rob Stark was the early pace setter with three bream plus some skimmers for 18lb 12oz from 45. Baz Morgan was one of the float anglers and put 11lb 4oz of roach on the scales from peg 41.
Fred weighed 2lb 10oz and I weighed 5lb 8oz to claim my £1 from Picky, Dave didn't trouble the scales and Bruce Hunt put a respectable 9lb 4oz of roach on the scales. Scott Russell had four bream and some decent skimmers for 32lb 12oz and I couldn't see this weight being beaten. The dam wall had fished a lot better than expected and Ron Stark completed a good day for him and his brother with three bream for 19lb 8oz from peg 8. My nemesis Janders also had a bream a skimmer to take a £1 off me with 6lb.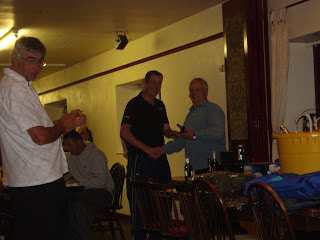 Baz presenting Scotty with the Chris Patten memorial trophy
After dropping Andy's kit off it was back to the Cotley for an excellent roast dinner before the prize giving. As expected Scott won and would be the keeper of the trophy for another year. Baz won the float anglers pool with Mark Hollister in second place with 9lb 8oz. Then Les started to read out the sections and I was second, behind Scotty, and picked up £40 of which I donated £10 to the charity (as did most anglers). Andy was also second in his section and Janders was third in his.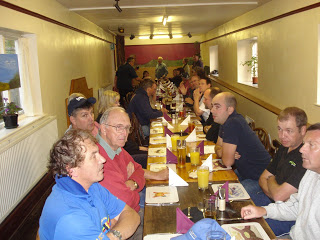 The anglers at the Cotley just before the excellent roast dinner
Then it was time for the raffle and there were some excellent prizes donated by several tackle shops including Baz Angling, Weston Angling and Yeovil and District Angling Centre. For once I didn't win a prize but Mike Hosgood won the weeks holiday in Baz's cottage in France and very generously decided to auction it off, which was fantastic (and I told you I'd give you a mention Mike!). In total a fantastic £620 was raised for Cancer Research and this event just goes from strength to strength. In addition to the tackle shops I mentioned earlier I'd like to thank Les Braunton and Baz for their excellent organisation and the Cotley Inn for the excellent meal and to the 30 anglers for turning up and being so generous.
Feeder anglers
1 – Scott Russell (Yeovil and District Angling Centre) – 32lb 12oz
2 – Ron Stark (Weston) – 19lb 8oz
3 – Rob Stark (Weston) – 18lb 12oz
Float anglers
1 – Baz Morgan (Baz Angling) – 11lb 4oz
2 – Mark Hollister (Chard) – 9lb 8oz
3 – Bruce Hunt (Tiverton) – 9lb 4oz
Section A
1 – Ron Stark (Weston) – 19lb 8oz
2 – Brian Reed (Bridgwater) – 10lb 4oz
3 – John Anderson (Chard Minnows) – 6lb
Section B
1 – Scott Russell (YDAC) – 32lb 12oz
2 – Jamie Rich (Chard Remains) – 5lb 8oz
3 – Mike Collins (Tatworth) – 3lb
Section C
1 – Rob Stark (Weston) – 18lb 12oz
2 – Andy Langdon (Chard Remains) – 7lb 4oz
3 – R Coombes (Langport) – 6lb 6oz