A few years back me and Andy fished a friends pond and had a cracking day catching tench, bream and small carp and when we were offered the chance again we jumped at the chance and I hastily arranged a little match. I spoke to Andy Saunders (Mark's boy) and he said there were carp, koi carp, golden and green tench to 6lb, bream, roach, rudd, crucians, chub and barbel in the pond and I couldn't wait!
I picked up Andy and met Janders, Alvin, Scott and Roger on the way, after a short drive we arrived and saw Mark who said we could drive right down to the pond. We sorted out six pegs and I drew peg 2, the main feature for the pond is a small island in the middle which we could all reach with the pole. The first thing we noticed was that the pond was a good 2-3 foot down to when me and Andy fished it last, still it meant less water for the fish to hide in, didn't it? The other worrying thing was the lack of fish moving.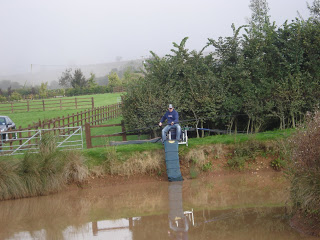 Andy's peg (you can see how low the level was)
We started setting up and Scotty was the first to plumb up and when he shouted across that there was only a foot of depth right across the pond, I thought he was joking! But sure enough he was right and I started to have doubts. I only set up a little Trabucco float with 0.12mm bottom and size 18 Kamasan B911. On the whistle (or rather me shouting all in) I cupped in some micro pellet, corn and maggot by the island and the same on an inside line to my left.
My spirits were raised somewhat when Andy had a small rudd whilst shipping out, I mucked about for a bit with my top three and had a couple of small rudd before going over to the island with double red maggot on the hook. I waited for a bite, and waited, and waited! It was the same for everyone and Scotty started suggesting that perhaps we should go out Dillington (blimey! things must have been desperate). After an hour I was just thinking the same when Andy hooked a small carp only for it to come off! Then Janders had one followed by Roger and Alvin, here we go I thought but me, Andy and Scotty remained biteless.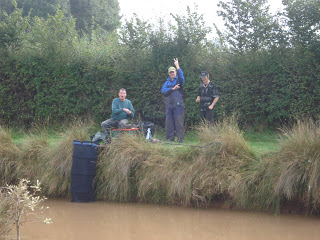 Do you think Scotty was enjoying it?
I tried corn, maggot and soft pellet on both lines to no avail and yet another duff day was on the cards. Janders had added a couple more small carp and looked set to take his first pound off me for ages. Alvin had caught another small carp and a fantail thing. Roger had caught a couple more including a nice barbel of around a pound and a half. I was all out of ideas and knew I wouldn't be picking up a brown envelope today. With half the match gone, Scotty was bored and knocking out a few small rudd and I decided to do the same.
I thought if I could catch enough I might be able to catch Alvin who's bites had dried up and he was stuck on three fish. I got to around a dozen tiny (and I mean tiny) fish and was ahead of Andy and Scott when Andy decided he was going to go bit bashing as well. Janders had stopped catching and Roger was now on about six fish although his bites had dried up as well. I was fishing my inside line catching the odd rudd when Scotty mentioned us finishing early, I asked around the pond but Janders seemed keen to finish at the agreed time!
I lifted the rig for the umpteenth time but this time was met by some resistance as something pulled back! After a short scrap I netted a nice little carp of a pound and three quarters, we were definitely finishing at quarter to four now! Andy Saunders came down to see how we were getting on and seemed surprised at how poorly it was fishing. He went to see Janders and I had a proper bite and landed another little carp, this one about 6oz. Any ideas of a good last hour soon disappeared though and I went back to catching the odd rudd.
With half an hour to go I saw Andy strike and he netted what looked like a decent koi carp and that was the last of the action and I was glad to call an end to this terrible day. This was Andy's first trip out after a long lay off and it was supposed to rekindle his interest but I think it had done the opposite! We quickly packed up and started the weigh in with Janders whose three carp and a few bits weighed 2lb exactly. I thought it might be close when I pulled my net out and my two carp and sixteen rudd weighed 2lb 3oz – result. I knew I'd frame now with only six of us fishing. Andy's koi weighed 1lb 6oz and Alvins fish were small and weighed 1lb 9oz and I knew I'd got second beause I wouldn't beat Roger. Scotty didn't weigh and wasn't impressed and Roger had five or six carp plus that barbel for 6lb 3oz.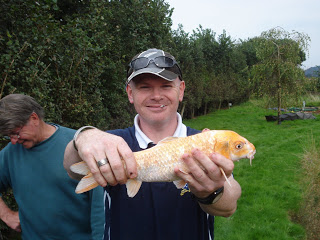 Andy's late koi carp
I picked up £25 plus £1's off Janders and Andy (sorry mate) but I hadn't enjoyed the day at all and we certainly wouldn't be rushing back here. The only good thing was that my second place had hopefully stopped the rot of my recent bad run. Next week we're at Chris Haines pond in Frome again and I'll let you know how we fare.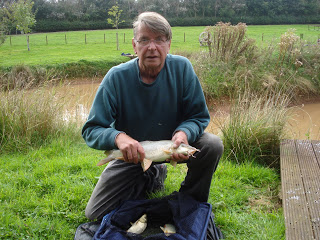 Roger and his barbel
1 – Roger Russell (Ilminster) – 6lb 3oz
2 – Jamie Rich (Chard Remains) – 2lb 3oz
3 – John Anderson (Chard Minnows) – 2lb
4 – Alvin Jones (Chard) – 1lb 9oz
5 – Andy Langdon (Chard Remains) – 1lb 6oz