I know I say it every year, but this is a league I'd dearly love to win, I've been second and third in recent years but top spot on the podium has always eluded me. You can drop one result out of the seven but a good start always helps. I got to the pub and there was a slightly better turnout of nine anglers including Tony Newman and Pete Lonton, the club secretary. Rob had put some good pegs in including 14 where I won last week and lots of people fancied it this week. With no rain all week and bright sunshine, this could be quite tough this week (but then I said that last week!).
Pete said that there was £36 carried over from the golden ball last year and there would be two golden pegs, these were 124 and 85 and both pegs are potential winners. Heardy was moaning that he never drew peg 14 and he had the last peg in the bucket and guess which peg it was?, yep 14! I drew peg 125 which is probably the best peg on the river and the match record came from it last year. I've had some big weights off it as well but I was concerned it would be too early for it. The peg needs a good flush out and some colour to fish really well and I remember drawing it early one year and struggling for 2lb off it. I had the choice of 125a as well and Rob said there were some chub in it yesterday.
I was just about to head to the river when I realised I hadn't brought my reels with me – dick! So I headed back home to pick them up before getting to the river with very little time to set up. The river was very low, clear and weedy although some weed clearing/dredging had been done by the EA, there were still plenty of stalks visible. I decided to fish 125 although I couldn't see any fish in the gin clear water. I quickly set up a waggler rod with a 2AAA Drennan Crystal waggler with just two number tens down the line and a size 18 B611 attached to a 0.12mm hooklength. I also set up a Drennan Carbo pole rig as well and plumbed up but couldn't find anywhere over a 18 inches deep!
There was one relatively clear patch at 5 metres but it was only two foot long and about a foot wide. The start time arrived and I kicked off with the waggler and had to cast down the swim to find any flow and started feeding casters, hemp and maggots, I quickly caught a gudgeon and a very small roach so at least I was off the mark. The float kept dragging under even at 18 inches so I shallowed up a bit and this seemed to help and I had a little run of gudgeon, small dace and chublets. The trouble was they were very small and after an hour I had around ten fish (plus minnows) and would be lucky to have a pound!
I tried the pole in the clear patch where I could see odd chublets but the minnows were ragging the caster and I was starting to get frustrated. Back on the waggler and I was catching quite a few gudgeon with the odd chublet, dace and little roach but nothing over 2oz. It wasn't fast or furious though and I'd be lucky to do 3lb at this rate. My only hope was if some quality showed but I just didn't feel the big roach had moved into the peg yet. After three and a half hours I was still putting the odd fish in the net when Pete turned up from peg 124, he'd had some small fish but had just lost a chub. He also said that Heardy had phoned him and was struggling in the tank traps.
Then Tony Newman turned up from peg 123 and said he was really struggling and probably had about 6oz or so, he said Pete had now landed a decent chub and I couldn't see me beating him but hopefully I could still get decent section points. While Tony was there I was fishing the pole at 5 metres and had a couple more small fish but the minnows were still being a right pain! With under an hour left I tried the pole at 11.5 metres down the peg and towards the far bank and had a run of chublets but it didn't last long. The end arrived and I had 53 fish (plus minnows) and I thought I had about 2lb 8oz – not good.
I packed up and as I also had the scales I walked up to weigh Pete in (Tony had left for an early bath), Pete had added another chub and with some small fish he weighed 7lb 7oz and I said he'd be there or thereabouts with that. My fish went 3lb 4oz and I didn't think I'd be picking up today. Back at the results and the river had fished hard and Pete won the match and the golden peg, Neil Dring was second with 5lb 4oz of mainly gudgeon (and it's great to see them putting in an appearance again) and Heardy and Fieldy were joint third with 4lb 7oz each. I actually won my section by default and picked up a tenner which is better than a kick up the bum and it keeps my winnings ticking over. Justin won the top section with one chub of 4lb! I also got two points which is a good start to this league.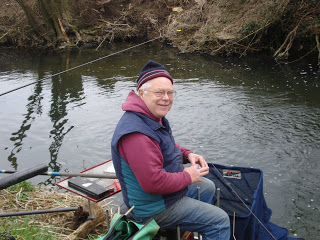 Pete won the match and the golden ball and had a nice little pick up
1 – Pete Lonton (Ilminster) – 7lb 7oz
2 – Neil Dring (Ilminster) – 5lb 4oz
3 – Martin Heard (Tiverton) – 4lb 7oz
3 – Graham Field (Taunton) – 4lb 7oz
Sections
A – Justin Charles (Ilminster) – 4lb
B – Jamie Rich (Against Men and Fish) – 3lb 4oz
Although the weights were lower than last week, it was still encouraging to see lots of small fish featuring in catches, especially the gudgeon. There were also several big chub lost. We just need some rain now!
Next week we're on the river again and going to try some different swims so tune in to see if I can keep this good run going.