In almost a carbon copy of last week, we had rain in the week, dying off by Friday and once again the river should be in perfect condition today. At the draw we had the same number of anglers as last week but this week Pete Lonton was fishing along with Justin Charles who had taken a break from targeting barbel and catfish to do some proper fishing! Rob was using Upper and Lower Coxes today and I fancied pegs 14, 15 or 27 and came close when I pulled out 28 and I had the choice of 28 or 29. Heardy drew 27 with Justin in 14 and Tony Newman in 15, Steve Parker had 17 or 18, Pete had 24 and Rob had 23 where he was last week.
I got to the river and was surprised to see it running pretty clear, it was quite pacy but there wasn't much colour at all. We'd also had a frost last night but would it affect sport? I walked down and had a look at 28 which looked really chubby with a branch in the water that goes right the way across the river, I went down to look at 29 and although it looked nice, it was pretty pacy and I know there are some resident otters so I decided on 28. Martin wasn't overly confident as the last time we were down on these pegs we had a minnow and a trout between us, mind you as I walked past his swim a fish topped in the flow which is always a good sign!
I made myself comfortable and started plumbing up the swim, there was a nice depth with the deepest water right across where there is a little cutback in the far bank. There wasn't much in the way of slacker water apart from in the middle of the peg and across where the flow was going back on itself. I set up two 1.5 gram Drennan Carbo's, one for the middle and the other for across in the deeper water. At the start time of 10:15 I started down the middle but no indications soon saw me across in the deeper water at 11.5 metres. I was feeding casters, maggots and hemp and it took me 10 minutes to get my first bite which turned out to be a small chublet and the blank was avoided.
I started getting a few bites on caster and had nine fish in the first hour including a small trout, I did have a mad patch where I swung in a 6oz chublet only to miss the keepnet with it!, I also lost another that as I swung it in, it fell off, bounced on my lap before landing back in the river! I dropped off another and bumped a couple as well. I was getting enough bites to keep me interested but I knew I wouldn't be weighing 17lb today unless some better chub showed up. A switch to double red maggot at the start of the second hour saw my catch rate improve and I added another 21 fish to put me on 30 and all of a sudden a good weight looked a possibility.
The third hour started in the same vein with most of the dace and chublets just about a swingable size, I also added another 6oz spottie, Heardy turned up and said he was catching small dace but not really bagging and while he was stood with me I added another couple of fish before he walked back to his peg. I got to 43 fish and thought I must have about 5lb when my bites just stopped like somebody had flicked a switch! I managed another small spottie from this side of the main flow and one more chublet from across before I couldn't buy a bite. I tried going tight to the far bank where the flow was going back the other way but from getting a bite every chuck, it now felt like the swim was devoid of fish.
I had a coffee and walked up to see how Heardy was getting on, he said he was on 70 odd fish but his bites had slowed up as well but while I was there he bumped a fish before catching three chublets and it looked like he was bagging to me! I went back and tried both swims but just couldn't get a bite, not even a minnow! I ended up fishing half a lobbie right in the cutback and started getting indications but only managed one small chublet on the worm. After such a good start it was disappointing for my swim just to fizzle out and I ended with 46 fish (three trout with the rest dace and chublets and no minnows!) and I thought I probably had 5-6lb.
I packed up and as I had the scales yet again, I went up to weigh Heardy in, he'd finished with 90 fish and weighed an excellent 14lb 12oz and I reckoned he'd be there or thereabouts with that although pegs 14 or 15 might challenge him. I was surprised when my catch pulled the scales round to 8lb 14oz and I was left cussing my mad patch which probably stopped me doing double figures. We drove up to Upper Coxes as Rob and Pete were going to do the results there. Justin had weighed 9lb 13oz from the tank traps (14) and I started to think I wasn't going to pick up today. Tony had 8lb 5oz from peg 15 (phew) and then the other pegs had struggled but two otters going up through the river probably hadn't helped them much. So I finished in third place and picked up £15 which puts this years winnings at £1286 and I'm just a fiver off beating my best years winnings although I've probably jinxed it now!
1 – Martin Heard (Tiverton) – 14lb 12oz
2 – Justin Charles (Ilminster) – 9lb 13oz
3 – Jamie Rich (Against Men and Fish) – 8lb 14oz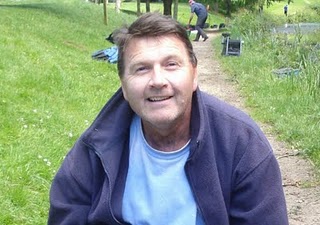 Yes it's that photo again as Martin got back to winning ways
It really is encouraging to see all these small fish and it bodes well for the future although the lack of big chub is a bit worrying and could make things rock hard when the frosts arrive with a vengeance and the small fish do their disappearing act.
Well I've got off to a decent start in both leagues, more of the same next week would be nice! Also some rain from Monday to Friday with it being dry on Saturday and Sunday would be fantastic!