I find it hard to believe it's nearly Xmas again, where does the time go? After not fishing last week I was really looking forward to the Xmas Fayre match but with hardly any rain all week the river was going to be low and clear and after a few hard frosts it was likely to be hard going for some. I got to the pub and as per usual it was nice to see some club members who always turn up for the Xmas match like Ned, Andy Welch and Fred. After a quick coffee and catch up with Baz and Hurf, it was time to draw, I had the last peg in the hat but didn't look to see what it was. I made my way over to the section boards and nobody was admitting to 128 or 129 and either of those would do me, I opened my hand and the peg staring back at me was 115, I hadn't even realised Redbridge was in the mix today! A quick check of the section board showed I had the scales as well – great!
I wasn't sure where my peg was so asked Rob if it was the gas pipe and he said yes which cheered me up a bit as it can be a decent peg and one I've never fished in a match. Hurf confirmed he wanted a side bet before he headed off to peg 125 at Isle Brewers, Baz had drawn peg 17 again and although he'd won off it a few weeks back, he wasn't feeling confident. I drove to the river and as I unloaded my kit I could see Tony Newman setting up in 109 which can be brilliant but hasn't done much so far this year. I walked on down with my box and as I got to the gas pipe I could see it was peg 112 – bugger! Maybe then I would be on the peg I framed off in last years Xmas match, nope, that was 114, I carried on walking and peg 115 was just above the fence where Jake was in the first V.E.S. match, he'd only had a couple of pounds but did lose two decent fish.
Feeling pretty deflated I walked back to get the rest of my kit, I could see Andy Welch below me on 117 which was just above where I'd struggled in the first league match for 7oz and with the river being so low and clear I thought we might be in for more of the same today. I set up a 1 gram Drennan Tipo with 0.10mm bottom and size 18 B611 to fish down the middle and a 0.75 gram bodied float to fish tight to the far bank cover, this rig had a 0.12mm hooklength and the same hook pattern as the first rig. The lighter rig had blue hydro and the heavier one had green Preston elastic.
As the start time arrived I gave Andy the thumbs up and before starting on the lighter rig with double red maggot on the hook, I was feeding maggots, casters and hemp down the middle and just hemp and casters across. I was hoping to get a minnow to avoid the blank but after 15 minutes I hadn't had an indication and Andy said the same which made me think it was going to be hard. I reached for the heavier rig and baited up with a single caster before shipping across to the far bank cover. After a couple of minutes I had a slow, deliberate bite that just screamed chub and I bloody missed it! Still at least there was a fish in the swim, next chuck and another bite quite quickly, this time a gentle strike saw a fair bit of green elastic come out of the pole tip but as I went to ship the pole back it came off!
I was hoping that wasn't going to be the end of the action and next chuck the float slid away again, this time the fish was on and as I shipped back it was obviously a good chub, thankfully I netted it without too much fuss and at over 3lb, I was off to a great start. I thought that might kill the swim for a bit but I shipped out and the float went under again and when I netted a 10oz chublet I really felt I was going to be in for a good day. I went back out and was all ready for the next bite but it didn't come! I wasn't too worried as there were still four of the five hours left and if I could catch a three or four more I wouldn't be too far off.
After another hour I hadn't had another touch, Andy wandered up to the fence and asked how I was doing, he said he'd only had one bite, losing a big fish on the waggler, he let me have a couple of lobworms to try which was very nice of him. I tried half a worm and then double caster and double maggot but just couldn't buy a bite. We also had a couple of rain showers and it got cold with a very keen, gusty wind, which wasn't helping presentation much. I had another couple of goes down the middle but never had a single bite there, I spent most of the match fishing tight across as I was sure those fish would be under the cover with it being so clear but I never had another touch.
As I was just finishing packing up, Ned turned up from the weirpool where he said he'd struggled, we walked down and he had a couple of dace and trout for 1lb 3oz, Andy had blanked and then it was my turn, out of interest I weighed the bigger chub and the needle stopped at 3lb 6oz and the smaller one gave me a level 4lb. We got to Tony and he'd had an interesting day, first chuck on the pole with worm on the hook he'd hooked a big fish which snapped his number four section and he'd just managed to grab his number three before it was pulled in, he reckons pike but I think it might have been a big chub. He spent the rest of the match on the tip and had four chub and a small roach for 11lb 13oz, the biggest chub went 3lb 7oz which is a new pb for him. He said he also lost two chub as well. It was a nice net of fish and we all agreed he would probably frame.
We got back to the pub and Cindy and Steve had laid on some lovely grub which we all tucked into while we talked about how our days had gone. The river had fished hard and Tony had won comfortably, Rob was second from peg 128 with 6lb 12oz and Neil Dring was third with 5lb 7oz from peg 129 and I finished fourth and one out of the money which is about right at the moment. But saying that I had my chance today and if I hadn't lost that fish I would have pushed Rob's weight. On the plus side I did have a pound off of Hurf to make it 3-2 to finish the year ahead. Then it was time for the prize giving and I picked two nice bottles of wine and a selection of cheese and biscuits.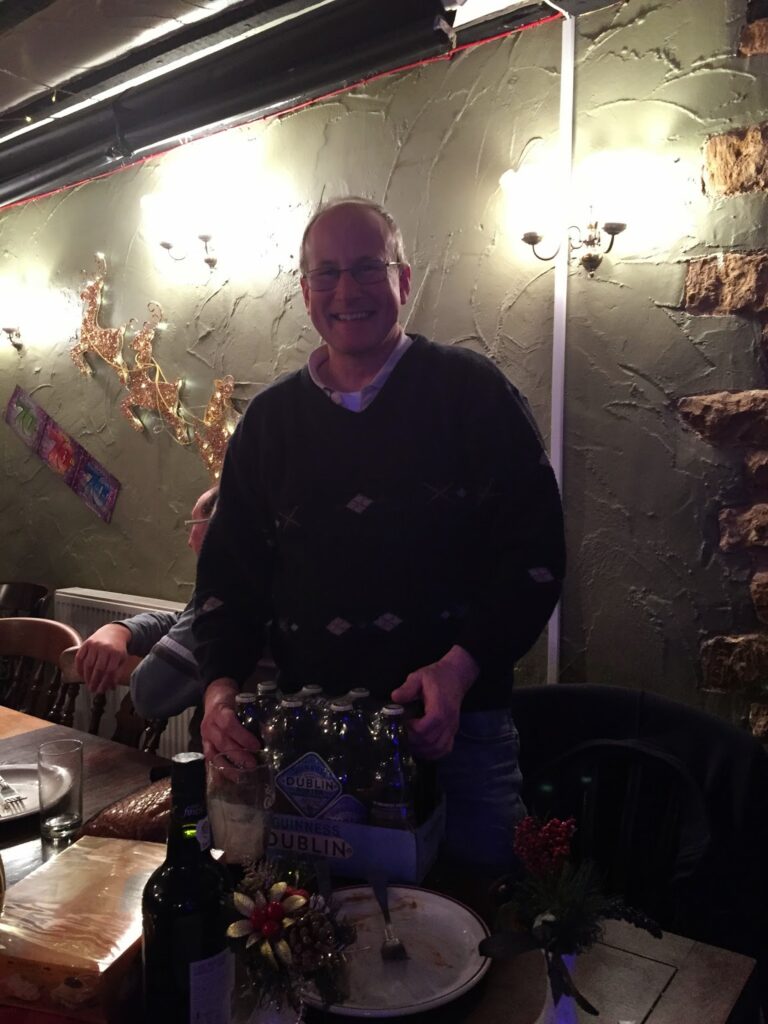 Xmas Fayre Champion Tony Newman collecting his prize
The club would like to thank Rob for organising another great Xmas Fayre and getting the great prizes for everyone and Steve and Cindy at the Royal Oak for looking after us so well.
It was a bit of a shame it had fished hard for the majority and the top end had been awful, I do think we need to leave the top end alone unless there's some extra water on the river, it might also be worth giving the lower end a rest for a couple of weeks as it does get a bit of a hammering, there are several other areas that have got to be worth trying and I bet they would throw up some surprises.
1 – Tony Newman (Ilminster) – 11lb 13oz
2 – Rob Cox (Ilminster) – 6lb 12oz
3 – Neil Dring (Ilminster) – 5lb 7oz
Next up – Summerhayes
What's new – Loads of page updates
Check Out – My latest Fishery Focus (below)