The weather got colder during the week and we even had a light dusting of snow on Thursday and with some strong winds forecast for today it was looking like we were in for a chilly one! Rob couldn't fish today so it was left to us to sort out, some anglers wanted it on the pond, some wanted to fish the canal and others wanted to try some different sections on the river, who would want to be a match secretary? After much debate we eventually decided on fishing the same pegs on the river we always fish! In a bid to give everybody a chance of a nice days fishing, we gave people the choice of several pegs and the only one I didn't fancy was 123 and of course I drew it, I did have the choice of 124, 124a or 125 as well but I didn't fancy them much either!
Baz drew the peg I had last week, proving he draws better than Picasso and Justin had 112 where Jake had caught six chub last week. Fieldy had Barney's Bend (126) and Steve Parker had 128 with the choice of 129 or 133. Talking of Baz, he brought on some float samples for us all to try, cheers mate, a nice touch. I got to the river and was going to fish peg 123 as it's done 6-7lb in the last couple of matches, it wouldn't be enough to win today but it's still a nice days fishing. I stopped to have a look at 125 and it looked gorgeous, although a shallow peg I couldn't see the bottom and I really fancied it. Also a hedge to my left would shelter me from the worst of the wind and there was nice cut out for my box so at least I would be comfortable even if I didn't catch much!
It's normally a waggler peg but as I didn't have any rods or reels with me, that was out the window, I set up a one gram bodied float with 0.12mm bottom and size 18 B611 and plumbed up and it was pretty much as expected with between 1.5 and 2 feet all the way across. I decided to start at 8.5 metres to see if I could catch fairly short to start with and I could always add more sections to search further across or down the peg. After a quick coffee it was time to start so I slipped on a caster and shipped out before feeding some casters upstream to my right and some hemp straight out in front. After running the float through a couple of times, it buried as I was holding back and a pleasing amount of blue hydro streamed out of the pole tip on the strike before I netted a 6oz roach to open my account.
It was then a bite a chuck and I was catching at the top of the peg, as I inched the float through and as I held back in the flow at 8.5 metres to my left, everywhere in fact! and at this early stage it felt like there were a lot of fish in the peg. I was catching roach, dace and chublets and had 10 fish in the first 15 minutes, the first hour was really good and I ended up with 21 fish for probably around 3lb and much like last week I felt sure it had to slow up at some point. The second hour was slower and I only had another 10 fish and a few gudgeon which I didn't count, I also had a bit of a nightmare where I've bumped several good roach in the flow and missed some really good bites.
I tried double red maggot and had a stonking roach followed by a good dace before I started catching some tiny gudgeon so went back to caster. Hour three was slightly better and I added another 13 fish to put me on 44 fish with two and a half hours to go. By my reckoning the fish I was catching today were averaging 2oz apiece so 80 would give me around 10lb but with some great pegs in today, that might not be enough to get in the money. Justin wandered down from Redbridge and looked very cold, he said he hadn't had a bite yet but Baz was getting odd fish although it was very exposed up there and the wind was hideous. While he was with me I had a few fish on double maggot but lost a good roach and I was starting to feel all these lost/bumped roach could come back to haunt me.
Every time bites slowed I added the 10 metre section which would result in a couple of fish quite quickly before they backed off again, I held off on adding another section as I didn't want to push the fish beyond pole reach and was wishing I'd popped home after the draw to get my waggler rod but then again I thought I was going to be fishing peg 123. Steve Parker came up from peg 128 and he'd had a nightmare with the wind and problems with his shoulder and was off for an early bath, as a parting gift he left me with the scales and the pools money, cheers mate! I was still catching in spells and had a run of roach on double maggot while Steve was with me but also pulled out of another decent fish.
I'd reached 64 fish with about 45 minutes to go but the swim was fading fast so stuck the 11.5 metre section on to chase the fish down the peg and had a couple of net roach straight away but the action was short lived and I only added a few more fish up until the end of the match. My final tally was 71 roach, dace and chublets plus around a dozen gobies, bizarrely I never had a minnow all day! I hoped I had double figures but as we were only paying two today I needed to beat Fieldy to stand any chance of a pick up as I was pretty sure Baz would do enough to win from his peg.
I packed up and as I loaded my kit into the car, Fieldy arrived with his gear and said he'd struggled but I've heard him say that before so wouldn't be counting any chickens yet. He pulled his net out and he wasn't lying for once and had a lot of gudgeon for a level 2lb. Then it was my turn and my fish pulled the needle round to 11lb 14oz and it should have been more as I'd probably bumped/lost 4lb of fish, saying that I reckon I'd have caught a lot more if I'd have fished the waggler, still I'd had another cracking days fishing.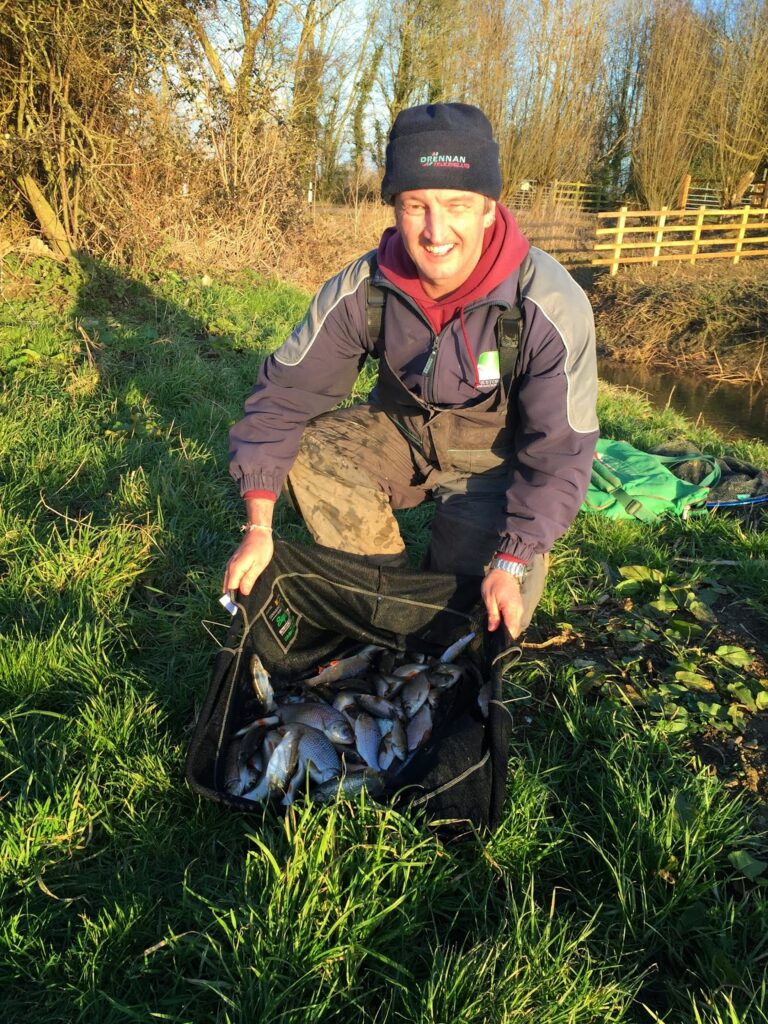 I had 11lb 14oz but it should have been more
I drove up to Redbridge to weigh the others in and as I arrived Baz was by his van, he asked what I'd weighed and when I told him he said it would be close and I knew then that he'd beaten me. He'd had a frustrating day with the wind and the icing on the cake was when a black Labrador started eating his groundbait before running off with a bag of casters and his pole roller bag! He said Justin had caught three big chub when he got back from his walk and when he pulled his net out, they were good fish and I was relieved when the scales read 10lb 8oz, then it was Baz's turn and as expected he'd done enough to win with a nice net of roach for 14lb 8oz. I picked up £25 for second place plus a pound off Steve but I haven't had that yet.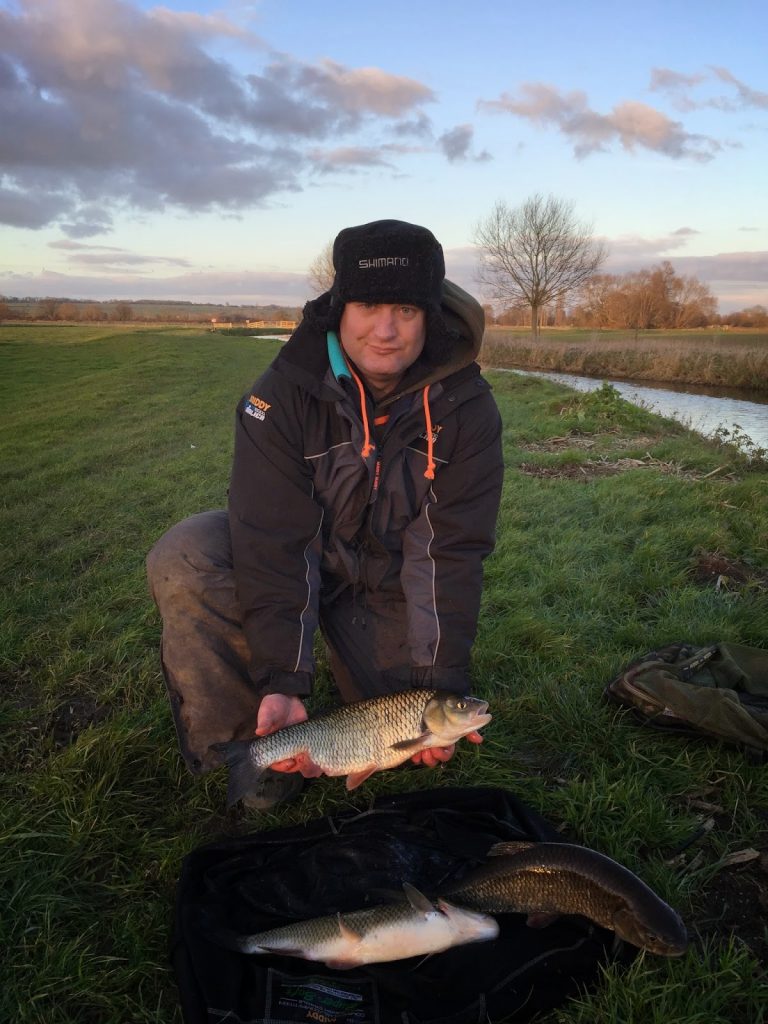 Justin had three big chub for 10lb 8oz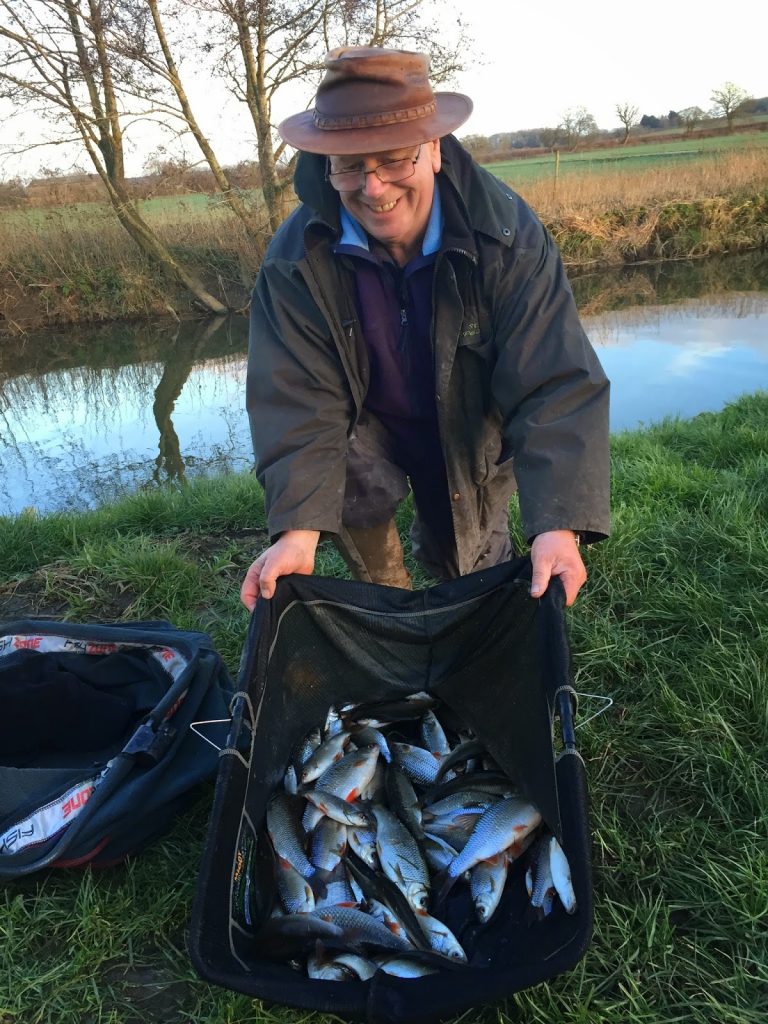 Baz had a lovely net of roach to win with 14lb 8oz
I felt a bit sorry for Justin as normally on the river if you weigh double figures, you're in the money but on the plus side it's great too see the river fishing well, especially when I see on social media that people are struggling on commercials with only a few pounds needed to win the silvers pool and some really good anglers are blanking. I'm not knocking it because I love fishing for silvers on commercials in the warmer months but I do like a bit of variety in my fishing and I think you have to go a long way to beat a double figure net of pristine red finned roach from a river. I do think there's a lot of untapped potential on the Isle but people are loathed to put in new swims in case anglers struggle and I totally understand that but maybe the way forward is to give people the choice of two or three swims, almost a rover. It's like my peg today, it's done nothing the few times it's been pegged and if I'm honest I was going to fish 123 today and if it hadn't been for the weather I would have done.
There are two or three other swims at Redbridge that look like they could produce and I reckon are well worth putting in, take the gas pipe swim, it hasn't been fished in a match for ages and then does two almost identical weights but Jake had six chub whereas Justin only had three so how many chub are in the swim? The wires swim looks good as does the swim just below the bridge and I think 110 would do a weight too. Well it's the open next week and it would be great to see some new faces but I won't hold my breath.
1 – Baz Morgan (Baz Angling) – 14lb 8oz
2 – Jamie Rich (Against Men and Fish/Burt Baits) – 11lb 14oz
With one match to go in this league Robin Cox leads with 10 points after dropping his worst result followed by Justin with 13.
Next up – Ilminster AA Open on the River Isle (now where did I put that waggler rod!)
What's new – Loads of page updates
Check Out – My last match (below)