After the last two matches at Summerhayes and Dillington where I've had plenty of bites but finished up well off the pace, I was hoping it wouldn't be third time unlucky today. Out of the four pegs I've still got to come in the remaining fixtures, one is a flier (peg 10), two are half decent (2 and 14) and one is real stinker (peg 20), I had a horrible feeling I was going to end up on the latter today but when Les opened the envelope, the draw sequence put me on 10, the best peg on the pond! The Torquay Tart was standing in for Chris Haines and I'd already received a few texts saying he was going to teach me a lesson, the usual sort of thing. He had a pair of shorts on and it was a good job I hadn't had any breakfast as it might have come back up again, what a horrible pair of spindly, lily white legs, I've seen better on a chicken!
My peg looked a dream as always as it's one of the four corners and there were already fish blowing all over the place, there are quite a few lilies but my plan was to fish shallow (just for a change!) well away from them. I set up an in-line dibber for up in the water, a little handmade float for fishing into the corner with banded pellet and a 0.4 gram Drennan Carp for fishing the meat at 5 metres (unused yet again!). Picky was opposite in peg 11, Jamie P was on peg 9 and had the dubious pleasure of having Brandon (and his chicken legs) next door. I was ready with a few minutes to spare and Jamie and the Tart came up for a chat, he'd bought a new pole and said he had a little surprise for us to look out for when he shipped it out!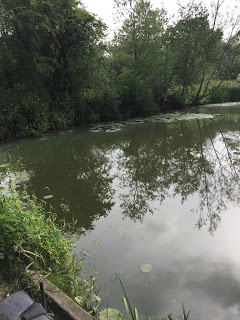 Peg 10 (loads of features)
Les signalled the start with a toot on his whistle and we were off, I started on the shallow rig with a hair rigged banded pellet at 11.5 metres, feeding 6mm's, I was also firing some pellets up into the corner and feeding a few cubes of meat by hand at 5 metres. Brandon's little surprise soon became evident as his top kit was painted white which apparently makes it invisible to the fish below, I'm not sure about that but it was certainly very visible to us as the comments about him "Bringing a blind mans stick", "Where was his guide dog?" and "Had he bought the pole off Steve Wonder" were anything to go by!
I really thought I'd catch straight away but this didn't happen, the Tart had a fish shallow (but I wasn't going to rush out and buy a tin of white paint just yet) and Jamie P had one on his depth rig quite quickly but apart from that not a huge amount happened in the first half an hour as far as I could see. I kept thinking it would only be a matter of time before I started catching but after an hour I was still blanking and when Picky had his first fish, I was just thinking about trying in the corner when I saw a couple of cruising fish, so I flicked the rig in their path, the float buried and a few minutes later, I safely landed my first carp.
I shipped out again and before I had time to feed the pole was wrenched round by carp number two, but any thoughts of bagging up soon disappeared as the action was short lived. Jamie P had his second carp and by all accounts the Hoff had got off to a good start with several fish in peg 7. I was just considering a change when I've hooked another fish but it tore off at a rate of knots and found the sanctuary of the lilies and broke me. This seemed to set the scene for the early part of the match, I plodded on fishing shallow and by the halfway point I had struggled up to six fish (and lost another), this wasn't far off the pace and the only person who seemed to be catching regularly was Blaker.
Then Brendon has had a run of fish from his inside line and spurred on by the thought of having to pay him a pound, which I'd never hear the last of, it was time to try up in the corner where I'd been feeding pellets for three hours. First chuck I've had a small carp, then another and another, it was solid! The next one did in me in the lilies (ouch!) but after tying another hooklength on I went straight back out and the float buried again, there were obviously a lot of fish there. It was a case of striking and just throwing the pole back as fast as I could but although I was catching really well, every now and again one would reach the lilies. I had one spell where I lost two carp to the lilies and then the hook pulled out of the next one at the net but with around an hour and a half to go I was on thirteen fish (and had lost seven or eight).
I was sure Blaker was still ahead by some margin but if I could continue catching like this I had a chance of pegging him back. My mate Andy turned up for a chat, we had a good old natter and it was lovely to catch up as we hadn't seen each other for ages. I hooked another carp in the corner but it snapped me in those poxy lilies, bites had slowed up quite a bit so I decided to go back out shallow for a bit while feeding the corner and letting the fish settle again after all the commotion. Jamie P was now catching well on his depth rig and the Tart was still getting odd fish from his inside line and they were both gaining ground on me. Jamie had already had one lot of white hydro snap and when it happened again as he was about to net a good fish, there was an awful lot of swearing and top kits being thrown about!
I had two smaller carp shallow then hooked a decent common that gave me the run around but just as I got it under control, the hook pulled out at the net – bugger! With half an hour left I went back in the corner and had carp number sixteen which was a decent fish and that was the last of the action for me, the Tart landed a lump near the end and it was going to be close for the pound. I knew Blaker had beaten me and although I had more fish than the Tart I had a couple of 'squeakers' whereas he had some lumps.
I packed up and Andy gave me a hand back with my kit (can you come every week please?) and we met the scales coming the other way, the top weight so far was one of Brendon's mates (standing in for somebody) with 38lb 8oz from peg 2. Bish had 19lb 12oz from peg 5 and the Hoff had slowed up after his good start to weigh 30lb 9oz, the Tart had managed to equally spread his fish between his two keepnets with two in one net and ten or twelve in the other! He weighed 55lb 4oz and I knew I didn't have that so paid him my pound and mentally prepared myself for the weeks of gloating texts that lay ahead of me.
Jamie P had 30lb 1oz and conceded his pound before it was my turn, my first weigh was 33lb 12oz and when I pulled out my other net I could see it was going to be close, 23lb 6oz was called, giving me a 57lb 2oz total and I'd just beaten the Tart. Picky in peg 11 had 19lb 12oz so I was another squid better off, the next few pegs struggled before the scales reached Blaker and he plonked an excellent 78lb 10oz on the scales to go into the lead and he's really got this meat fishing down the edge sorted. Exeter Mike had 13lb 8oz, Paul H had 28lb 8oz, Bushy had 23lb 8oz and Janders had 15lb 8oz from the dreaded peg 20.
So I finished second and picked up £80, an enjoyable day but frustrating that I'd lost enough to win it, I'm sure a better angler would have won off my peg today.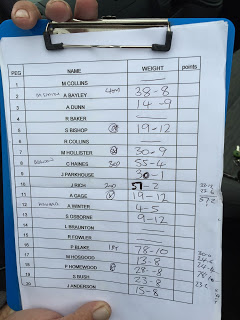 Today's board
1 – Paul Blake (Chard) – 78lb 10oz
2 – Jamie Rich (Against Men and Fish) – 57lb 2oz
3 – Brendon Ions (Torquay Chicken Legs) – 55lb 4oz
4 – M Smith (Torquay) – 38lb 8oz
Sections
A – Steve Bishop (Chard) – 19lb 12oz
B – Mark Hollister (Chard) – 30lb 9oz
C – Alan Gage (Chard) – 19lb 12oz
D – Paul Homewood (Taunton) – 28lb 8oz
So with three matches to go, the league looks like this,
1 – Paul Blake – 23 pts
2 – Jamie Rich – 24 pts
3 – Steve Bishop – 33 pts
4 – Jamie Parkhouse – 43 pts
Ilminster AA fished round five of their Summer League today and Leighton Cox had the top weight with 31lb 10oz of bream and skimmers on the feeder from peg 9, and for good measure he included a nice tench as well.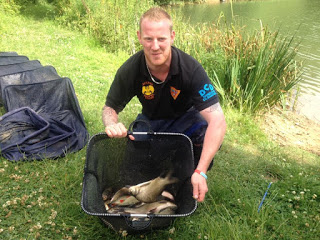 Leighton had a lovely net of bream and skimmers to win today at Dillington
Next up – Summerhayes
What's new – Lots of page updates
Check Out – My last match (below)