The penultimate round arrived and it was chucking it down, I loaded the car up and stuck my brolly in as well, I never normally take one as they tend to just get in the way but the wet stuff was showing no signs of stopping and I thought I could at least keep my bait dry. I got out the pond and the first job was to get the waterproofs on before paying my pools and waiting to see if I would be on peg 2 or 20 today. Les opened the envelope for this week and as he started to read out who was where, I knew I'd be in 20 today, it's not been a great peg, Paul Homewood framed off it in the first match with over 40lb but it hasn't done much since. I was just hoping I would be within touching distance of Blaker (who was in peg 6) after today to give me a fighting chance in the last match.
I took my kit to the peg and after getting my box sorted I tried to get my brolly in the ground without much success (note to self – get a brolly attachment!), I eventually managed to get the spike in deep enough to get the brolly up and keep most of the rain off me and my bait while I set up. My rigs for today were the usual up in the water and meat at 5 metres plus a rig to fish towards the end bank at 13 metres past an iron bar that rises out of the pond like Excalibur and is the cause of a lot of lost fish. The brolly was already being a pain in the arse so I took it down just before the match started and prepared myself for a rather moist day!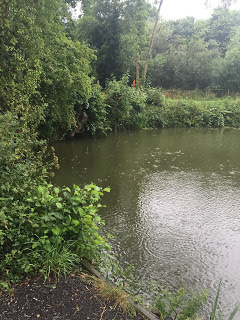 Peg 20, you can just see the iron bar if you look closely
Les blew for the start and I started on the shallow rig at 11.5 metres with a 6mm banded pellet while feeding the same, I was also firing pellets on the 13 metre end bank line and feeding some meat (flavoured with Bait-Tech's Krill and Tuna liquid) by hand at 5 metres. Jamie P had a carp on his depth rig and I saw Blaker also get an early fish down the edge, I was intending to give it at least an hour fishing shallow but then both Jamie and Blaker started catching really well and had three or four fish each and I was already a long way behind and we'd only been fishing 30 minutes! I decided to try the 5 metre line, to be honest I wasn't expecting much as I've only hooked one fish in eight matches on this line, and that came off!
After a couple of minutes the float sailed away and I missed it and then missed the next bite too! It was third time lucky and I finally connected with the next bite and landed a good fish around the 5-6lb mark, I had two more quite quickly (including another decent fish) to end the first hour with three fish, the trouble was, every time I looked up Blaker was netting a fish and Jamie had added a couple more as well. Picky, opposite me in peg 1, also got off the mark and it was looking like the pond was going to fish really well. I had my fourth fish but then started missing bites again, my next fish was foulhooked but I safely landed it. By now Jamie P had nine or ten carp and I think Blaker had a few more than him!
Andy Winter in peg 2 was obviously fishing worm as along with a few skimmers, he'd landed a couple of eels and I asked if he was going for the silvers pool as there isn't one! My next two bites resulted in foulhooked carp and they both came off so it was time to change again. I slipped a cube of meat on and shipped out to the end bank where I'd been feeding pellets from the start, there had been a few fish moving about down there but I wanted to leave it as long as possible before fishing it. The float settled and then buried and I landed a three pounder without too much fuss and then next chuck I had another and it was solid! I was starting to catch Jamie up but Blaker was still bagging and looking like he would do a big weight.
I lost a foulhooker but over the next hour or so I added another four carp to put me on eleven with two and a half hours to go. Jamie P was still a few fish ahead and he'd had a couple of lumps, Picky now had three or four fish and the Tart had around the same although I couldn't see anybody catching Blaker now. Chilly was still getting some big grinners and even caught a lovely tench along with a couple of nuisance carp. Then the rain eased off which was a good job as my pellets were starting to get a bit soggy but then my bites stopped and looking round the pond, everyone else was in the same boat!
I came back in on the 5 metre line and had carp number twelve, then I briefly hooked a fish which came off but I was still attached to something and I lifted the rig out to find I'd hooked a catapult! It was in fairly good nick too – bonus! Jamie P had slowed right up and was stuck on thirteen carp and a skimmer and I hadn't seen Blaker catch for ages although he'd caught enough early on that he could have gone to sleep in his car for the last two hours! With no more bites on my shorter line I went back to 13 metres and had a fish straight away but then nothing and it seemed to be a case of pinching a fish from each line and then leaving it alone for a bit. With half an hour left I was back on the 5 metre line and had carp number fourteen.
I had intended to switch back to the longer line for the last ten minutes but I was getting a few knocks so stayed at 5 metres, with only five minutes left on the clock I happened to glance away from the float only for the pole tip to be wrenched round, I played it carefully as I wanted to make this one count and when Les blew for the all out, I shouted 'Fish on' and despite Jamie willing me to lose it, I safely netted carp number fifteen a few minutes after the final whistle. It was going to be close between me and Jamie P, he had fourteen carp and a decent skimmer and was admitting to 49lb and I thought I had between 45-50lb. Blaker shouted across asking what we'd had and then said he had about 50lb!
I took my sodden gear back to the car and by the time I caught up with the scales, the first few pegs had already been weighed, Picky had 12lb 12oz and then Chilly had 17lb 8oz which included 12lb 2oz of silvers, there were a few DNW's and then Blaker was only 43lb out with his estimate as he weighed 93lb 2oz! Exeter Mike had 35lb 10oz next door and then Paul H went into second place with 45lb 8oz from peg 8. Janders had 19lb 10oz in peg 10 and Mike C had 13lb 8oz opposite him, Mike Smith (standing in for Andy Bayley) had 23lb 12oz from peg 12 and then Dunner had 39lb 8oz from peg 13.
Bish had 31lb 2oz from peg 15 and the Hoff had 26lb 1oz, then it was the Tarts turn and he had six carp for 22lb 15oz and when Jamie P had 49lb 15oz next door it looked like the Tart would be stopping off for sausage and chips on the way home yet again. I was last to weigh and I still thought it would be tight between me and Jamie P, my first two nets went 17lb 8oz and 18lb 9oz and then my third net was called at 21lb 8oz to give me a 57lb 9oz total and second place, plus a clean sweep of all five side bets to top off a nice (if rather damp) days fishing.
At the results, Blaker was confirmed as the winner, I was second and picked up £80 (and did I mention I took a nice shiny nugget off of the Tart?), Jamie P was third and Paul H was fourth. Although Blaker has pulled a point on me, I'm well chuffed with my result and felt I'd fished a good match today. So it's set up nicely for the final match in two weeks time, I will be on peg 2 with Blaker on peg 8 and I think his is the better peg and despite my two point advantage, he will go into the match as slight favourite, be sure to come back then to see how things pan out.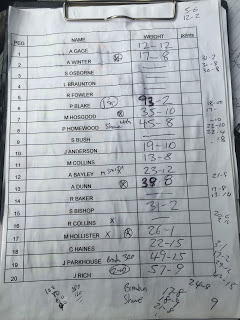 Today's board
1 – Paul Blake (Chard) – 93lb 2oz
2 – Jamie Rich (Against Men and Fish) – 57lb 9oz
3 – Jamie Parkhouse (Burt Baits) – 49lb 15oz
4 – Paul Homewood (Taunton) – 45lb 8oz
Sections
A – Andy Winter (Chard) – 17lb 8oz
B – Mike Hosgood (Nr Exeter) – 35lb 10oz
C – Alan Dunn (Chard) – 39lb 8oz
D – Mark Hollister (Chard) – 26lb 1oz
With one match to go the league looks like this,
1 – Jamie Rich – 30 pts
2 – Paul Blake – 32 pts
3 – Steve Bishop – 46 pts
4 – Jamie Parkhouse – 49 pts
5 – Mark Hollister – 59 pts
In other news, I met up with fellow blogger Russell Hilton last Monday evening and we popped down to Seaton for a few hours after those elusive mullet but like the majority of my mullet trips we never had a bite between us and it's proving increasingly frustrating. Hopefully our next trip will be on the canal with rudd and possibly tench and bream our target. Next week I'm headed to Dillington and will have my feeder rod with me as the last few matches have been won on it.
Next up – Dillington
What's new – Lots of page updates
Check Out – My last match (below)