Since my first visit to Thailand in 2010 with Scott and Ashley when I fell in love with the country and course the amazing fishing on offer, I've been back nearly every year and in some cases, twice a year. I'd only ever been to Krabi, Ao Nang and Phang Na in the south and spent two days in Bangkok on my second trip so this time I decided to try and see a bit more of this wonderful country. I booked nearly three weeks off work and would start off in Ao Nang before heading to Udon Thani and then Chang Mai for nine days, staying at Teak Tree lake where I would have five days fishing interspersed with some sightseeing.
First stop was Ao Nang where Bell met me at the airport and we had some nice meals, nights out and visited a catfish farm. It was also great to catch up with Steve Mayo and we had a couple of beers in the Last Fisherman bar by the beach.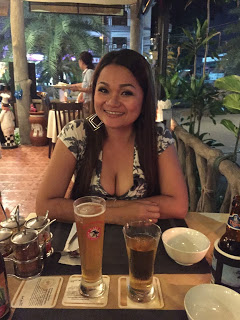 We had some lovely meals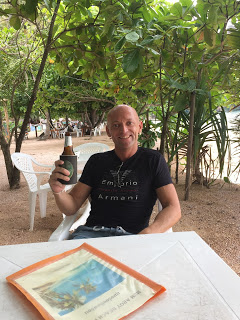 Mr Mayo still loving life in the 'Land of Smiles'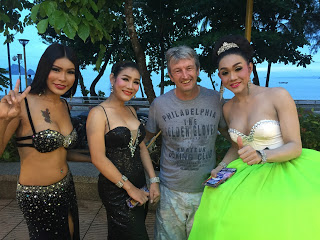 Met some rather tall 'ladies' by the beach
Then it was off to Udon Thani via Bangkok where we stayed in a lovely hotel which was close to loads of bars which I wasn't aware of when I booked it (honest!). We met up with friends and had some good nights out, we went to one bar where a girl battered me at pool but I got my revenge the following night.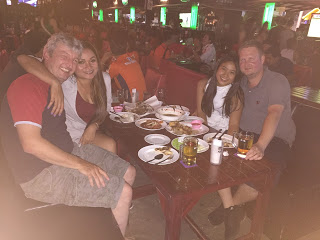 We met up with Taplet and Ashley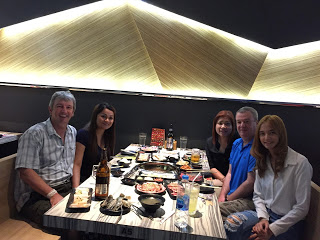 Also caught up with Mike Ward and his lovely wife and daughter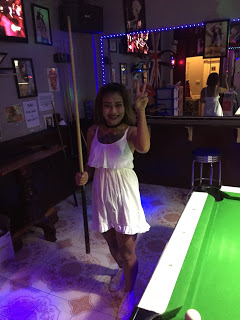 My pool opponent
I also went to meet Bell's family who were lovely and we stopped along the way to watch the rice workers in the paddy fields. I think I was a bit of a novelty in the village as they don't see that many westerners and when we had a walk round, I felt a bit like the Pied Piper with all the youngsters following on behind!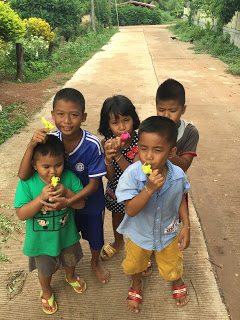 Very sweet but buying them all whistles may have been a mistake!
Last stop of my mini tour was Chang Mai and Bruce picked us up from the airport and it wasn't long before we were pulling up at the gates of his impressive fishery. We were in the first bungalow and they are very spacious with en suite bathrooms and you are right by the lake with your own fishing area. There are only two bungalows and basically you have the lake to yourself with Bruce as your guide as he won't let the other one out unless you are from the same party. You can also choose to go safe catering or eat with Bruce and his lovely wife Noon, so after a lovely meal and a couple of bottles of Chang, it was off to bed to dream of exotic fish before my alarm went off at 6:30 ready for the 7:00 start.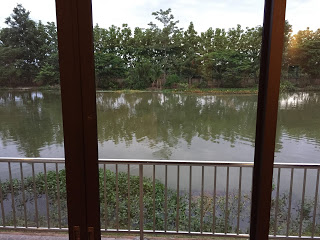 The lake is right outside your window
Bruce threw some bread out and it wasn't long before there were some pretty impressive swirls around the free offerings. First chuck I hooked a decent size pacu but it bit through the braid at the net, a 35lb striped catfish was next and my first new species was on the board. Then a very tentative take saw me playing a good fish which turned out to be a 20lb alligator gar (on floating crust!). I managed another striped catfish before they wised up. I put a predator rod out with a chicken heart on the hook but it was quite quiet despite lots of big fish rolling in the bay where I'd cast out. *Note all weights are estimated.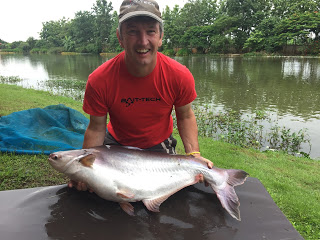 35lb striped catfish*
20lb alligator gar on floating crust of all things!
The other rod was changed to a method feeder with a ball of laam wrapped round it and a hookbait consisting of around a dozen pieces of punched bread compacted along with a polyball on the hook. Bites came regularly through the day with some screaming runs resulting in Siamese carp to 38lb, a 9lb mrigal and a 15lb Catla catla, an Indian carp species and a new one for me.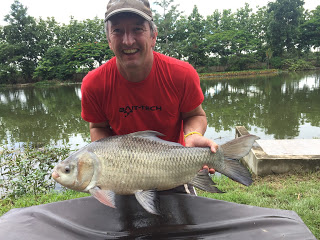 My first Catla catla
I fished the next day as well and had some early action on the predator rod with a massive piece of chicken fished under a float, my heart was in my mouth as the orange tip disappeared from view but the strike resulted in only a modest bend in the rod although it turned out to be a Wallago Leeri of around 4lb and another new species. The next fish came to a chicken heart fished on the bottom and was a 4lb Giant Featherback, yet another new species. No more predators but I had four Siamese carp to 30lb on the laam method feeder.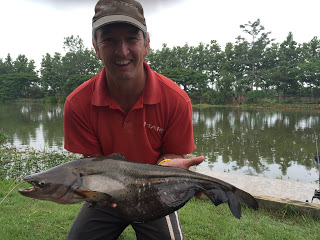 4lb Wallago Leeri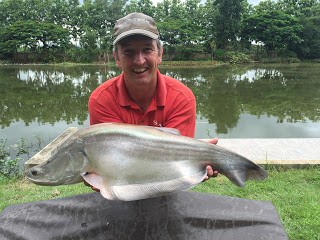 Giant Featherback
That night we went to a French-Thai restaurant and I had a fantastic steak with red wine sauce, the next day was a rather busy one as we went and visited some hill tribes before going elephant trekking and finally going to the Tiger Kingdom where we had our photos taken with some tigers and I have to admit to feeling rather relieved to get out with all my limbs intact.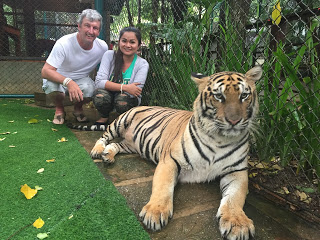 Magnificent creatures (and the tigers were nice as well!)
My third days fishing was rather eventful as well, had another striped catfish on floating crust then one of my favourite fish in the shape of a 30lb Amazon redtail catfish on a big chunk of chicken. I then had a stonking run on a chicken heart and hooked into something which felt rather weighty and I was hoping it would be one of the venues big redtails but was rather surprised when a massive turtle poked it's head out! Bruce said they were around 40lb when he put them in and I had no idea what we were going to do if we got it in the net but thankfully the hook pulled out. Bell said turtles were lucky and I hoped she was right.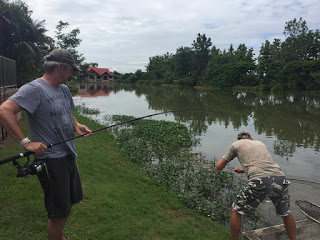 The 'lucky' turtle just about to make its escape
Bruce suggested fishing the float up in the water with paste wrapped round a bread punch hookbait. He fed some sloppy balls of groundbait/laam to create a nice cloud and I had a couple of Siamese carp to 15lb before I hooked a fish that tore off and Bruce said it could be a tambaqui, one of the fish on my wishlist and when it surfaced it was a beautifully marked fish of around 35lb and my day was made! Back on the method feeder and I hooked a smaller fish which Bruce said could be a black shark minnow which was another fish I would dearly love to add to my CV and blow me if that wasn't what came to the top. A lovely looking fish around 6lb was netted and I was starting to think of Bruce as some kind of 'fish whisperer' (or maybe it was turtle luck!).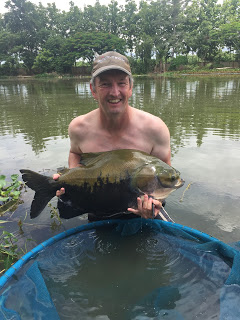 A 35lb tambaqui (and a very happy angler!)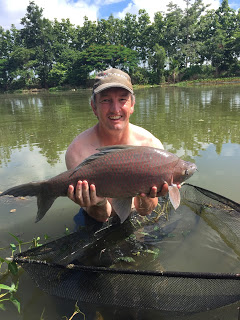 Black minnow shark (and the smile gets bigger)
We went to a massive street market in the evening before another day sightseeing where we went to the stunning Royal Gardens and visited a beautiful temple.
My penultimate days fishing got off to a fantastic start with a massive pacu of 38lb on the method feeder before I had another alligator gar on a piece of float fished chicken. It was quite a hectic day with 13 fish in total including a roho of 33lb which was a new pb, an African Vundu catfish (another new species) of 38lb on chicken heart and my first Asian redtail catfish of the trip.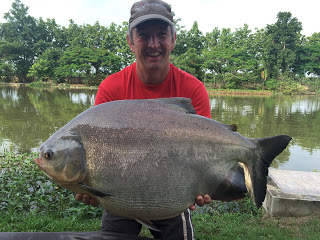 My biggest pacu yet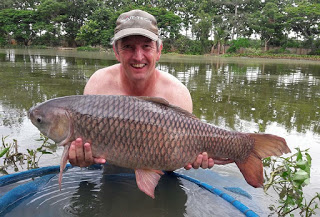 33lb roho
Vundu catfish (another new species)
The next day was just spent relaxing and doing a bit of shopping before the final days fishing arrived and I had a nice day catching another Amazon redtail followed by more Catla catla to 20lb, roho to 25lb, Siamese carp to 35lb and my first Mekong catfish of the trip which gave me a good workout and at around 48lb was my biggest fish. I also had a 20lb Asian redtail on a piece of float fished chicken and with about quarter of an hour to go I had a screaming run on the method feeder but pulled out of the fish which was a shame as it would have been a nice ending but I'd still had five brilliant days fishing.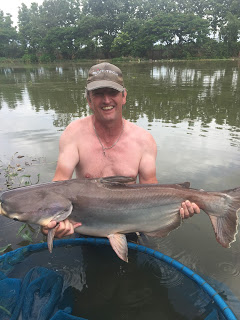 48lb Mekong catfish
Then with only a few minutes of fishing time left, the same rod went off again and I was into another fish, I was thinking it might be a small carp as it was darting about, sending up clouds of bubbles when the 'fish whisperer' said it might be a ripsaw catfish, surely I couldn't be that lucky but he was right again and another of the fish on my bucket list was expertly netted. What a magnificent, prehistoric beast with wicked barbs down the lateral line and I couldn't have wished for a better end to the trip.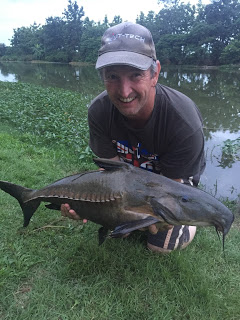 22lb ripsaw catfish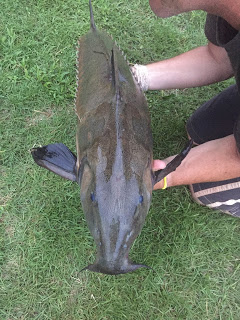 That's why it's called a ripsaw!
So another amazing fishing trip in Thailand and although I didn't manage to hook into any of the lakes monsters (which include redtails to over 100lb), I had 44 fish of 16 different species in five days which included 8 new species and several new pb's. Bruce and Noon looked after us so well and helped make it a fantastic holiday, to find out more have a look at the website Teak Tree Lake
Next up – Dillington
Coming soon – More reviews and hopefully some guest blog posts
Check Out – My last match below