My latest interview is with Bob Roberts, top angler and journalist who isn't afraid to tell it like it is, some great answers and he certainly gives lots of food for thought (all images courtesy of Bob Roberts)
Hi Bob, I realise you are an extremely busy man, so thank you so
much for taking the time to answer my questions;
You've match fished at a very high level but these days (much like
the late, great Jan Porter) you seem to have switched to targeting big fish,
why the transition and do you ever fish any competitions now?
I was a reluctant match angler who was forced in that direction to
a degree because my love of river fishing and the Trent in particular was
restricted by the sheer volume of club matches and opens on the river at
weekends, which was the only time I could fish. Hard to believe now that the
Trent was virtually lined, both banks, from Nottingham all the way down through
the tidal towards Dunham Bridge.
Yes, there were places you could get in but the best areas were
always matched up. Places like Burton Joyce, Shelford, Gunthorpe, Caythorpe,
Hoveringham, Fiskerton, East Stoke, Rolleston, Farndon, Newark Dyke, Winthorpe,
Muskham, Holme Marsh, Collingham, Cromwell, Sutton, Girton, Besthorpe, North
and South Clifton, Dunham, etc, etc. All were matched up, Saturday and Sunday.
You'd travel down the A1 at 7am and it was like a convoy of coaches so it was a
case of if you can't beat 'em, join 'em.
And then beat them, of course! 😉
Of course, the fishing on the Trent went downhill in the late-80s.
It was never as bad as the papers made out. I remember after a particularly
disastrous National Championships the Angling Times announced the river was
officially dead. What a load of bollocks! So I contacted Richard Lee, the then
editor and challenged him to come fishing with me. I took him to a stretch you
sometimes see featured these days in Martin Bowler's Angling Times column
called Smeatons, near Newark whereupon I proceeded to knock out 70lbs of
barbel, chub and bream.
I won't repeat the language he used when realising what a clanger
he'd dropped but I like to think that night and the follow-up article I shot
there for the paper had some influence on challenging attitudes towards what
was clearly a changing river.
What couldn't be mended so easily was the collapse of the Trent
match scene, particularly in winter. The big match scene died. The focus
switched towards the South Yorkshire Canals which were improving dramatically.
That and team fishing. It was a new challenge and one that I rose to. I did very
well on the canals but it didn't take me long to realise that match fishing
isn't just about winning, at least not for me.
I remember coming back from a match one day, a match that I'd
actually won, and the wife asked, 'What's up?'
I replied, 'I can't say I enjoyed that.' And that was it. It was
over for me. I'd simply lost all interest. Since then I've maybe fished a
couple of charity events, one of which I won, but I've never really had any
inclination to return to match fishing since.
Saying that, I've run a huge match fishing competition for the
past 18 years called the Club Match Angler Championship that's purely aimed at
club anglers in the South Yorkshire and North Notts area. Clubs enter their
results each week to be published in the Sheffield Star which is syndicated
throughout Sheffield, Rotherham, Barnsley, Chesterfield and Doncaster.
These match winners get invited to a semi final and the section
winners in the semi go through to a final which is boosted by Sponsorship.
Currently Daiwa plough several thousand pounds worth of tackle into the
competition each year but during the era I've run it the total sponsorship has
topped £50,000.
It encourages and supports local clubs, tackle shops and fisheries
and I deliberately make sure none of the open match gunslingers gets an invite
so it's very much a grass roots affair. In fact, the very place I started. Way,
way back when I was on the club match scene I actually fished the final a few
times. I can't claim credit for starting the event, that goes way back to the
days of Colin Dyson and Colin Graham but I'm proud to have inherited it, kept
it alive and seen year-on-year growth for nearly two decades. This year (2016)
the competition celebrated it's 40th consecutive year. http://www.bobrobertsonline.co.uk/blogs/greenclub/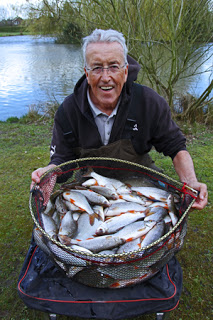 What's your favourite style of fishing?
The glib answer is whatever I'm doing tomorrow. You see, if I was
restricted to fishing one style or for one species I'd soon grow bored and
probably pack in fishing. I love float fishing on running water – that can be
stick, waggler or maybe the bigger Avons. I love quivertipping bread in winter.
Sight fishing for barbel. 'Codding' with a great big lump of meat on a flooded
river. Surface fishing for carp. Bobbins for perch and tench. Bream…, and
lately I'm well into the finesse fishing with jigs and drop shotting. Zander
intrigue me, especially on the Trent and I do enjoy the odd pike session. In
other words, if it swims I'll fish for it and I'll enjoy doing it, but no
matter how much pleasure it gives me, chances are I'll be doing something
different next week.
Your favourite species?
Probably roach. Then tench and perch. I tend to occupy my mind
with methods rather than species. Choosing the method tends to dictate what I
catch.
Where is your favourite venue?
That's a tough call. If you buy a bicycle it's a bicycle until the
day you get rid of it but venues change.
Take the Trent. When I was a kid it was quite heavily polluted but
it teemed with roach and gudgeon. Then it became a chub river, then it was
crammed with 'bottle tops'. It was empty (apparently) and then it became a
barbel river. In between times it was a bleak anglers' paradise – remember Tom
Pickering coming to prominence as the Bionic Bleaker? It also had a spell when
there were carp everywhere. Today it holds a significant population of zander
and more catfish (and sturgeon) than folk would care to admit. And the tidal
was always a better roach river when it came to the size of fish.
So, how can I say the Trent is my favourite river? It can only be a
favourite at a given moment in time, or perhaps during a particular decade but
the Trent currently is a far cry from the Trent of the 1960's as it was indeed
from the Trent of the 1980's.
The same can be said for many of my favourite rivers of the past. Take
the Idle. I learned to fish a stick float on the Idle and caught my first 2lb
roach by design from there. By and large the roach disappeared but in recent
times I've caught double figure barbel from it.
I'd rather just say I like rivers first and foremost but I still
spend plenty of time on lakes and canals. You'll even find me on commercials in
the winter months.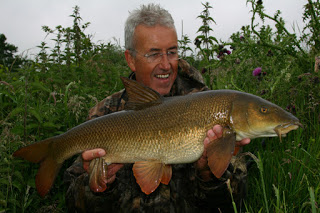 Have you any angling heroes or anyone who has inspired you?
I have many, if indeed hero is an appropriate term. After all,
catching a fish is a far cry from saving a life.
Colin Dyson probably had the biggest influence on me when he was
editor of Coarse Angler. I used to send him letters, picking his brains. This
was long before the internet and mobile phones. Eventually he tricked me into
writing a series of articles. It was never my intention that they would be
published but he ran them all the same.
I was shocked and stunned but in the 30 years since then there's
never been a month when I haven't been in a magazine somewhere or other. After
overcoming my initial reluctance I took to it like a duck to water. If you
include the various weekly columns I reckon my output to date easily exceeds
1,500 articles and columns, so yes, Colin did have a huge influence on me. I
utterly respected him.
David Hall was a rogue, a charlatan and a genius. 'One day you'll
write for me.' He said, and sure enough it was an experience I'll never forget.
I treasure the times we shared, the many times we ate and drank together and
the confidence he gave me.
Tom Pickering was someone I looked up to. I was privileged to
spend a little time with Ivan Marks. Ken Giles is an utter gentleman, a walking
education but there was an era of my fishing life when I was climbing the
steepest learning curve and I would pause, stop whatever it was I was trying to
get right and say to myself, 'What would Kevin Ashurst do now?'
Kevin was/ is a one-off, and though I've only met him a few times
he's one of the few people you can sit behind and realise he's actually doing
something different from anyone else.
And then there's Keith Hobson. Hobbo's a proper one-off! A
thoroughly great river angler. As good as I've ever fished against and then
some. Always smiling, too.
I've been lucky to fish with and against some of the greats of the
match and specialist world. Just because I haven't included them doesn't mean
they haven't influenced me or that I deem them to be any lesser anglers.
What's your biggest fish in the UK? And abroad?
Don't even want to go there. In reducing your catches to numbers
lies madness. I don't even carry scales normally. You tell me what it achieves
when someone fanny's about for 5 minutes to determine a barbel weighs 6lb 3ozs.
Then he photographs it and is proud that he laid it on a mat and took the time
to nurse it back to recovery. What's that about?!!! It's a barbel. Is it a PB?
Then why the f$%£ are you weighing it?
As for nursing it back to recovery, barbel don't need nursing if
you treat them properly in the first place! Folk are too quick to whip them out
of the water after they hit the landing net and they then keep them on the bank
for far too long yet have the audacity to lecture others on fish care. Sorry
but they're idiots!
And let's say it is a PB and you post a picture on the internet.
Better make sure it looks bigger than you reckon because you're only inviting
abuse. Such negativity. And it's all driven by jealousy. And suspicion. And
lies. Because in a lot of the cases they are lying! Any fool can see that fish
ain't nowhere near the claimed weight.
And most scales are inaccurate anyway, so it doesn't make a blind
bit of difference.
Perhaps there are times in your life when such trivial things
matter but trust me, if you're obsessed with numbers you might just be missing
the whole point.
Have I caught some big fish? Yes. Home and away. And so have lots
of other people. Fish the right waters, put in a decent amount of effort and
apply a modicum of competence and you'll catch big fish. It ain't rocket
science. Let's be honest, catching big fish abroad is not a lot to do with
skill. It's more to do with ego and opportunity. It's showing off!
I loved John Wilson's programmes when they were set in and around
Norfolk. I found the foreign stuff boring. I never watch a Matt Hayes programme
till the end because the minute he says he's off to Cuba I'm off to put the
kettle on. Yawn!!!!
Foreign fishing is something you do, not something to drool over.
Most of it's a sham anyway. How many times have you heard John Wilson ask the guide,
'What will you give me for that?' And the guide knows his tip will be in direct
proportion to the weight he estimates and that the number he comes up with is
aimed at potential customers watching the show.
Then there's the, 'Hey, look at me, I'm brilliant 'cos I once
caught a great white weighing 1,500lbs.' Really? Based on what? A guestimate?
How accurate is that? Yet you'll actually weigh a 6lb 3oz barbel?
Truth is, yes, it's a big fish, like an elephant is a big animal,
or the Shard is a tall building, but you can't even get an accurate measurement
of its length and as for the girth…? Who's going to try to measure that, eh?
No, good luck to anyone who's caught a big exotic. You paid enough
so you deserve it. It can be incredibly exhilarating, but don't pretend it was
all down to your own skill and please don't be giving it a spurious number
unless you are equally prepared to cut some slack and offer the same leniency
to a guy who claims he caught a 25lb barbel from the Trent but left his scales and
camera at home.
By all means dig deep and queue up for a ride on the Space
Mountain at Disneyworld. It's great fun. That's all. Accept it for what it is,
a thrill ride on a roller coaster. It really is okay to dispel reality and
believe that Mickey Mouse exists but don't confuse it with the real world. Same
goes with foreign fishing.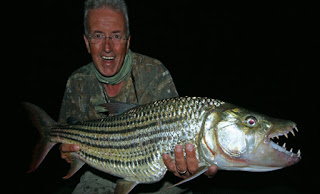 You do a fair bit of fishing in far flung exotic places, are there
any countries you still really want to visit and any species you would dearly
love to catch?
Not really. I enjoyed my travels and had some amazing experiences
off the beaten track. Watching the sun rise in the Himalayas, seeing it set
over the Nubian desert, listening to animals roaring at night in the jungles of
Uganda and Zambia. I've witnessed dolphins, whales, manta rays and turtles,
found leopard prints outside my tent in a morning. I've stood on a river bank
with crocs and hippos in front of me and elephants behind. I've got up close
and personal with lions in the wild, closer than you would dare to imagine.
I've rubbed shoulders with a Government Minister on TV and seen abject poverty
up close and personal, yet shared experiences with some of the most amazingly
friendly natives. I've played cricket with kids on an island in the middle of
the Indian Ocean and football on the banks of the Zambezi. These are the
shining times of our lives. To be honest, catching fish comes a poor second to
the overall experience.
I love travel. I love to visit new places. I've been fortunate to
have visited a lot of countries so far and my goals include visiting Australia,
Japan and Alaska in the very near future and fishing won't really enter my
head. When those boxes are ticked I aim to explore South America.
A lot of people say commercial fisheries have been the saviour of match
fishing, especially with the decline of the rivers but more recently there
seems to have been a swing away from carp back towards silver fish matches and
rivers, where do you think the future of fishing lies?
Hate to say it but I'm not sure match fishing as we know it has a
future. Look around. Where are the eager 20-year-olds. Those in their 30s and
forties? It's frightening. Match anglers are an aging breed. Many are only
still at it because they can drive to their pegs. The concept of carting gear over
fields and fences for a mile is alien. No, they'll keep plugging away at their
20-peg opens until they fade away. It's sad.
The new blood coming into the sport tends to be attracted to the
carp scene which is vibrant, happening, connected. Until they get fed up. Then
they try barbel fishing for a while and presumably pack up. Maybe they will go
the full circle and return in their later years. I do hope so.
The press and the Angling Trust need to get around a table and
paint a vision for the future. One the world needs to see. Publishing results
in a national paper of a 20-peg Wednesday 'open' at a carp puddle is a joke.
The most boring job in the whole world has to be typing out Fred Blogs won the
'X' match with 200lb of carp using 16 metres of floating pole, firing out 4mm
pellets at Peg 2. And then doing the same fifty more times until the page is
full. What's that about?
We need a Premier League of matches that matter featuring only the
very best anglers. The rest are inconsequential. Sorry. But that's the way
forward. It needs centralising and co-ordinating. Until that happens, the match
scene is going no-where.
And when did Winter Leagues ever finish in October? Another load
of bollocks. That's barely even a late summer league. And what's the point of
having 20 leagues where each has a 'seeded' team that wins every year. Perhaps
they think it's the Champions League Groups Stage or World Cup Qualifiers. Well
let me tell you. It isn't.
But if those same 20 teams were in two leagues. One North, one
South, then you'd have two matches a week to report on in the papers with the
top, top teams and the very best anglers on show. Fill two pages with that and
forget the rest. Now you've got Arsenal vs Chelsea, Man U vs Liverpool. Readers
might actually start to care again.
And get those bloody Nationals away from commercials. What a
brilliant way to kill of the clubs and associations funding streams. Talk about
shooting yourself in the foot!
You're quite an outspoken guy who's not afraid to ruffle a few
feathers, what really gets your goat? And if you could change one thing in the
angling world, what would it be?
No idea where you get that idea from! 😉 Although I suppose my
favourite headline in all the articles ever written about me was in the Angling
Times. It went something like: 'If I've Upset Anyone It's Probably
Because They Deserved It!'
That actually sums me up perfectly.
One of the very best pieces of advice I was given, very early on
in my writing career (when I was actually quite the shrinking violet) came from
David Hall. He told me that if you are going to write articles for the angling
press then 95 per cent of the readers will most likely enjoy what you do and
like you. The other 5 per cent won't and nothing you can do will change that.
So spend your time with the 95% and £$%& the rest!
It was very good advice.
Of course this was all before the emergence of internet trolls and
the like. Unfortunately the more we become connected through technology the
more idiots you are likely to attract with their irrational suppositions and
prejudices. Unfortunately I am prone to react but it is possible to expose them
for what they are. It's taken me a decade but I've ground most of them into
submission now! I still have a few idiots clutching at my coat tails but
nothing I can't live with or indeed that even bothers me.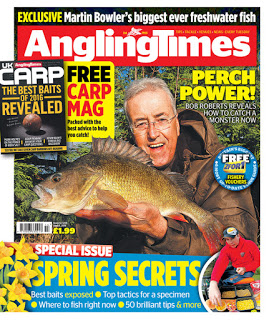 In a similar vein, if you had a time machine is there one moment
in fishing you wished you could go back and change? i.e. a dream fish coming
off at the net or a decision in a match that's cost you a title?
I doubt I'll ever forget losing the Wychavon Championships in the
most unfortunate, gut-wrenching fashion. The river was up a foot and I'd drawn
really well, just above the town bridge. It was going to be a low weight day
and all I had to do was put the fish I hooked in the net. Unfortunately there
was an invisible bed of lilies in front of me that were submerged beneath the
coloured water.
Things were going really well until I hooked a bream of about
two-and-a-half pounds. It fought really well against the light tackle and took
ages to pull up against what was quite a fast flow, long enough for a huge
crowd to gather behind me that spread out across the bridge and over the other
side. Old Hally was bigging me up on the live commentary so that drew folk from
other areas as well. You get one hell of a buzz from an experience like that.
I was just about to bring the fish onto the surface and net it (to
the roar and applause of the crowd)when everything locked up. The bream has
snagged in the pads and I was in big trouble. I could gently lift the fish so
far, the feeder would swing well clear of the water and then everything locked
up solid, just out of netting reach and bear in mind I was sat on a platform
over a fair depth of water so there was no possibility of wading out to free
it.
The fish kicked and slowly took line. I watched the feeder descend
into the water and then stop. It was stalemate. I could get the fish back up to
the pads again and it could take the line back, see-sawing back and forth with
not a thing I could do about it.
Each time I lifted you could hear the crowd take in a collective
breath; each time the fish took line back they sighed in unison. My knees were
knocking, my heart pounding and there was nothing I could do and the end result
was inevitable. The line would give up sooner or later and so it did to a loud
groan from all around.
This happened three or four times during the match and each time
was worse than the last because the crowd just grew bigger and bigger. The Wychavon
was there for the taking and an unkind person might say I blew it (although
there was nothing I could do about it in reality) so I had to settle for
fourth. Had you told me beforehand that I would have finished fourth I'd have
snatched your hand off but that was the most excruciating experience I've ever
endured in match fishing.
Then again, given the chance to go back in time I would not be
match fishing, I'd either be on the River Idle or the Tidal Trent in the 1970s,
using the tackle and knowledge I have now. Oh, what roach fishing I would
enjoy. They were amazing times, little did I realise, but I was only a small
step up on a very steep learning curve at the time.
Have you got one piece of advice that will help the readers put
more fish in their nets?
Inside the front cover of my old 1980's fishing diaries I wrote a
motto that I've followed since. It says: 'Adopt, Adapt, Improve'.
In other words, observe what others do, analyse what makes it work
for them, adapt it to your own style and then find ways to improve on it.
Therein lies the secret of success.
There's another by Nigel Shadbolt, Professor of Artificial
Intelligence that I've taken on board more recently. This one is: Data,
Information, Knowledge.
In reality it's a three-step process to unlocking specialist
angling.
Match fishing has been steadily becoming more professional with
anglers smartening up their appearance, big money televised events and more and
more sponsored anglers but there are still only a handful of full time anglers,
do you think there will ever be a time when match angling can become a viable
career, like say professional footballers?
In a word, no. Before we can have professional anglers we need
professional administration. Look at it this way, follow the money trail. Where
does the money come from in football? From external sponsorship, from
advertising, endorsements, from TV, from spectators. Where does it come from in
fishing? From anglers.
If you follow the money trail in any of the big money angling
finals you'll find it is generated from the participants during the preliminary
rounds. Take Fish-O. How much does it cost to enter? How much of that is paid
out in prizes in the qualifying matches and how much is skimmed off to fund the
final?
And who watches it? The final is a bunch of random qualifiers, a
bit like having a world cup without Germany, Spain and yes, England.
If Des Shipp is going to go head-to-head with Alan Scotthorne and
we get the tactical thinking of each as the clash progresses, then yes, I'm
interested. If it's 30-odd blokes catching F1s, half of whom I've never heard
of then nah, I couldn't really care who wins.
I've no idea who won last year's Fish-O, or Parkdean, the 1st Division National, or any
other major event you care to mention. Most folk don't. And it's on a
subscription channel, not BBC or ITV. Sky don't pay for the rights, do they? We
beg them to broadcast it.
Barry Hearn isn't a philanthropist. He's a professional boxing
promoter who's Matchroom business exists to make money. Everyone involved is
paid a wage except the anglers who have actually paid to be there. Think about
it.
As for smartening up our image, I look back at old black and white
photographs of anglers and they were pretty smartly dressed and frequently
fished matches wearing collar and ties. Standards fell in the 'swinging 60s'
when folk generally got a bit scruffy. Along came Sandra Halkon Hunt and we
adopted smarter team colours but come on, the benefits of that change should
have been felt 30 years ago and more, not today. Go along to any match and open
your ears. Listen to the folk who are fishing. Listen to the language. You can
dress up a monkey in a fine suit but the swearing is unacceptable. There's your
Achilles heel as far as a spectating public is concerned.
As for 'professional' anglers, how much is it going to cost? Even
if we set the bar really low, let's say the average UK wage is £26K, though
really, that needs to be much higher if we are talking a professional
sportsman, you then need to add on pension costs, vehicle costs, fuel, office
overheads, management, etc, etc, etc. Around £50K per year would more or less
cover it, assuming he always fishes locally and there are no major hotel costs
involved.
And what if we then involve the tax man? Or do we not want to be
quite that professional?
So tell me, go on, name one angler who makes that kind of money
directly from fishing each year. You can't. And remember, Wayne Rooney doesn't
pay a match fee to Manchester United so he can strut his stuff on the pitch,
nor does Andy Murray to play at Wimbledon.
Look, we can't even find sufficient sponsorship to send Wales to
the World Championships. We expect England Ladies to self-fund. Any idea that
we can have professional anglers on respectable salaries is not wishful thinking,
it's in cloud cuckoo land territory. It's time to get real.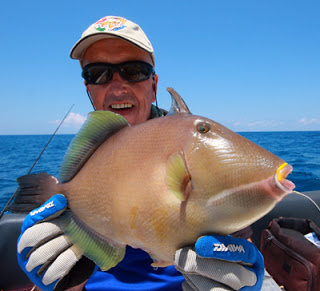 Well thank you for giving up your time but before I let you go,
here's a few more quick-fire questions,
What's your favourite drink?
I drink very little these days though I do enjoy a nice glass of
wine with a meal. Not much beats a good pint of beer though.
Favourite meal?
I have varied tastes and love cooking. A good curry takes some
beating but the emphasis there has to be on good. There's a lot of rubbish
served up out there.
Do you support a football team?
Yes, I have endured a life-long love/hate relationship with
Doncaster Rovers. The cling-ons of the Premiership Teams can never understand
what following a real team is like or what it means. I totally get Jeff
Stellings' passion for Hartlepools. I don't get this adopting a successful team
and talking about 'we'. Sorry folks, you're sadly deluded glory hunters. You're
just mug punters who buy the shirt and kiss the badge. You're a revenue stream.
Favourite film?
Perhaps One Flew Over The Cuckoo's Nest or Green Mile. Modern
films are spectacular but they don't have the emotional impact of, say, a Deer
Hunter, or any of the Hitchcock movies.
TV show?
Currently enjoying Blacklist, Westworld, Ray Donovon, Sherlock, Elementary.
The list goes on. Some great dramas on the terrestrial TV channels, too.
What music do you listen to?
Ranges widely. Depends on my mood. I love Joe Bonamassa. Santana,
Jason Mraz, the whole punk era was epic, new country, Nirvana, Eels, in fact
practically anything that isn't X Factor inspired. Hate Radio One, not a fan of
Radio Two or any of the retro stations. Never quite understand why there are no
radio stations for 'grown up' music giving inspiration and opportunities to
current acts. We just get a straight choice between cobwebs and crap. Before
long we'll have stations entirely dedicated to dead musicians.
What's your idea of a perfect day?
Waking up and feeling healthy does it for me every time. The rest
is just whatever takes my fancy.