The title of this post isn't particularly relevant but I just thought it was quite a good one!
Well, firstly, thank you so much, the blog has hit and surpassed 500,000 hits, yes that's half a million, that figure just seems incredible. In my last Random Ramblings I told you how the blog had nearly 130,000 hits in just over a year, it's now had around the same number in seven months so Against Men and Fish continues to move forward at a rate of knots and I'm now receiving some great feedback on a regular basis so it would seem people are still enjoying the blog.
January also saw the blog reach new heights in the most number of hits in a day with 2788 and that month was the best yet with 29,220.
Along with my weekly match reports I'm striving to bring you lots of interesting extra content and I've got some more great reviews lined up along with another great interview and there are also some guest blogs in the pipeline. For people new to the blog, there is loads of stuff to read, from interviews with Fish O Mania champions to local fishery details and great tackle and bait reviews to Thailand trips, please have a look around and let me know what you think.
Interviews
Bob Roberts
Tony Curd
Andy May
Jamie Harrison
Mark Hoye
Dean Barlow
Hayley Goldsmith
Johan Attby
Andy Neal
Bonus Interview
Steve Mayo
Dave Harrell
Pete Clapperton
Fisheries
http://againstmenandfish.blogspot.co.uk/search/label/Fishery%20Focus
Reviews

http://againstmenandfish.blogspot.co.uk/search/label/Reviews
Thailand

http://againstmenandfish.blogspot.co.uk/search/label/Thailand
Not wanting to rest on my laurels I'm hoping to start a You Tube channel which will feature some reviews among other things so watch this space!
On the fishing front, 2017 has got off to a pretty good start with a couple of wins on the Isle which helped me to finish runner up in both leagues and I came second in the Open at Dillington.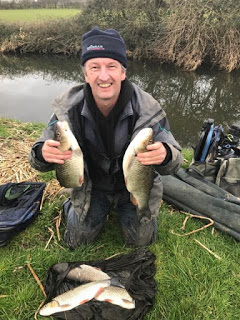 My second win of 2017 with 14lb 2oz of chub
As ever, feedback is welcome and feel free to send me match reports, photos, tips and I would love to put some more guest blogs on here, just contact me using the form in the side bar of the blog.