This week I was at Dillington for one of Ilminster AA's Summer league matches (I miss quite a few this year) and the pond has been fishing really well with Bill Hopping smashing the match record with over 58lb of bream and chub from peg 1 in the first match and John Dursley winning the second match with 25lb of bream and skimmers on the short pole. Feeder weights have been framing and so far the roach haven't really been showing, last year's big weights of small fish with the odd bonus haven't really materialised yet and it could be an intriguing match.
Ilminster Bowling Club have very kindly agreed to accommodate us for breakfast in the mornings and I'd heard some good reports after the first two matches so was looking forward to trying it for myself. I haven't been to the club since before Tesco's was built and I have to say what a great little venue, the breakfast was really nice and great value too, the service was spot on and I can't fault anything about it, there's plenty of parking too and I'm looking forward to my next visit already.
With Rob away on his holidays, it was down to Hurf to take up the organisational duties and he did a brilliant job, well done mate. The league is proving to be really popular with 18 anglers fishing every match so far and it's not the same anglers either so if they all want to fish one week, we're going to be struggling. Jeff Sparkes was fishing this week and Exeter Mike was joining us for the first time and bought me breakfast for booking him in and giving him some info – top man!
Hurf announced the draw and I ended up at the back of the queue and had the last ball in the bucket which turned out to be number 18 and I was well pleased as it's probably my favourite peg on the pond. For company I had Big Frank on 17, Leighton on 19 and Mike was on 20 with Bill on 21, Hurf was on 13 and my other side bet, Steve Parker was opposite on peg 8 with Jeff on 7 and Fieldy on 9. The two bush pegs were taken by Jess (24) and Rich S (1).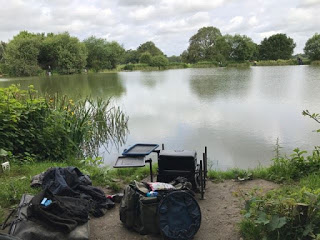 My favourite peg
My peg looked lovely and there were loads of fish topping all over the pond and I was really looking forward to this. After getting my box set up, the first job as always was to mix my groundbait, I normally use Bait-Tech's Pro Natural Dark but decided to also add some of the new Special G Dark as skimmers tend to like a bit of fishmeal, a glug of The Juice went into the water to mix it and I left it to settle while I got the rest of my kit ready.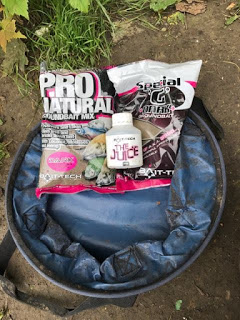 The 'Dark Side'
Rigs for today were a 0.5 gram Drennan Roach for 10 metres on the deck, a little Preston Chianti for fishing shallow and a Drennan 0.2 gram AS1 for fishing two sections to hand, all three rigs had size 18 barbless B611's to 0.10mm hooklengths. I was ready in good time so walked up to have a quick chat with Mike and Bill who was keen to show me his whopper bait dropper! I wished them luck before heading back to my peg with a couple of minutes to go.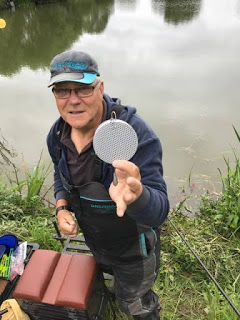 Why Bill, what a big one you have!
Hurf got us underway and I cupped in two balls of groundbait at 10 metres before starting on the two sections to hand rig by the reeds to my left with red maggot on the hook, I started catching small roach and perch so switched to caster which improved things a bit and I had a 3oz perch and monster Dillington barbel (gudgeon) but I was missing quite a few bites. I was feeding hemp and caster on the longer line but would wait until the short line started to fade before trying it, Frank, Leighton and Mike were all on the feeder and I hadn't seen them catch yet although John D on peg 3 had landed a skimmer.
After 45 minutes I probably had a pound or so and bites were becoming less frequent so it was time to switch lines, I had a couple of small roach but there were loads of quality fish swirling for the loose feed and I couldn't resist it so went out with the shallow rig and had some more roach and a rudd before hooking a better fish which turned out to be a 4oz chublet but then the missed bite madness began and despite changing depths and moving the shot about, nothing really helped to convert those missed bites into fish. Every now and again I'd get a couple of fish but I wasn't putting much in the net, I tried the depth rig again but was having to wait ages for bites and then they were only small roach and I was going nowhere fast.
Then I noticed Fieldy had loads of elastic out before he netted a good fish and then Jeff had a bream and when they both had another quite quickly, I felt I needed a bonus fish if I was going to compete so I opened a tin of corn and added a handful to my groundbait before cupping in three big balls on the pole line and while I left it to settle, I fished the top two again. I had a nice perch around 4oz first chuck and then a couple of roach but it wasn't really happening so after 20 mins I was back on the longer line with corn on the hook, I gave it half an hour but never had a bite on it, single caster wasn't much better.
In the other section John D had landed a few more skimmers but Jeff and Fieldy had slowed up a bit, nobody on my side seemed to be bagging, Leighton had one skimmer and I could see both Frank and Mike trying the pole so I guessed they weren't catching on the feeder and I hadn't seen Jess on peg 24 net anything. There were still fish swirling for the loose feed and I started getting the odd roach shallow again but was missing so many bites, Scotty Jackson turned up for a chat and I hooked what felt like a big fish but turned out to be a foul hooked roach around 8oz, still very welcome though. Thanks to Scotty Jackson for the 'action' shots.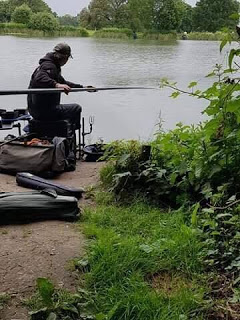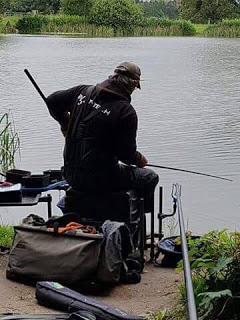 I did manage a couple more chublets but every time I thought I was doing alright I then wouldn't catch for ten minutes. Some better fish started showing, Alvin Jones on peg 4 landed a good bream, Jess had a decent chub and Bill hooked into a lump but I still thought that if Jess framed, there was a chance of the section money. It had started raining but wasn't too bad but with an hour to go the heavens opened and I was soaked within minutes, the fish stopped swirling for the feed and my bites tailed off. Alvin hooked another big fish and he did well to land a big chub after it had gone in the lilies but then after he unhooked it, it flipped and missed the keepnet, Alvin shouted something I can't repeat here but lets just say he wasn't best pleased.
I only added a couple more fish and on the whistle my clicker was reading 91 fish and at an average ounce apiece I probably had around 6lb which I thought might give me an outside chance of the section money if Jess framed. I had the scales as well so packed up and put my sodden kit in the car before going up to start the weigh in with peg 24, Jess had two good chub and a bream for 11lb 9oz and I was sure he'd frame with that, Bill had a chub, a bream and a skimmer for 6lb 6oz and I wasn't sure I had that, Mike had 3lb 5oz, Leighton didn't weigh and then my fish went 7lb 10oz which was a bit better than I thought.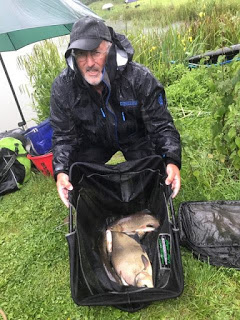 A rather wet Jess won the section with 11lb 9oz from peg 24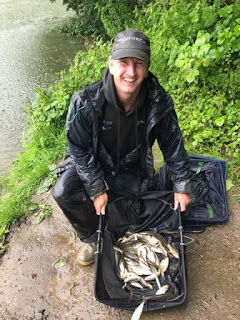 I weighed 7lb 10oz and was rather moist!
Frank had 3lb 9oz, Karl on 15 had 3lb 3oz but his Dad, Gordon, on peg 14 beat him with 4lb 5oz and then Hurf had 2lb 10oz so I finished up second in the section and needed Jess to frame. As the others started arriving back, Fieldy had the top weight in the other section with 16lb 8oz, followed by Jeff with 13lb 14oz and John D with 13lb 10oz and Adie Bishop with 13lb 5oz so very close weights and I'd only seen Adie net one fish! So those four took the frame places with Alvin winning that section by quadruple default! and Jess winning our section. Alvin practising catch and release proved to be costly for him as he weighed 10lb 8oz and he said that chub was a good 4lb plus!
1 – Graham Field (Taunton) – 16lb 8oz
2 – Jeff Sparkes (Exeter) – 13lb 14oz
3 – John Dursley (Enterprise Angling) – 13lb 10oz
4 – Adie Bishop (Taunton) – 13lb 5oz
Sections
A – Alvin Jones (County Gardening) – 10lb 8oz
B – Jess Jordan (County Gardening) – 11lb 9oz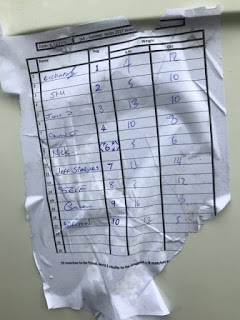 The weigh sheets were so wet, I stuck them to the side of Hurf's van to take the photos!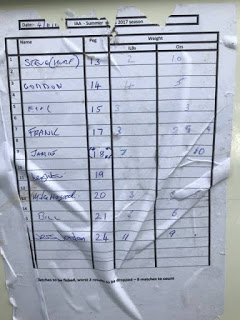 So a very close match with the top six all having double figures, they've all had bonus bream or chub with the exception of John who had all skimmers on the feeder. A disappointing match for me, I worked hard but ended up a bit like a headless chicken and should have just got my head down although even if I hadn't wasted half an hour looking for a bonus I don't think I could have caught the 4lb of roach I needed to beat Jess. Like I said earlier it's certainly an intriguing venue. I did win pounds off Hurf and Steve P although he did a runner without paying up.
Next up – Summerhayes
Coming soon – My next interview
Check Out – A look at the new Sodafloat (below)