The high numbers at Perry St were my destination for round five and following another cracking breakfast at Millfield café we headed out the pond to do the draw. The first thing I saw when I got out of the car was Torquay's geriatric answer to Adam Ant! I wouldn't say Geoff was a grumpy old bugger but the back of his shirt says it all! There were an awful lot of very white scrawny legs on display as well with it set to be a scorching hot day. The lads who were out Sadborow today, drew their pegs and headed off and then it was our turn. I really wanted a peg towards the top end as they tend to be pretty consistent and when I saw the Tart had drawn 19 which has been poor and Wing Commander Smith had 16, I felt it was safe to look and I was well pleased to see I was on peg 12.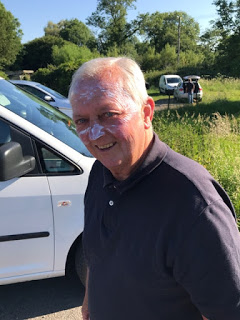 Geoff had his war paint on!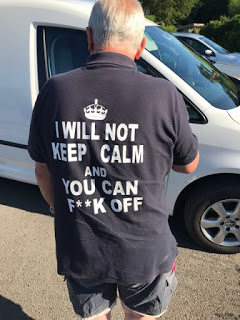 Grumpy old git!
Picky was on 17 and wanted to pay me a pound before we started!, Mark G was on 14, Bushy on 13 and the Hoff was on corner peg 11. In the other section, Exeter Mike was on the other corner peg (10) and looking very Tarzan like with his shirt off, league leader Howard was on peg 8, Richard Collins was on 7 with Janders on 5, Mike C on 3, Pup on 2 and Shane on peg 1.
My peg was fairly shaded but I made sure I had plenty of sun cream on, Hoff was going to be in the sun all day as were most of the anglers on the opposite bank. As I was setting up, there weren't too many carp on the surface although I was sure it would only be a matter of time before they appeared in the heat. Rigs were the usual dibber for fishing shallow/stalking/dobbing/mugging, a Drennan 0.4 gram for the five metre line and a margin rig. The side tray contained Bait-Tech 6mm Carp and Coarse pellets, some red 6mm meat, red maggots plus 8mm Juice Dumbells for a change of hookbait.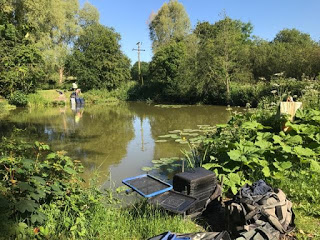 The view from peg 12 (if you look closely you can see Tarzan in peg 10)
On the whistle I cupped in some meat at five metres plus pellets maggots and meat in the margin to my left before starting at 11.5 metres with a 6mm banded pellet and firing in a few pellets on a regular basis. Tarzan was into fish quite quickly but I wasn't too worried as he was in the other section and after about fifteen minutes I hooked and landed my first carp around 3lb. The next action was a foul hooker that took off towards the Hoff's peg before the hook pulled and there was no stopping that one. I did have two more carp before the first hour was up and was fairly happy with that as neither Bushy or Hoff had caught a carp yet.
I had number four quite quickly but then hooked one that didn't do a lot until I was just about to net it and it went berserk!, it ploughed into the lilies on my right and twice I got it out and was feeling pretty pleased with myself but then it went under some vegetation to my left, I got it out again but then the poxy hook pulled out!. Things got worse when Hoff started catching and then Bushy had a couple of carp in quick succession and cut my lead in half. The heat got a bit much for Janders and he walked up to see Mike and sat in the shade of a tree, I assumed he must be struggling and was a little taken aback when he said he had five carp!
I shouted across that I needed another to draw level then and dropped a white dumbell in front of a passing carp which, to my surprise (and to Janders disgust!), took it and I landed my fifth carp which prompted him to go back to his peg to try and get ahead again. Both Hoff and Bushy had gone in front of me and the bankside grapevine was saying that the Tart had six or seven carp and after a great start I was now struggling. It was now scorching hot with loads of carp cruising about and not really interested in feeding, it was a case of playing cops and robbers and dropping the rig in front of them and hoping the odd one would take it.
I hooked a decent fish and was taking my time with it as I wanted to make it count when it took off towards the lilies and even though I wasn't giving it that much stick, there was that sickening feeling as the line went slack. I assumed the hook had pulled or the hooklength had snapped but on closer inspection the main line loop had given way and I felt I really needed that fish to stay in contention. Bushy added another fish to go further ahead but the Hoff had a spell of losing fish and I learnt a few new swear words (and there was me thinking he was such a nice man!).
I managed to land number six to put me level with Hoff and then I had another to inch in front although I was still behind Bushy. I couldn't tell really what was happening in the rest of my section but Bushy did say Mark on 14 only had two or three carp. I got to 11 carp with about two hours to go and then had a 2lb skimmer, Hoff had slowed right up and I was gaining ground on Bushy and even got to within one fish of him but then he would pull away again.
Tarzan from somewhere near Exeter had caught well all day and thankfully had put his shirt back on, Howard had managed a few carp but had also spent a fair chunk of the match hunting squirrels judging by the amount of time he spent up the tree! Rich C was getting odd fish but I couldn't really see how Janders was getting on. I did try the five metre line which I'd fed all match but only had a couple of knocks and it was a similar story with the margin line and I didn't want to spend too long there as there were carp milling about on the longer line again. I had another three carp to put me on fourteen when the all out was called, I was three behind Bushy but Hoff had hadn't added anymore and finished on seven.
Picky walked up and said he'd had nine fish and that Smithy and the Tart were admitting to ten or eleven fish so this could be tight although the Tart was saying he only had 40lb!. The scales started with the Hoff and he had 28lb 10oz, then it was turn and my three weighs went 63lb 6oz which was a bit more than I thought. I knew Bushy had beaten me and his three nets went 79lb 8oz, Mark had 12lb 4oz before Supreme Commander Smith had 49lb 14oz.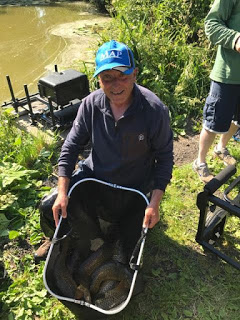 Hoff had 28lb 10oz in peg 11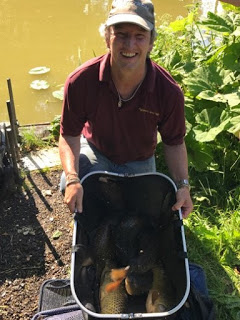 I had 14 carp and a decent skimmer for 63lb 6oz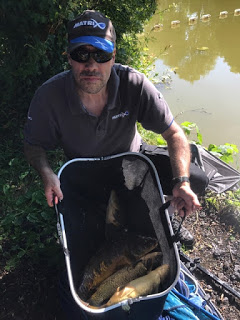 Bushy with part of his 79lb 8oz from peg 13
Mark had 12lb 4oz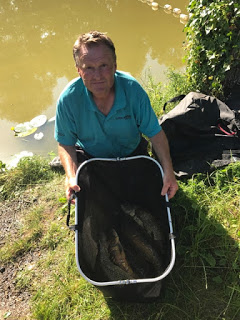 Sergeant Smithy had 49lb 14oz
Picky had 29lb 10oz and gave me a nugget and then last but not least was the Tart and when he pulled his net out, he obviously had more than ten carp and can't lie straight in bed, his first weigh was 33lb 2oz, his second net was 24lb 4oz which took him to 57lb 6oz and it was going to be close but his few silvers added 2lb 6oz which was just short as his total was 59lb 12oz so another shiny nugget was going home with me although to be fair, he'd done well off a peg that had struggled in the last two matches.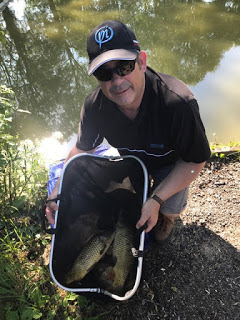 Picky had 29lb 10oz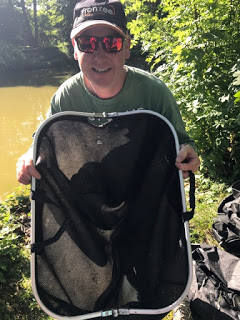 The Tart had 59lb 12oz which included this nice eel (both very slimy, Brendon's the one with a hat on!)
As expected Exeter Mike (Tarzan) won the other section with 84lb 4oz, Janders was second with 37lb 10oz so I was another pound to the good, Shane did well to finish third with 33lb 8oz from peg 1 although he did smash a pole section in the process, Howard weighed 29lb 12oz of squirrels, Pup had 24lb 8oz, Richard had 16lb 8oz and Mike C had 8lb 2oz.
We then all sat on the grass and waited for the others to get back from Sadborow, it had fished well again with Chilly taking the top weight with 112lb 12oz from peg 9, Chris W had 99lb 4oz from peg 6 and Les had 89lb 8oz from peg 5. More good weights followed with Geoff weighing 85lb 12oz from peg 3, Butch was close behind with 85lb, Oz had 77lb 4oz from peg 2 and Dave A had 63lb 6oz from peg 4.
Les did the results and I had a nice pick up of £55 for second in the section plus the £3 in side bets so a really nice day. The league has tightened up a bit as well with Howard still leading on 9 points followed by Shane on 11 and Bushy on 14.
Perry High
1 – Steve Bush (Chard) – 79lb 8oz
2 – Jamie Rich (Against Men and Fish) – 63lb 6oz
3 – Brendon Ions (Torquay) – 59lb 12oz
Sadborow
1 – Andy Winters (Chard) – 112lb 12oz
2 – Chris Whitham (Torquay) – 99lb 4oz
3 – Les Braunton (Chard) – 89lb 8oz
Perry Low
1 – Mike Hosgood (Nr Exeter) – 84lb 4oz
2 – John 'Janders' Anderson (Donyatt) – 37lb 10oz
3 – Shane Jeffery (Chard) – 33lb 8oz
Ilminster AA had round four of their Summer League at Dillington on Sunday and some great weights were recorded, Adie Bishop won with 41lb 4oz of bream and chub from peg 1, followed by Bill Hopping with 15lb 6oz of skimmers from peg 14 and Jeff Sparkes with 13lb 10oz of bream and skimmers from peg 15.
Dropping the two worst results, Bill leads the league with a perfect two point score followed closely by John Dursley on three and Jess Jordan and Graham Field on four.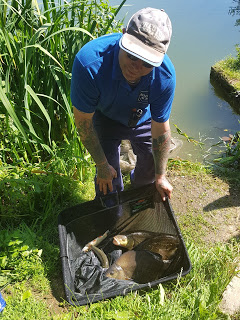 Adie with part of his winning 41lb 4oz catch from peg 1
Next up – Sadborow
Coming soon – Another great interview
Check Out – My great interview with Darren Cox (below)