I was at Sadborow for round six and really looking forward to it as the pond was still fishing well and the lowest weight in the last match was over 60lb! Another great breakfast at Millfield café before we headed to Perry St to do the draw, I paid my pools and collected some maggots and I'd also got the Tart to bring me on a couple of the Drennan Margin Crystal floats. I thought they'd be ideal for fishing the island pegs at Sadborow but I've since read quite a few reports saying the tips have been snapping off them so I'll let you know once I've used them.
As we had a little way to travel, we would draw first and the Tart got someone to pull out one for him and when he looked it was peg 4 behind the island which hasn't been great and Bushy was also there on peg 5 so that was two pegs I didn't want, successfully avoided. I also didn't particularly want peg 6 because although it's a good peg, it's an awkward one to fish so when Hoff said he had that one, I felt it was safe to look and was over the moon to see peg 9 was my destination for the day. It's a great peg and Chilly won the last match off it with over 112lb, although I was a little concerned that, after it being scorching hot last week, it was now fairly overcast and a lot milder so I wasn't sure my favoured shallow approach would work today.
After a short drive we reached the pond and the open water pegs were black with fish! My swim looked lovely with loads of carp swimming about and I was sure I'd catch up in the water. Peg 9 is on the outlet and there are loads of features on the inside to the right but I'd also been told it was snaggy so decided on a three line approach, shallow at 11.5 metres (surprise, surprise!), meat at 5 metres and a margin swim to my left. On the side tray I had 6mm Bait-Tech Carp and Coarse pellets, 6mm Strawberry Mighty Meat and red maggots.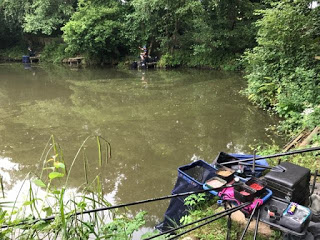 The view from peg 9
My neighbours were Mark G on peg 8 and Commander Smith on peg 2, Dave A on peg 3 was standing in for Picky and agreed to have a pound side bet. I was set up with half an hour to spare so walked up to have a look at the Tarts peg, the pond level was down a bit and he only had six inches of water by the island and wasn't confident at all, with a few minutes to go I walked back to my peg and the Tart got us underway. I cupped in a modest amount of meat at 5 metres plus meat, maggots and pellets on the margin line before starting with the up in the water rig.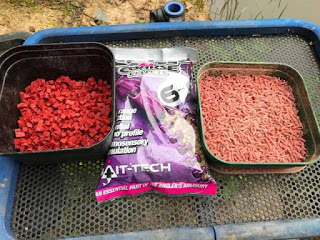 Bait-Tech Strawberry Meat, 6mm pellets and maggots on the menu today.
It didn't take long before lots of elastic was out all around the lake although it took ten minutes before I latched into my first fish, I was feeding pellets and lifting and dropping the rig and started to catch really well, every time I hooked one I'd fire out half a dozen pellets and unship a couple of sections before feeding again and also feed some meat by hand on the shorter line. Bushy and the Tart had flown out of the blocks but if the last match I was here was anything to go by, it wouldn't last. Mark was catching well and Smithy was also doing well shallow, Hoff was struggling a bit and Dave had only landed a couple of fish.
After an hour I had 11 carp and was doing well but from what I could see everybody was catching and there were carp everywhere. I could see the odd carp at 5 metres when I fed a few cubes of meat so dropped the shallow rig on that line while I fed the longer line and it worked a treat, the float sailed away and another carp was on, if I didn't get a bite after a couple of minutes I'd go back out to 11.5 metres and several times I didn't have time to feed before the pole was wrenched round. The second hour was brilliant and I added another 14 carp, I was sure sport would slow up but going into the third hour bites were still coming thick and fast and if the bankside grapevine was to be believed, I had a healthy lead and I started to think a really big weight was on the cards.
The Tart and Bushy had slowed up and the Hoff was having a nightmare, he'd done a bit of squirrel hunting when he got his rig stuck up the tree and while he was trying to get it back he knocked his number four section in the pond but luckily he managed to get it back. Scout Leader Smithy was still catching well and Dave had landed some nice skimmers. By the halfway point I had 35 carp and as they probably averaged 3lb apiece, I had around 100lb with three hours to go!
During hour four, sport started to slow and I was having to chase fish around a bit and even mugged a couple of fish (despicable!) but I only added another six fish, in the last few matches I'd caught really well on Juice Dumbells but never had a fish on them this week. There were fish blowing on the five metre line so with two hours to go, it was time to try it where hopefully they'd be lined up and I shouted over to Sith Lord Smith that I wanted it documented that I was using a deep rig! I lowered the rig in and fed a few cubes of meat via a toss pot but the float just sat there! I was still feeding pellets on the longer line so if nothing else, hopefully the rest would do it some good and nobody else was really catching.
I was just about to give it up as a bad job when the float dipped a couple of times before sliding away and a fish was on, several people commented they hadn't seen my yellow elastic before and to be fair, in six matches, this was only my second fish caught on the bottom! I missed a bite next chuck and I started to think they were queued up, I missed another bite and then the float just sat there again. I had a brief try in my margin swim with double maggot on the hook but never had a bite so it was back out shallow but to be honest it was a bit of an anti climax! Emperor Smith had mugged a hat trick of nice ghosties so I thought I'd give it a go and successfully stalked a lovely golden koi/ghostie of around 4lb and added another carp to put me on 44 with an hour to go.
So although it was obvious I wasn't going to do a huge weight, I was still hopeful I'd beat my biggest ever match weight of 121lb 4oz which has stood for years but the pond had switched off and everybody was struggling now apart from the Tart who had a run of fish on maggot including his tame 5lb chub he catches every time and Mark added a couple of fish from the corner. I tried the short line again but I couldn't get a bite anywhere and when the all out was called I hadn't added any more fish in the final sixty minutes.
I packed up and took my kit back to the car and Smithy let me have one of his cakes which was lovely, thanks Captain, he normally brings luscious cakes, I'll take a photo next match (hint, hint!). He was in a pretty good mood as he repairs pole sections and there had been a few breakages today (including Hoffy who hadn't had a good match!) so he would be quids in (and can afford cakes for next time!).
As Hoffy had chucked back, we started the weigh in with Mark who set the pace with 84lb 7oz, then it was my turn and after five weighs my total was 120lb 6oz, only my third ever ton although I was a bit gutted as I only needed a pound to beat my best ever match weight! Superintendent Smith was next and had 91lb 6oz followed by Dave who had 45lb 14oz.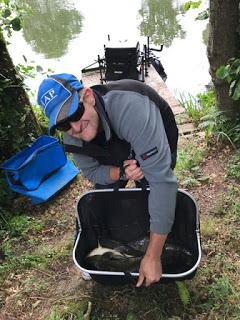 Mark had 84lb 7oz from peg 8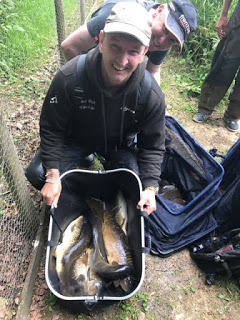 Me with part of my 120lb 6oz (it would have been a nice photo if it wasn't for the gurning Tart behind me!)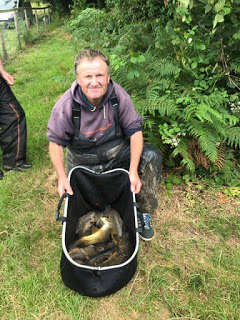 Smithy had 91lb 6oz from peg 2 (is that a 'Hotter dog' behind him?)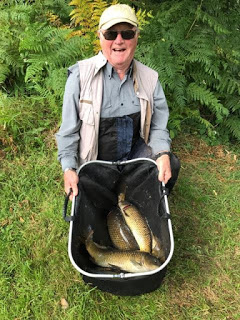 Dave A had 45lb 14oz from peg 3
Then we got to the Tart who was admitting to 85lb and actually wasn't too far off for once as he weighed 85lb 7oz to go into third place, Bushy had 82lb 8oz and once again the weights had been really close.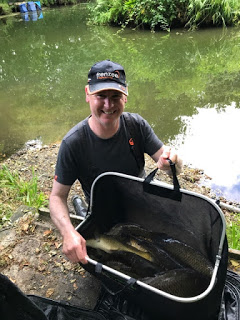 The Tart did well to finish third with 85lb 7oz from peg 4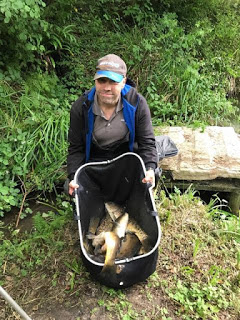 Bushy had 82lb 8oz from peg 5
Back at the results and Bish had the top weight on Perry St Low with 68lb 2oz from peg 5 followed by Chilly with 53lb 4oz and Chris Whitham with 40lb 14oz. Perry St High was won by Exeter Mike with 64lb from peg 13, Howard was second with 34lb 4oz from 19 and Mike Collins was third with 26lb 2oz from peg 14. I had a nice pick up of £90 plus pounds off the Tart, Janders and Dave A (although he did a runner without paying up).
Sadborow
1 – Jamie Rich (Against Men and Fish) – 120lb 6oz
2 – Mike Smith (Torquay) – 91lb 6oz
3 – Brendon Ions (Torquay) – 85lb 7oz
Perry St Low
1 – Steve Bishop (Chard) – 68lb 2oz
2 – Andy Winters (Chard) – 53lb 4oz
3 – Chris Whitham (Torquay) – 40lb 14oz
Perry St High
1 – Mike Hosgood (Nr Exeter) – 64lb
2 – Howard Watts (Torquay) – 34lb 4oz
3 – Mike Collins (Chard) – 26lb 2oz
After six matches, the top eleven in the league looks like this,
Howards Watts – 11 pts
Shane Jeffery – 15 pts
Jamie Rich – 17 pts
Mike Hosgood – 18 pts
Steve Bush – 19 pts
Brendon Ions – 20 pts
Chris Whitham – 22 pts
Steve Bishop – 22 pts
Les Braunton – 25 pts
Janders – 25 pts
Steve Osborne – 25 pts
Next up – Dillington
Coming soon – My next review
Check Out – My interview with Russell Hilton (below)