A recent match really got me thinking about the time we spend on the bank at weekends, most of the matches I fish are six hours in length, that's a long time right? Well I'm not so sure it is, if you're bagging up, time flies by and by the same token if you are really trying your hardest to put a few bites together, there's never enough time. It only seems like a long time if you're blanking (or if you're unlucky enough to be pegged next to the Tart, it feels like an eternity!).
The match in question was at Perry St where normally twelve carp is there or thereabouts, now for a venue that is well stocked with carp, catching two carp an hour shouldn't be too hard should it? I ended up with 11 carp, 1 bream and a small skimmer so I just about hit my target but if you say I spent five minutes playing each fish, that's around an hour, so what an earth was I doing for the other five hours! That's a lot of time not catching anything, sat waiting for a bite, admittedly that's not strictly true as I did also lose another five fish (three of which I'm pretty sure were foulhooked) but even if you said that took up another 30 mins, that's still four and a half hours, not really being exploited to it's full potential.
I don't profess to have all the answers because obviously if I knew the secret to catching fish all day long, I'd be winning an awful lot of matches and to be honest I think it would get boring pretty quickly. If you read the blog regularly, you'll know that most of my matches at Perry St follow the same basic formula, normally three lines, shallow, meat at five metres and a line in the edge. I normally start shallow and as long as I'm catching odd fish I stick with it and in an ideal world, that's the only rig I'll need all day but in most the matches I've had a go at five metres at some point but only had the odd fish (until the last match but more of that later) and I can't recall catching a carp from my inside line this year!
To be fair it's worked pretty well and in seven matches so far (including the pre-league match), my results have been as follows,
Match 1 – Peg 14 – 37lb 8oz (7 carp) – section win
Match 2 – Peg 13 – 28lb (8 carp) – 5th*
Match 3 – Peg 2 – 50lb 6oz (13 carp) – 1st
Match 4 – Peg 1 – 21lb 10oz (5 carp) – 6th**
Match 5 – Peg 12 – 63lb 6oz (14 carp) – 2nd
Match 6 – Peg 19 – 45lb 12oz (11 carp) – 3rd
So you can see that my target of twelve carp will in most cases get you top three in the section and some money. In match 2*, one more carp would have been second and two more in match 4** would have been third and it just goes to show that there are very fine lines between success and failure.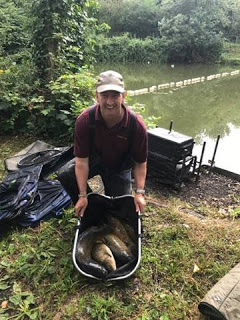 45lb 12oz but should have been more
Talking about fine margins, in the last Perry St match, tactically my match went like clockwork but there were several key moments that ultimately meant I ended third rather than first,
foulhooked fish, all about luck, probably 7 times out of 10, they will come off but occasionally you will get one in. I lost three including one that came off at the net, on another day, luck would have been on my side and I'd have finished second.
losing a 8lb carp due to the rig snapping, no excuse, it was a rig that had been in the box a while, my own fault and, annoyingly, so easily avoided. The difference between winning and being an also ran!
not having another suitable rig in the box, with fish queuing up at five metres, I had to abandon that line and go back out shallow, inexcusable!
losing a fairly hooked fish when the hook pulled out for no reason, it happens and there is nothing you can do about it, another day you land everything you hook.
Now the first and last points are all down to luck and along with missed bites, lost fish are part and parcel of match fishing, several others in my section that day also lost fish that would have made a big difference, we have to take that on the chin and move on. The others are my fault, user error if you will and sometimes with fishing you get out what you put in and I didn't deserve to win that day. If nothing else, it has rammed home the point that preparation is key to doing well, you don't get that many chances in this game, so when one comes along you have to capitalise on it. We can't do anything about luck, but we can avoid making things difficult for ourselves!
Going back to the title of this post and six hours being a long time, how do you approach your match to maximise it's potential? Now match fishing being such a complex sport with so many different factors involved I'm not even going to attempt to analyse it, put simply, most anglers have an idea of how they are going to approach a match and then tweak it depending on the swim they've drawn. It may be they target multiple lines, even different species, possibly using several different methods and sometimes it all goes swimmingly, everything works and you walk away with a big fat envelope but to be honest, mostly it doesn't go like that.
Basically it boils down to two ways of thinking, you either have supreme confidence in your method or methods and work on the basis that it will come good during the match or you try and make things happen i.e. change methods, feeding, start a new line, scale down. The trouble comes when your chosen method doesn't work or you try something different and that doesn't either and then you end up chasing your tail in ever decreasing circles until the all out is called and at the results you have to applaud the anglers who have got it right!
A good example of this was the latest match at Dillington where weights of bream and skimmers have been winning, Jake Woodard won it with 21lb 3oz of chub and bream from peg 1, Nick Payne was second with 15lb 13oz and I was just behind with 15lb 5oz. The interesting thing was myself and Nick had very similar weights but fished two very different matches and I think it neatly illustrates my point above. Nick had done well in the previous match, framing with 25lb of bream and skimmers from peg 19 and his tactics today were similar, feeding corn quite heavily and sitting it out for bigger fish, he caught very little for the first three hours but then caught well in the second half of the match.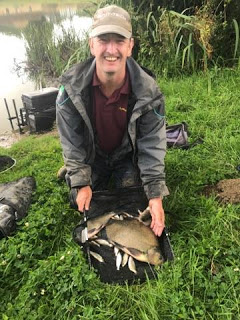 Bonus fish late but I needed one more
Whereas I fed a big fish line but never had a bite over it until the last thirty minutes when I had a bream and two skimmers for about 6lb but I only tried it two or three times during the match, the rest of the time I spent fishing the caster for 9lb of roach, rudd, perch and a bonus 1lb tench. Going back to the subject of six hours is a long time, if Nick had fished for small fish for the first three hours would he have caught the 6lb he needed to win? Or maybe if he'd done that he wouldn't have caught those bream! Conversely, would I have done better if I'd stuck it out on my big fish line all match? I really don't know, I tried it for probably two hours without a bite throughout the match when I probably could have added another 4-5lb of roach.
Nick had supreme confidence in what he was doing and it paid off but for me it's too much of a gamble, after three hours he didn't have much in the net, say it got to four hours or five? It's pointless doing anything else then, other anglers fished for big fish all day and weighed 6-7lb. It's certainly an intriguing venue, I think I could possibly have done 14-15lb of small fish which would have got me the same result but in recent matches that's only been enough for a section win so you do need some bonus fish.
That's what makes the top boys like Des Shipp and Andy Power so good compared to us mere mortals, not only are they fantastic anglers and technically brilliant, they have an uncanny knack of knowing how to make the best use of the full six hours and they prepare meticulously for matches (and I'm pretty sure they have duplicate rigs and none that have been hanging around a while!).