The final match arrived and the low numbers would be my home for the day, after another excellent Millfield café brekkie we all headed out to Perry St to do the draw with the guys at Sadborow going first where the top three would battle it out for the title. Howard was on peg 1 with Shane on 5 and Exeter Mike on 9, all decent pegs and anything could happen although Howard did have a three point cushion. Then it was the turn of Perry Low to draw and I just wanted to avoid peg 1 which hasn't been great so I had a master plan and would let everybody go first and I'd have the last peg in the bucket. Of course you know what's coming next and I was left with the peg I didn't want. As it turned out the last two pegs in the bucket were 1 and 10 with Commander Smith the lucky recipient of the latter.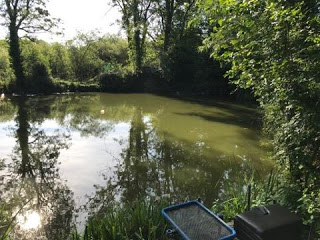 Peg 1 (I could have just used the photo from last time!)
I took my kit to the peg and to be honest it looked nice although while I was setting up I only saw a couple of carp cruising about. The usual rigs were assembled, an in-line dibber for fishing a shallow, a 0.3 gram Drennan Crystal Margin for the inside line and I made up a new rig for the five metre meat line. On the side tray today I had Bait-Tech 6mm and 8mm Carp and Coarse Pellets, Strawberry Meat, maggots and some Juice Dumbells in case I could see the odd cruiser.
I was ready in plenty of time so wandered up to give the Tart some abuse, as I reached him on peg 7, Superintendent Smith was already there and there were loads of carp swimming about which didn't bode well as far as my pound was concerned and with Picky on peg 4 and Janders on 8 at Sadborow, this could be an expensive day! On the plus side, Sergeant (Delia) Smith had brought some lovely looking doughnuts for today's treat.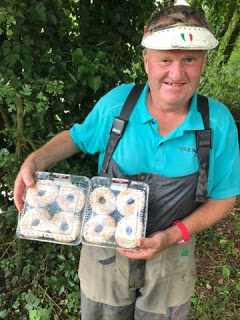 Smithy with todays treats
I walked back with a few minutes to spare and on the whistle I cupped in some meat at 5 metres and dead reds and some meat on the inside before starting at 11.5 metres with the shallow rig and a banded 6mm pellet. After a couple of minutes of firing 6mm's out and lifting and dropping the rig, I was surprised when the float shot under and I was into a carp already. I safely netted a decent fish and was relieved to get off the mark as the last time I was on this peg, I was still blanking after 3.5 hours! The Hoff on peg 2 landed a couple of carp and Grandad Young over on peg 17 had netted one as well.
Any thoughts of bagging up soon disappeared when the rest of the first hour was pretty uneventful, I was just about to try the inside line when I had two more carp in quick succession which prompted me to stick at it for another hour. Along with feeding the 5 metre and inside lines, I was also pinging a few 8mm's up towards the corner where I'd caught a few late the last time. As the second hour drew to a close I hadn't added to my three fish so I tried the inside line for the first time. I hadn't been in there long when the float disappeared at a rate of knots and a decent fish has gone off up towards Hoff, I was hanging on with the pole tip under water when everything's gone slack and its buried me in some lilies and snapped me.
The next bite saw me get the fish in open water only for it to come off and when I looked at the rig, I had a load of line and another hook attached to it, so I think I'd hooked that rather than the fish. Things got even worse when I lost the next two as well, I got both in open water and the hook has just pulled out, on a day when the bankside grapevine was suggesting it was fishing hard, I had a feeling they might cost me! Yardie over on peg 19 was having the same problem and had several come off for no apparent reason so maybe they weren't having it properly.
Hoffy was a couple of fish ahead of me but I couldn't tell how the rest of my section was doing although it sounded like Picky and the Tart were getting odd fish. I cupped in some more feed on the inside before having another go shallow without any success and a first look at 5 metres had the same result. A fish signalled it's presence on the inside with a tail pattern so I quickly shipped back and changed rigs, the float sailed away and I actually managed to get this one out to level the scores with the fish at 4-4! Then normal service was resumed when I hooked another that snagged me and I had to pull for a break.
I had another go shallow but it just wasn't happening so I stuck on another section and went up towards the corner where I'd been feeding 8mm's for four hours and never had a bite! Another fish waved at me from the inside so I went in to say hello and enjoyed a purple patch, landing three fish quite quickly to make the score 7-5 in my favour and with an hour left, I thought if I could get another couple, I might not be far off. Then my mate Andy turned up for a chat and it was great to see him, he said he'd almost thought about getting his gear out again but after watching me catch nothing for an hour, I'd probably done nothing to inspire him!
Hoff had a decent fish late to put him on 8 and a skimmer, I packed up and as people started taking their kit back to the cars, I asked how they'd done, it had fished hard for most, Picky had 5, Mark had struggled for a couple on peg 5, Bushy had 7, the Tart had 9 and Sith Lord Smith was admitting to a similar number. The scales started with me and my fish went 30lb 14oz which was an improvement on the last time but could have been a lot better. Hoff weighed 35lb 12oz and that last fish had done me, Picky weighed 15lb 12oz and then Mark had 6lb 14oz before we got to the Tart, his fish went 44lb 2oz although he said he'd lost 15, so obviously a few fish there then!
I had 30lb 14oz but needed one more fish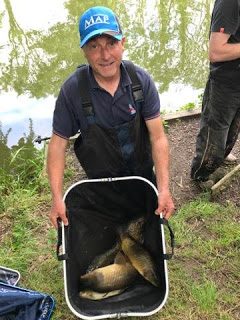 Hoff had 35lb 12oz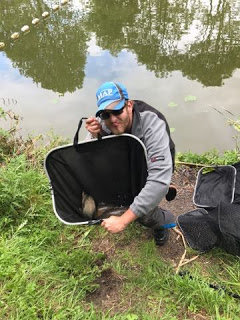 Mark had 6lb 14oz from peg 5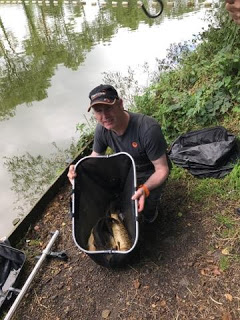 The Tart had 44lb 2oz
Bushy just pipped me with 31lb 8oz to push me down another place and then we got to Corporal Smith on peg 10, when he pulled his net out, it was obviously going to be close and he'd just done enough to beat his travelling partner with 44lb 8oz so at least he wouldn't have to put his ear plugs in on the way home!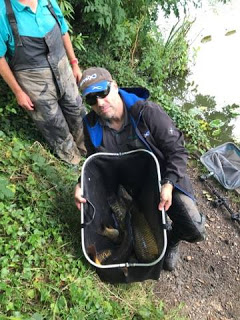 Bushy had 31lb 8oz (and nearly smiled!)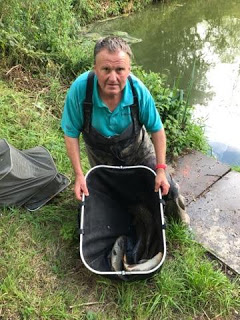 Squadron Leader Smithy with part of his section winning 44lb 8oz
Then we headed around to weigh in the other section, Chilly had struggled in peg 11 to weigh 10lb 6oz, Les had 16lb 12oz which included 9lb 4oz of silvers, Oz on peg 13 had 17lb and then Bish had done well on 14 and weighed 58lb 14oz. Butch didn't weigh and then Grandad Young had 39lb 6oz from peg 17 and struck a pose for the camera although we weren't sure he'd be able to get back up again! That just left Yardie who had 10lb 10oz but had lost several as well.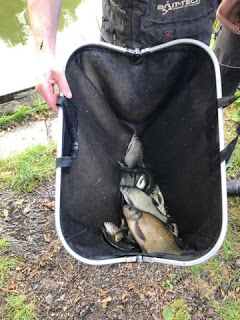 Les had 16lb 12oz which included this nice net of silvers weighing 9lb 4oz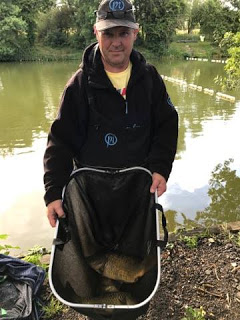 Oz had 17lb from peg 13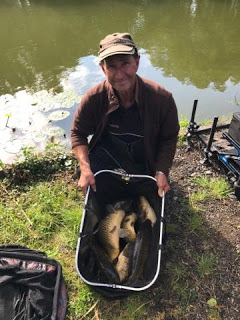 Bish had the top weight on the lake with 58lb 14oz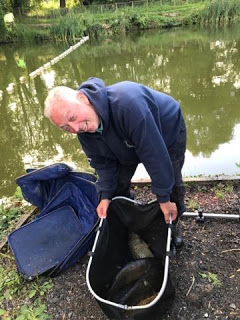 Grandad struck a pose with his 39lb 6oz but we weren't sure he'd be able to get back up again!
Back at the car park and everybody was back from Sadborow, Howard had finished his league in style with 66lb 12oz to win the section, match and league, well done mate. He lead the league from the second match, winning his section five times along the way. Exeter Mike was second in the section with 57lb 14oz which meant he finished as the runner up in the league ahead of Shane. Janders was third on the day and took a pound off me with 52lb.
Sadborow
1 – Howard Watts (Torquay) – 66lb 12oz
2 – Mike Hosgood (Nr Exeter) – 57lb 14oz
3 – John Anderson (Donyatt) – 52lb
Perry St Low
1 – Mike Smith (Torquay) – 44lb 8oz
2 – Brendon Ions (Torquay) – 44lb 2oz
3 – Mark Hollister (Chard) – 35lb 12oz
Perry St High
1 – Steve Bishop (Chard) – 58lb 14oz
2 – Geoff Young (Torquay) – 39lb 6oz
3 – Steve Osborne (Chard) – 17lb
After working out the results, Les read the final league results out in reverse order, I was surprised to hear him call me and Bish out in joint sixth place with 30 points as I thought he was only paying the top three, we picked up £15 each although I was bit gutted as today's bad result has cost me a few places, Chris W was fifth with 29, the Tart fourth with 27, Shane with 26, Mike with 23 and champ Howard had 19 points. The final top ten in the league looks like this,
1 – Howards Watts – 19 pts
2 – Mike Hosgood – 23 pts
3 – Shane Jeffery – 26 pts
4 – Brendon Ions – 27 pts
5 – Chris W – 29 pts
6 – Jamie Rich – 30 pts
6 – Steve Bishop – 30 pts
8 – Les Braunton – 35 pts
9 – Steve Osborne – 36 pts
9 – Mike Smith – 36 pts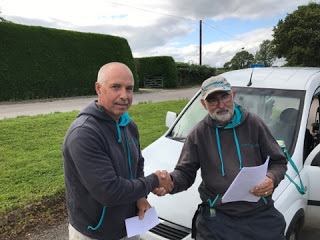 League Champion Howard collects his winnings from Les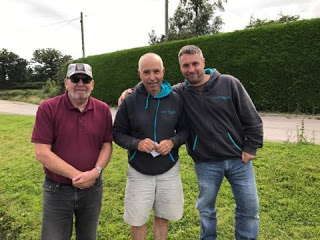 Top three in the league (from left to right) Exeter Mike, Howard and Shane
I really enjoyed the league, the fishing was great and the banter even better! As I said in a recent post, there are fine lines between success and failure and over the nine matches, lost fish here and there have cost me loads of points, especially those lost through my own stupidity. Drawing peg 1 twice at Perry St hasn't done me any favours either. It looks like I won't be able to fish the league again next year as it'll be starting in February but Les said I should be able to fish most weeks as a stand in. Here's a brief overview of the league in numbers,
Most section wins – Howard Watts with five
Best peg at Sadborow – Peg 9 (average of 3 points per match)
Worst peg at Sadborow – Peg 7 (average of 7 points but only used for the first three matches)
Best peg at Perry St Low – Peg 5 (average of 2.86 points per match)
Worst peg at Perry St Low – Peg 8 (average of 5.87 points per match)
Best peg at Perry St High – Peg 11 (average of 3.22 points per match)
Worst peg at Perry St High – Peg 20 (average of 8 points per match but only used for the first three matches)
Biggest winning weight at Sadborow – Jamie Rich – 120lb 6oz
Biggest winning weight at Perry St Low – Karl Everton (standing in for Chris W) – 96lb 8oz
Biggest winning weight at Perry St High – Steve Bush – 79lb 8oz
Side bet scores on the doors
Jamie 5 – Tart 4
Jamie 5 – Picky 3 (he was away for one match)
Jamie 6 – Janders 2 (we tied one week)
So huge thanks to Les for organising another great league and to all the anglers for making it such a good laugh. But for me (and everybody else, I'm sure) the league will be remembered for the wrong reasons with the sad loss of Dave, tight lines and rest in peace mate.
Next up – Dillington
Coming soon – My next review
Check Out – My last match (below)