My latest guest blog is something a little different, Billy Makin has been posting some brilliant stories on Facebook from the golden age of match fishing, I contacted him and asked if I could publish them on the blog and he said yes, so for those of you that don't use Facebook or haven't seen this yet, sit back, read and enjoy!
A MASTERCLASS BY THE MASTER
I suppose that the time would be the late 70's, the venue was Attenborough gravel pits, and the swim was number 29, smack bang in the corner of Sandy bay. The match of course was run by Steve (RIP OFF) Toone, who like Pat O'Connor, is owed a great deal of gratitude for the job that they both did.
Now for anyone who has never experienced the following phenomena, it will be difficult to believe, but the peg simply had… too many fish in it, the fish in question being big, beautiful, slab sided bream. This was in the days before carp had been invented. Having been brought up on the Lancashire canals, any bream above 2lb, would have seen a television crew rushing to the venue to film the captor.
I was way out of my depth; every time my lead hit the water, the quiver tip went berserk, and after 3 hours, I had managed 3 fish and had become a nervous wreck, when salvation arrived in the form of the master himself – Ivan Marks. Ivan sat behind me, grinning, as he watched the pantomime, until he couldn't take it any longer. "For God's sake Bill" he said. "Do you want me to show you how to catch bream"? No-one could possibly refuse an offer like that from the world's finest bream angler, so I nodded.
He took out a packet of size 12's hooks and told me to tie one on, and lengthen my hook length to 6 feet. Size 12's hooks were for hanging slabs of beef on at the butchers, but I wasn't going to question the judgement of my hero, so on it went, on went 2 worms, and out into peg 29 went the lot.
Immediately, the quiver tip started to dance, and as I made a grab for the rod, Ivan whacked me across the knuckles with a stick. "Strike when I tell you Bill" he said. "Now take your hands away from the rod, and sit on them". I now had to endure 5 minutes of torture, as the quiver went berserk, and every time I reached for the rod, down came Ivan's stick onto my knuckles. Eventually, the tip went round, and the reel began to spin. "Lift now" Ivan said, "but don't strike". A 4lb bream was soon in my net, followed by several more, until at the final whistle, I had 60lb, instead of the 20 that I was heading for.
The next day, I rang in work, and booked a week's holiday, and for the next 5 days, I travelled to Attenborough, and fished peg 29, putting into practice, a lifetime of Ivan's knowledge, which I had been blessed with in no more than 2 hours. Blow me, the next Sunday, I again drew peg 29, and the Sunday after. One of the Nottingham lads who had seen me practicing for a week, and then drawing the same swim 3 weeks on the trot, remarked. "Is Toony shagging you Bill? "Of course not" I replied indignantly, "But if he lets me draw peg 29 again, I might let him".
A MASTERCLASS BY THE MASTER – PART 2
After the 3rd win at the Attenborough peg 29 aquarium, I found myself suddenly elevated to the status of an (A) lister. For people of a more recent vintage, at the time, it appeared that fishing was on the verge of taking off. Every other week, there was a match, massively supported by a sponsor, and 20 or so of the country's top anglers …were invited. I had now become one of the select few. My fishing cap was now way too small, my head having assumed the size of a small country. I had arrived.
I had now done the impossible treble in three weekends, and was sat at my swim on the private bank at Coombe Abbey. All around me were magic names – Kenny- Clive – Denis – Kevin – Robin – Roy, and of course, the master himself – Ivan Marks. When the starting whistle went, I went into meltdown. What on earth was I doing in such company?
Two pegs away was God himself, Ivan. Why had I so stupidly wasted a day's holiday from British Gas. I was much too far in over my depth. Reality kicked in, and a whole lifetime of knowledge, forced into me by Ivan in those two short hours , flashed before me. For 5 amazing hours, Ivan and I matched each other fish for fish.
The scales decided the issue. Ivan weighed in 48lb, and mine magically topped it by 4 ounces. At the presentation, I floated on air as I collected my cheque for 1000 pounds. There are no prizes for guessing who was the first man to congratulate me. Ivan not only shook my hand, but he put his arm around me in the most genuine gesture of affection I have ever seen. I would have willingly ripped the cheque into a thousand pieces if I could have only frozen that moment in time.
Pathetic as it may seem, I am now typing this with tears in my eyes,
A MASTERCLASS BY THE MASTER – PART 3
I have to go back to part one of the saga, and explain what really happened during the unscheduled, yet positively essential learning process from the master himself. At the point where Ivan entered the scene, I had become a wreck. My hands were trembling, and my heart beat was well into three figures. Not only had I never… caught bream on the canals of Lancashire, I had never even seen a bream of over 2 pound, and here I was, sat on several hundred of the blighters, and I hadn't a clue what I was doing.
I have already described the set up that Ivan advised, and was surprised to learn that it was prescribed for two reasons, the most important of which was for my benefit and not for the fish. He had to calm me down, otherwise my confidence would be shattered. Ivan continued to speak, and slowly at first, the trembles eventually faded. Without realizing it, a succession of 4lb bream were beginning to fill the keepnet, and Ivan's lifetime of knowledge was beginning to fill my head. From now one, the rest of the piece is in my words, however you have to remember that the events were well over 30 years ago, nevertheless the sentiments are those of the Master.
Imagine spreading a few slices of bread on the garden. It may take an hour or so, but eventually a sparrow will appear. If you disturb that sparrow, it could easily be a long time before the next one arrives – if you do not disturb it, the garden will soon be full of sparrows. "Bream are just like that", Ivan said. "Allow them to settle before you start to catch them".
My fertile mind travelled back many years. As a lad, in our coal mining village, we had what we called a "Knocker Up". This was a little old chap who went round the miner's houses, usually around 5 in the morning, and using a length of bamboo poles tied together, tapped on the miner's windows to wake them up for the early shift. When fishing, if we caught an early fish and couldn't get another bite, we used to say that we had caught the "Knocker Up". Bloody hell – things were beginning to fall into place.
Take the "Knocker Up" out of the equation, and the miners overslept – disturb the first sparrow and the rest of the flock will not appear – catch the first bream in the swim and —– you can finish the rest. Think about that for a while. Now go back to the canal days. Only a fool cast out a waggler or pushed out the pole to the far bank as soon as the match began. You needed the fish to settle – you needed to build up their confidence. You most certainly didn't want to catch the "Knocker Up".
A MASTERCLASS BY THE MASTER – PART 4
I am now back on the peg 29 aquarium, and between my slipping the net under a series of slabs, Ivan continued to speak, and told about the ten bite rule. " You only ever need ten bites to win a bream match anywhere in the country", he said. "That works out at one bite every half hour". I thought about it for a couple of minutes before re-baiting and casting out again. " If the shoal are settled, and feeding confidently, you should never miss a bite if your set up is right; you will also eliminate most of the line bites as the fish will no longer be nervously milling around". The quiver tip twitched. I twitched and reached for the rod. The stick once again rapped me on the knuckles.
Ivan continued with the masterclass, and slowly, the tip swung round and the rod began to follow it. These bream were becoming a damned nuisance and were interrupting my concentration. There would be many opportunities to catch bream in the future, but to receive a 2 hour lesson from the master was a once in a lifetime chance to skip many years of trial and error – imagine picking up a lifetime's knowledge of bream fishing and possibly even moving on from there. "It isn't all about size 12's hooks and double worm", he said. "Sometimes you will have to fish a single maggot on a size 20's, then it is even more important to take your time and make every bite count, confidence is the key – you have build up the fish's confidence before you even think about catching them".
For those of you who have been privileged enough to have watched Ivan in full cry among a bream shoal, I'm sure that you will agree, he could be bloody infuriating. He would slip the net under a slab – drop his rod on the rest – light a fag, and turn around to talk to the gallery that always accompanied him, sometimes for up to 10 minutes. This wasn't Ivan simply being Ivan as we all thought. This was Ivan observing his 10 bite rule, he was resting his swim, after all, he only needed one bite every half hour.
I have moved on a few years and was sat on the Trent and Mersey canal somewhere in Stafford.
This was Dave Berrows' country, and winning in this part of the world was as easy as falling off a log – you simply had to catch one more fish than Berrowsy. Dave had drawn well in a noted gudgeon area and was odds on. My swim wasn't too good, but occasionally threw up an odd decent caster roach. To my right, was a fishy little bush, and I fired an odd caster over for the first half hour as I scratched around for a few gudgeon. I then pushed over the long pole, and slipped the net under a decent roach.
Now was decision time. How many of you would have pushed out the pole again? I suspect everyone – I didn't – I had been to the master class. Throughout the entire match, I only pushed it across a dozen times. I got my ten bites. As for Dave Berrows? Massively over-rated – I had annihilated him by almost 2 ounces in his own back garden.
I believe that he went into therapy shortly after.
A MASTERCLASS BY THE MASTER – PART 5
I was now into week 4 following the masterclass by the master, and was sat at my swim on the rowing course in Nottingham. This was the biggest match ever held, and on a pro rata basis, it still is.
It was the Sundridge Carbon King, and by way of promotion, the company had pumped in thousands. Also present were Ladbrokes the bookies, who were attempting to break into the match fishing market. My odds were 66 to 1, and as I was pretty flush and overly confident, I stuck on a fair old wedge for a straight win.
I was now becoming a cocky little shit, having just won 4 bream matches on the trot, catching over 200lb of bream in the process, and slipping in a win on one of Peaty Pat O'Connor's Oxford canal matches on the Saturday. The starting whistle blew, and Ivan's masterplan was put into place.
Forty yards out went a dozen caster crammed balls of feed. Anyone can do that you may think – of course they can, but now came the wisdom. Two balls were fed a few yards to the left of the main dinner table, two balls to the right, and two balls short.
Remember how I said that the main shoal must not be disturbed, the idea being to target an odd fish on the outer edge of the shoal. The knocker up must also be left alone at all costs. I played around on the waggler for perhaps 40 minutes before picking up the quiver tip rod – I slipped 2 worms onto Ivan's size 12 hook, (I had kept the packet) and out went the lot, landing perfectly to the left of the main dinner table, smack on top of the 2 seemingly misplaced balls of feed. I put the rod on the rest, and sat on my hands.
The quiver tip twitched – so did I, yet I managed to hold on, my nerves on edge. The tip slowly pulled round, the rod tip began to follow. I lifted, and round went the rod in a satisfying curve. I was on my way. Slab number one was in the net – nine more bites to go, and over four hours still left. My next cast was to the feed that I had dropped short – same result – slab number two. Slab number three came almost immediately from the right hand area.
My dad was sat behind me having kittens. "What the hell are you waiting for? Stop bloody talking and cast in", he was almost screaming at me. Dad hadn't been present at the master class. Dad knew nothing about the 10 bite rule. Cast number 4 sailed out once again to the left hand area, and slab number 4 joined his mates' in my keepnet. "This was as easy as shelling peas", the cocky little shit told himself.
I was now over confident, and instead of waiting for a few minutes to allow the shoal to settle, I broke one of Ivan's rules. Out went the lead, only to land smack bang in the middle of the dinner table – smack bang in the middle of the shoal. I had now broken 2 of Ivan's rules. Within seconds, the quiver twitched – I twitched, and totally ignoring all forms of rationality, I struck like a madman.
The rod arched over, and seconds later, the bream came off, right in the middle of the shoal.
I had now broken 3 of Ivan's rules – the penalty was worse than death, off went the spooked shoal of bream.
My 4 slabs weighed in at 17lb 2oz, enough for second place and 300 quid. Dave Edwards of Sheffield weighed in 10 ounces more. Those 3 basic errors had cost me well in excess of 10,000 quid.
To give you some idea of how much money that was then, I had just bought a town house in Hinckley for 10,000 quid. The house is probably worth around 140,000 now, so I had just blown the present day equivalent of 140,000 quid by forgetting the rules of the master.
I didn't sleep well that night, and the following day I could barely speak to anyone in the office.
At lunch time, I walked home and switched on the radio, as I considered the least painful way of topping myself. "Johnny Owens has died", came the news. Johnny was a Welsh boxer who had been knocked out fighting for the world bantamweight title, and had never regained consciousness during his 7 weeks in hospital.
Johnny had come second and lost his life, and there was this cocky little shit who had just come second and won 300 quid. I grabbed my coat, and the still unopened envelope with the 300 quid in it – shot off to work, and almost physically dragged out the entire office. A couple of hours later, we all returned, blind drunk. Most of the 300 quid had gone, and so had the cocky little shit – confined to the scrapheap of history where he belonged.
I can still remember almost every word spoken during my masterclass with the master. Ivan Marks had many imitators during his life, but just like the Mona Lisa, nothing ever came close to the original.
For more great stories from Billy pick up a copy of his book – Fishing and Testicles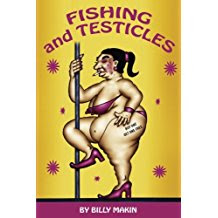 Also look out for my interview with Billy coming soon!