We were supposed to be on the river for this match but the arrival of Storm Brian and a fair bit of rain on Saturday night saw the decision made to switch it to the pond, if I'm honest, I felt it was a little premature as these days the river rises very quickly but by the same token it drops equally as fast. I woke up to blue skies and as I drove to Ilminster there was some standing water about but as I went over the top end of the river at Sea it looked fine.
I got to the bowling club and there was a dirty dozen fishing today, it was nice to see Rich Studley fishing with us again along with Langport invader, Baz Morgan who was also a bit surprised we were on the pond. The good thing about the pond is that you are normally guaranteed plenty of bites, I just wanted to avoid pegs 1 and 24 because although they are both potential match winners, they do tend to be all or nothing and I struggled the last time I was in 24.
Rob announced the draw and I hung back hoping to hear that those two pegs had gone and when Baz drew 24 (and wasn't too impressed!), I was halfway there. Rich S drew peg 2 which I really fancied but with only two balls left in the bucket, I was starting to think I was destined to be on peg 1, I went for it and opened my fingers to reveal……peg 14, that'll do, one of my favourite pegs on the pond. Rob had the last ball which was peg 1, so I nearly ended up on it!
Steve P was on peg 17 so I'd be able to keep an eye on him to see if he was going to take another pound off me and young Karl on peg 8, also agreed to letting me try and win my pound back from the last match. My peg is on the bottom bank and the wind was blowing straight down the pond and would be in my face all day, Baz would have no such problems opposite me in his sheltered peg and I'm sure I saw him getting a deck chair out!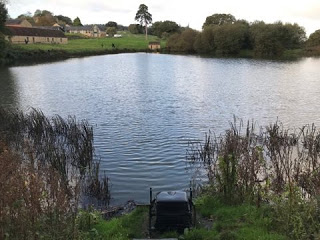 The view looking up the pond from peg 14
I set up a 0.5 gram Drennan Roach float to fish at ten metres with maggot and caster over groundbait and also a 0.4 gram Drennan Pencil to fish corn by the reeds to my left. On the side tray I had maggots, casters, corn and Bait-Tech Super Seed hemp plus some Pro Natural Dark that I'd mixed up as soon as I got to my peg. Rob got us underway and I cupped in two balls of groundbait straight out and then two pots of casters, hemp and corn by the reeds, my plan was to fish for roach and every hour have a quick look for a bonus fish by the reeds.
I shipped out with a single red maggot but the rig didn't even settle as small fish were hitting the bait on the drop, I missed two bites before catching a tiny roach and that was enough of that so I slipped on a caster. It didn't really help and I was still getting small fish but hopefully the stamp of fish would improve later in the day. Steve was getting a few and I could see Adie on peg 6 catching a small fish every chuck on a short pole to hand.
I was getting a bite a chuck from roach averaging an ounce apiece and also added a nice 6oz perch and a Dillington barbel (gudgeon), I reached 30 fish for around 2lb by the end of the first hour before trying my other line with a grain of corn on the hook, no indications after ten minutes so I cupped in some more feed before going back over the groundbait line. The second hour was a bit slower and I added another 20 fish to put me on 3lb or so, another quick go for a bonus fish but no bites and I started to doubt whether I'd get one but I put some more feed in and would try it again in another hour.
Apart from Adie who was still catching a small fish every bung, nobody else looked to be bagging, John Dursley was switching between feeder and pole and I'd seen him net one skimmer, Steve P was getting odd fish and Karl was fishing the waggler and catching some roach. I added another 22 fish in the third hour and was probably up to around 4lb 8oz but I was a bit surprised at the lack of quality roach and rudd. It was time to try my other line again, another ten minutes passed and I was just about to come off it when the float dipped, first of all I thought it might have been my eyes playing tricks on me (well they were watering due to the cold wind blowing straight in my face all match!). I gave it a few more minutes and then the float buried and the strike resulted in a pleasing amount of Preston green elastic exiting the pole tip, it was obviously no chub but I shipped back gently and netted a nice skimmer of a pound or so.
I was hoping a few more might be out there so I spent another fifteen minutes fishing the corn but no more bites so I cupped in some more grub and went back to trying to catch roach although I was missing loads of bites and bumping a few fish. Over the next half an hour I only had another nine fish, including two more Dillington barbel, to put me on around 6lb with two hours to go. Rob turned up and said he'd had a few chublets on peg 1 but Baz was bagging in 24 with bream and skimmers, so with Adie also still catching lots of small fish, they were looking good for first and second unless some big fish started to show.
While Rob was with me I had a few small roach and then, typically, had a slightly better roach of 2-3oz drop off after I tried to swing it when I should have used the net! My bites were slowing up and over the next hour and three quarters I only added another 16 fish for about a pound and when I noticed young Stuart over on peg 19 net a big fish, I had to have another go for a bonus of my own. The wind was a real pain and blowing the rig towards me and as Tony Rixon said in his blog, the float kept trying to hide under the pole tip!
Time was running out and I didn't think it was going to happen but then with five minutes to go, the float dipped (or was it my imagination again), another minute passed and then the float buried, again it wasn't a huge fish, a skimmer of 12oz-1lb but very welcome at this late stage. I even had time to ship back out again but just after the rig had settled, Rob blew to signal the end of the contest. I finished up with 99 fish (should have been 100!) and thought I probably had around 8lb (if the small fish equalled an ounce apiece that was 6lb plus the two skimmers).
As I packed up, my back was killing me, it had been fine on Friday but I think fishing at ten metres and battling the wind hadn't done me any good today. Steve had the scales so we went up to weigh Baz in first, he'd had a lovely days fishing catching a 4lb bream plus skimmers for 14lb 5oz, I said he'd win with that and even offered to take his deck chair back for him! Next up was Stu whose late bonus fish had been a chub which he did well to land on the whip and boosted his weight to 5lb 5oz.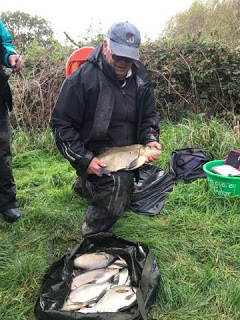 Baz had a lovely net of bream and skimmers to weigh 14lb 5oz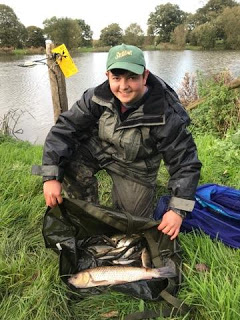 Stuart had a nice chub to boost his weight to 5lb 5oz
John Dursley on 18 just pipped him with several skimmers for 5lb 9oz and then Steve had 5lb 7oz which included some chunky perch and just 4oz had separated three pegs but interestingly all totally different catches and that's what makes the pond such intriguing fishing. Also most people had a few Dillington barbel as well so they are thriving in there. Then it was my turn and the needle settled on 8lb 9oz which I was fairly pleased with, last to weigh in our section was Bill who was admitting to 4lb and actually weighed 4lb 5oz which is a bloody good estimate!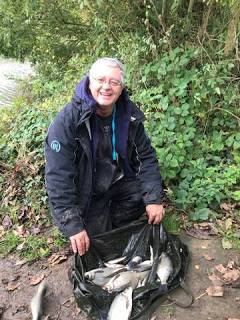 John had 5lb 9oz from peg 18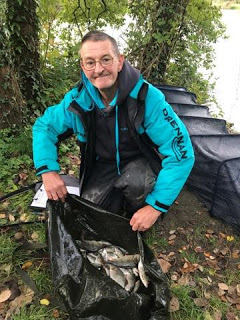 Steve 'The Pole' Parker had 5lb 7oz which included some chunky perch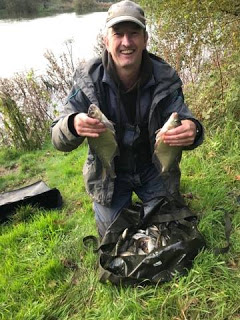 I had 8lb 9oz which included two nice skimmers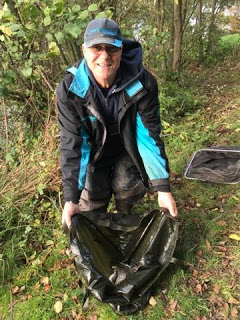 Bill had 4lb 5oz from peg 13
Back at the results and Adie had the top weight in the other section with loads of small fish for 11lb 15oz with Terry 'The Toast' Morgan next best with 6lb 15oz which included a lovely bream that he'd sneaked in without me seeing. Karl had fished the waggler most of the day on peg 8 to weigh 3lb 15oz so I got my pound back, Rob had 2lb 15oz and Tony and Rich had both struggled. So I ended up in third place and picked up £25 (plus the two side bets) to end my bad run for now, I actually felt I'd fished a half tidy match today, I'd given myself a chance of catching big fish while at the same time, catching enough small fish to win the section. Thanks to Rob Cox for the photos*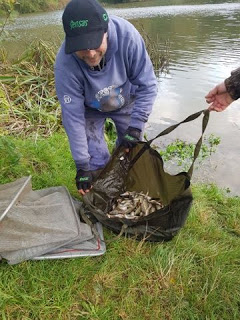 Adie had loads of fish for 11lb 15oz*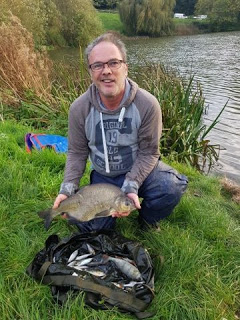 Terry had 6lb 15oz which included this cracking bream*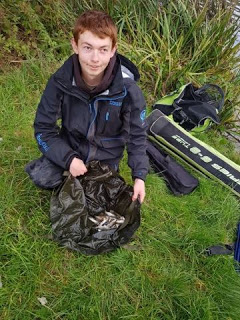 Karl had 3lb 15oz on a rare day trip away from peg 19!*
1 – Baz Morgan (Somerset Angling) – 14lb 5oz
2 – Adie Bishop (Taunton) – 11lb 15oz
3 – Jamie Rich (Against Men and Fish) – 8lb 9oz
Sections
A – John Dursley (Enterprise Angling) – 5lb 9oz
B – Terry Morgan (Ilminster) – 6lb 15oz
So quite an enjoyable day (apart from my back and I still think the river would have been better!) but I'm a little concerned at the lack of quality roach out the pond, it was very clear which may have been a factor. Next up for me is the Champion of Champions Silvers Final at Summerhayes on Friday, a match I've been looking forward to for ages and would love to do well in but with loads of really good silvers anglers fishing, it'll be a tough match to win.
Next up – Summerhayes
Coming soon – A great interview with Billy Makin and more stuff from the archives
Check Out – My trip down memory lane (below)