Hi Billy, thank you so much for agreeing to do an interview, after reading your book earlier in the year (read the review here – Fishing and Testicles) and enjoying it very much, I wanted to find out a little more about what makes you tick!
Firstly, how did you get into fishing and what was your first fish?
Dad was a keen and pretty good matchman on the Northern canal circuit, so my introduction to fishing by-passed the more usual bent pin and worm approach. My tackle was a sort of hand me down stuff from dad's earlier days, but was good enough to catch fish. Catching fish is what keeps a kid interested. Like most kids, I guess that an odd perch were the initial takers.
When did you start fishing matches and do you remember your first win?
I was around 12 when I won a club match on the breadpunch, having "borrowed" both the punch and the float from the tackle box of Harry Settle when he was in the pub during the interval between the morning and afternoon matches.
What was your favourite style of fishing?
I never really had a favourite style. Being quite an obsessive, anything that caught fish on the day was good enough for me. Whenever I pleasure fished, my mind was always fishing a match and was always in a sort of spatial competitive mode.
Your favourite species?
Anything except carp – they are the bastard spawn of Lucifer.
Favourite venue?
Anywhere full of fish, though I must admit that I was always eager for an Oxford canal match.
There's been quite a bit of interest in this interview already and some of Against Men and Fish's readers had questions they wanted to ask you, George Burton asked 'Where did your angling ability come from? Did you have a mentor, your Dad perhaps? before you moved down south as you just seemed to be instantly that good?'
Dad of course was a major influence. Coming from the North West was also important. Leigh was the home of the caster, Wigan the bloodworm, and Bolton the breadpunch. Each of these towns always had someone who stood out from the rest, and I have to say that my obsessiveness was a critical factor in my development. I watched and learned from the top men in the area, and rather than being labelled with one particular tag, I began to combine all three methods. This isn't so difficult when you are young, as an obsessive mind is like a sponge, and once you become competent at something at an early age, you can take it to the next level. Damned hard as you get older though, that is why an early start in fishing and match fishing was so important.
Jeff Sparkes wanted to know 'Have you still got that recipe for groundbait for gudgeon that you showed me?'
I can remember Ray Mills winning 3 matches on the trot at Womborne with gudgeon, I think that I won the next 2. The locals were going mad, convinced that we had some secret groundbait mix. I told them that the magic ingredient was HTW. We kept them going round in circles for a couple of seasons, both of us winning a few more matches each.
Eventually I had to tell them once they had bought us both a few drinks. HTW stood for Hinckley tap water – we always mixed our feed before we went to any match at Womborne just to wind them up.
With the creation of Makins Fisheries, you are often credited with changing the face of match fishing, some would say commercial fisheries have saved angling while others think it's ruined it, one thing's for sure, they are here to stay. Can you tell us a little bit about the vision you had and how you implemented it?
I suppose that the idea germinated because of Cuttle Mill. Here was a small lake that contained a few whacking great carp, and the brain deads' couldn't get enough of it. I reckoned that if I dug a lake, and stocked it with enough fish, people would pay to catch them. In a poor man's way, I pretty much used the golfing model. Instead of whacking a golf ball among a field of cows, why not build the fishing equivalent of a golf course? If there were toilets, anglers could bring their wives and kids – why not have hot food available. All these things went through my head for a number of years. It was only when I made a few bob out of the float making business that I could afford to start the project. As for the growth into the complex it became, I have to thank Roger Parfitt for that. Being my bank manager, he could see the potential in the project, and one way or another, managed to make the funds available.
The fishery was very successful, one of the premier venues in the country and then you sold it for a tidy sum, was selling it always part of the plan or was it too good an offer to refuse?
Everything in this world has a price except my bottom.
You now live in Thailand where you own a bar, how did that come about? Where did your journey take you after selling the fishery, did you go straight to Thailand or were there other pit stops along the way?
I spent 10 years in Tenerife in order to avoid the UK taxman after I sold my lakes. One day, wifey told me that she wanted a bit of space. I booked a 2 week holiday in Thailand, returning to Tenerife for 3 days to collect my fishing tackle and golf clubs. That was over 5 years ago.
Sandra, my ex-wife, is still my best friend in the world, but Rinda, my Thai fiance, reaches the parts that Heineken has yet to discover.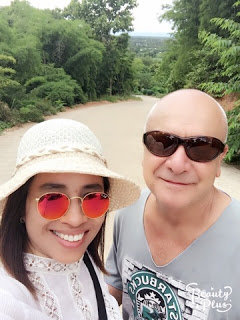 Billy is happily settled in Thailand
I love fishing in Thailand and have caught some amazing fish since my first trip in 2010, have you done any fishing since you've been there?
Just an odd chuck or two with friends, strangely, fishing without matches holds little attraction.
Do you think you'll stay in Thailand long term or have you any plans to come back to the UK to live?
I can never return to the UK as I do not wish to live under Sharia law.
You recently wrote on Facebook about how you received a Masterclass in bream fishing from the Master himself, Ivan Marks and it was fascinating stuff but how do you think Ivan and other greats from that golden era would fare on today's match circuit where big weights of carp dominate?
Comparisons from a different era are pretty pointless. A class act in any sport, in any era, will always be a class act. Ivan would simply assume the same sort of dominance that he had in his prime.
Georgie Best would still be a pretty decent footballer if he returned and put on a City shirt.
Red does no-one any favours.
Earlier we touched on how you got into fishing but why did you stop and do you ever miss it or get the urge to get back into it?
I occasionally dream of my match fishing days but the interest ends there. Never look back. Keep and enjoy the memories.
I packed in when the excitement went. Motivation is easy when you are young, but as you get older, and look at a raging blizzard through the bedroom window, the bed suddenly becomes very welcoming.
If you had a time machine is there one moment in fishing you wished you could go back and change? i.e. a dream fish coming off at the net or a decision in a match that's cost you a title?
As I mentioned in my Facebook post, a one second lapse in concentration once cost me the present day equivalent of over 100 grand. Ten grand in the 1970's was a pension.
The Mills used to tell me that I didn't really lose anything. I would have given half the money to the wife that was at the time, and she would have taken the other half when she divorced me.
Have you got one piece of advice that will help the readers put more fish in their nets?
Talk to the fish. The Mills used to call it seeing into the water. Ask them what they want. Do they want it a little deeper, is the shotting right, would they like a little more feed, have they moved a little farther out, would they like a change of bait? The response of the fish will be passed on through the way the bites develop with each subtle change.
A fishing match is a dynamic, ever changing series of events. You have to constantly ask the fish what they want – when they begin to answer you with their response, and you in turn can read the messages that they are trying to give you, then, and only then will you be starting to think like Ivan.
Well thank you for giving up your time but before I let you go, here's a few more quick-fire questions,
What's your favourite drink?
Any real ale
Favourite meal?
Pretty cosmopolitan in my taste. Despite living in Thailand, I avoid Thai food. It not only looks, smells and tastes like buffalo dung, but helps to remind you why God gave you an arse.
Do you support a football team?
Man City since a kid. After seeming like centuries of pain, things are now looking pretty good.
Favourite film?
Not a great fan of films – possibly Slumdog Millionaire.
TV show?
Got none over here – usually documentaries on YouTube.
What music do you listen to?
Used to enjoy classical quite a bit, but as the bar is nonstop wall to wall pop type music, I have lost most of my interest.
What's your idea of a perfect day?
Sitting on the biggest shoal of giant gudgeon in the world, and suppin a pint of Tetleys bitter, as half a dozen Thai barmaids feed me kebabs.
Lastly, any plans to write a book on your angling career or how you went about creating the fishery? I could see it being a bestseller!
No plans, I prefer to write novels. I have 4 published, plus Fishing and Testicles. There are two more half finished, but having been appointed head trainer to the 20 bar girls that work for me, I seem to be running out of energy.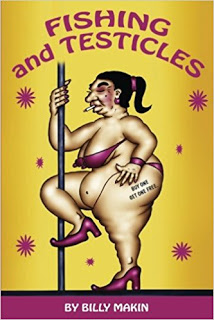 Many thanks again Billy, from Against Men and Fish
All images courtesy of Billy Makin