So at the end of Part 2, I'd won my first match and thanks to mum and dad at Xmas I was the proud owner of my first carbon fibre rod. I was still super keen and getting on the bank as often as possible, if I wasn't fishing myself, I was watching other anglers and asking questions. I was also buying all the fishing magazines, Angling Times, Anglers Mail and Coarse Fisherman.
1983
I was fishing the canal at every opportunity and enjoying catching carp off the top, there were also several good sized golden orfe that had found their way in there from somebody's garden pond and although orange in colour, they weren't the brightest of fish and were caught on a regular basis. They also weren't the best of fighters and used to come in like a wet paper bag, almost bream like!
One of the first matches of the season was a juniors versus seniors competition on the canal and all the youngsters were chomping at the bit, hoping to teach the 'oldies' a lesson on our home water. I can't remember exactly how many anglers fished only that there was a good turnout and the senior team consisted of members of the committee.
I drew a peg near the top of the canal, it may have even been the famous 'Alcove' peg (which I'm sure people will remember if they fished the canal back then) but with loads of anglers lining the banks, the fishing was really tough with just the odd tiny rudd being caught and it was looking like being a low weight affair. It was neck and neck between the two teams with most people having caught a few small fish when all of a sudden a big orange shape appeared and was heading my way. I cast out so the float landed in the orfe's path and my single maggot sunk slowly in front of it, the float slid away and the strike was met with solid resistance, thankfully the fish didn't put up much of a scrap and I landed a good fish with shaking hands.
One of the seniors, Ian 'Ollie' Brister, was on my right and later in the match he also landed a 'carrot' of his own although his looked smaller than mine. The rest of the match passed without a lot happening and then it was time for the all important weigh in. The scales started at the bottom end and by the time they reached Ollie, the top weight was a fellow junior, Andrew Crouch, with 6.5oz, Ollie weighed 1lb 2.5oz and then it was my turn, my golden bonus weighed 3lb 8oz and I added 2oz of tiny rudd to give me a total of 3lb 10oz.
This lovely golden orfe made my second match win, a memorable one

After the totals had been added up, the juniors had won comprehensively, beating the seniors 5lb 3.5oz to 1lb 7oz. What was really pleasing was that we'd have still edged it, even without my bonus fish.
As it was a good size for a golden orfe at that time, I entered it into the Anglers Mail Top Fish contest and was over the moon when I received a letter to say I was a winner in the junior category and had won a Daiwa Harrier match rod, it was a nice bit of kit but not a patch on my Rule's carbon rod. I also submitted an entry later in the year with another orfe of 2lb 7oz and won a Daiwa reel!
Clipping from the Angler's Mail
So the season got off to a great start and 1983 turned out to be a really good year as we started to visit different venues although I was still fishing the canal and the Isle as often as I could. We started fishing Chard reservoir quite a bit, it was producing lots of big roach with many topping 2lb, I never managed to break that magical barrier, my biggest roach was 1lb 12oz, which was still a lovely fish. Mum and dad took me to Longleat a couple of times and it was great fishing, catching plenty of skimmers and roach along with the odd crucian and tench.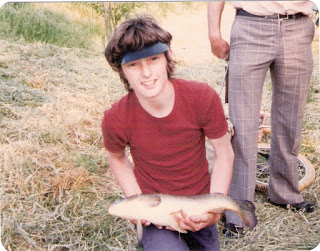 A nice 6lb 2oz common carp caught down the canal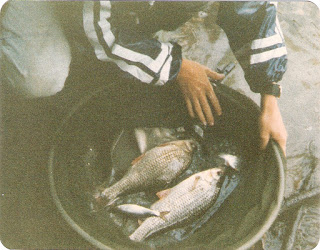 Two cracking roach caught at Chard reservoir, biggest 1lb 12oz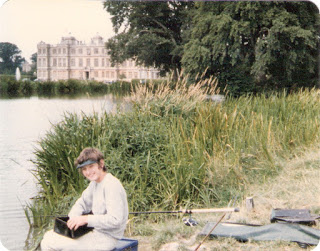 Longleat, nice surroundings for a days fishing!
Towards the end of the summer I caught a good sized carp on floating crust down the canal but it bottomed out my 7lb spring balance scales so I'll never know how big it was!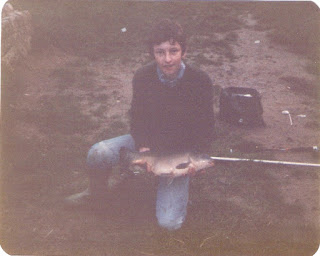 My biggest ever carp from the canal but how big?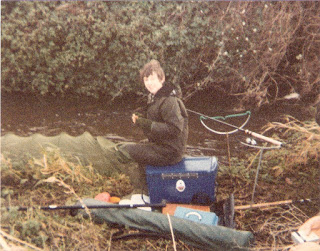 A rather blurry photo of me fishing the Isle (Vernon's peg which is now peg 23), note the Barbour wax jacket (which was the Halkon Hunt of it's day) and the Hunter wellies. I'd also upgraded to a fibreglass seat box and used an Abu Diplomat closed face reel for most of my river fishing
I was still doing okay in the junior matches and won the Club Cup which was fished on the Isle, with a weight of 2lb 4.5oz, I also won the Points Shield, the Aggregate Trophy and for good measure won the pairs for the second year running but this time with Jason Miles as Mark England was no longer eligible to fish the junior matches, which meant the trophies were a bit more spread out this year!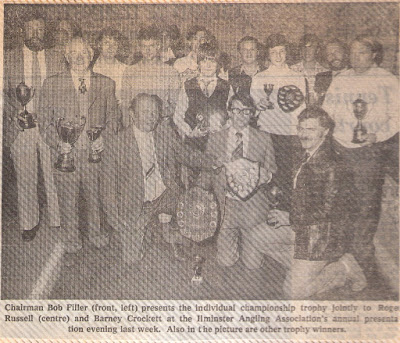 The presentation night was held at the George Hotel (apologies for the poor photo quality but it's scanned from a newspaper clipping)
Back row from left to right, Robert Tolman, Don Jobson, Aubrey Tulk, Stuart Brown, P Wright, somebody I can't make out!, Bob Filler jnr, Jason Miles, Ian Brister, me, Kevin Tolman, Adrian Green and Dave Back
Front row, Bob Filler snr, Roger Russell, Barney Crockett
Next up – Part 4 takes a look back at 1984