My last trip down memory lane documented me winning a couple more matches and I started visiting some new venues and catching some nice fish, the start of the 1984 season saw me still as keen as ever and down the canal the night before 'The Glorious 16th' with base camp established ready for my first ever night fishing session.
1984
My diary showed that I caught a mixed bag of fish, small tench and carp (which I think had been recently stocked ) plus perch, roach and rudd. My first match was as senior fixture the next day at Ash Ponds and I caught 2lb 9oz of rudd, roach and small skimmers, I used a Drennan 2AA Crystal Waggler (it's hard to believe they've been around that long!) and for bait I had mixed maggots, bronze pinkies and a bag of plain old brown breadcrumb (none of this fancy, expensive, continental stuff!).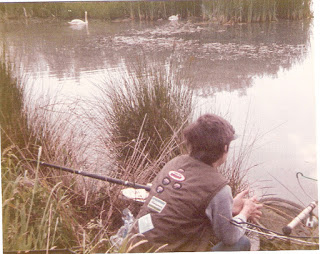 Fishing a match at Ash Ponds (note the Angling Times Rodbenders badges on the back of my body warmer)
The first junior match of the year down the canal saw my Points and Ounces campaign get off to a great start when I won it with 76.5 points. I caught another golden orfe, this one was 2lb 7oz and added a good eel, five gudgeon, five rudd, a roach and a small carp to give me a total weight of 3lb 12.5oz. My good friends Stephen Hallett and David Tolman were second and third with 23 and 10.5 points respectively. Stephen also lost four carp and in all the junior matches I fished there were loads hooked but only one or two were ever successfully landed.
Looking through my diary from that year, on 14th July I recorded I fished down the canal with my roach pole, the first mention I could find, so possibly it's first outing. It was a 6 metre Crystal fibreglass model, if I remember correctly it was French although I'm not overly sure whether Crystal was the make or model! It was a put in pole and had graphite on the joints, back then the main method of using elastic was with a crook. A few juniors bought poles around the same time and we had fun and games cutting the tip section back to accommodate the crook, I think mine got cut back a tiny bit too much and we had to use wide bore float rubber so the crook would fit snuggly. The crooks came already fitted with internal elastic which was quite a light grade.
I caught a few fish including a 1lb tench, roach, rudd, gudgeon and a small carp for a total weight of 2lb 2oz and I also lost a carp. For bait I had bronze maggots and I used to buy ready tied hooks to nylon (from Rules of course) and was using a size 20 gold hook (which were very popular at the time) to 1.7lb.
The second match of the Points and Ounces series saw me finish in second place with 12 fish for 14 ounces which gave me 26 points, James Parsons won with 41.5 points which included a nice crucian carp of 1lb 4oz and Jason Miles was third with 10 points. With two matches to go, I was leading the series with 102.5 points with James my nearest rival with 51.5 points.
We were still visiting lots of new venues and our parents took a few of us to the Taunton and Bridgwater canal and I had a lovely day catching 30 eels, rudd, roach, a couple of nice skimmers and a tench of 2lb 12oz on a variety of baits (the tench was on bread), for a total weight of 11lb 6oz and any double figure net of fish was noteworthy back then.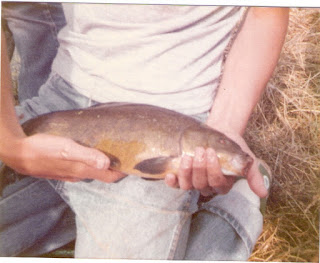 A nice tench from the Taunton and Bridgwater canal
There were also regular trips to Chard reservoir (Holemoor Fisheries in those days) and Perry St Pond along with some more night fishing sessions down the canal. I also won the Summer Cup held on the canal with 2lb 2oz which included a couple of little tench, a gudgeon, an eel plus rudd and roach. I was so keen I would often go home for dinner after the match in the morning and then go back down the canal in the evening, normally floating crust for carp and had one of 6lb 4oz to make it a very successful day.
These were very exciting times for us youngsters and with each different venue came a new adventure, a first visit to the Tiverton canal to catch tench was a bit of a flop with just a few small roach and rudd to show for our efforts, another team match on the Huntspill was equally unsuccessful when I caught just a roach and an eel for a massive 1.5oz.
A family holiday to Christchurch was an altogether different matter however when I got to fish the famous Royalty Fishery. The first days fishing wasn't anything special but I had plenty of bites catching some eels on a maggot feeder and dace and minnows on a little 2BB balsa float. The second day was a real red letter affair, I ledgered luncheon meat and caught a small chub of 12oz or so before moving swims, I saw a couple of barbel roll and as the light started to fade, the rod hooped over and I hooked a big fish, a proper scrap followed before I eventually netted a barbel that to me, looked huge. Some anglers fishing above me came down and weighed it using some Avon scales, 6lb 11oz and still my biggest barbel despite the best efforts of Justin Charles who keeps taking me to the River Wye and I keep blanking!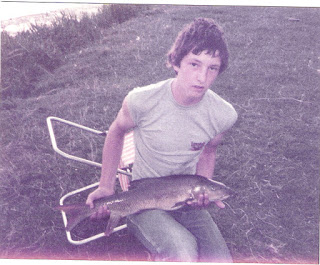 6lb 11oz of Royalty barbel
My grandad and I fished a couple more times during that holiday and we both blanked but I didn't care, I'd caught my first barbel!
Another little stream we used to fish was by the Clark's factory at Dowlish, we never caught any monsters but always caught a few little brown trout along with the odd eel and bullhead – great fun! I was now on Ilminster Angling Club's committee as a junior representative and as such was entitled to fish the committee cup. This year it was held at a lake in Crockerton and what a match it was, I had a lovely days fishing catching skimmers to a pound along with quality roach and rudd on the waggler to weigh 18lb 13oz which was my biggest match weight to date and enough for third place (and £4.50!) behind Don Jobson who had 26lb which included a 4lb 3oz tench and Adrian Green who won with a stunning 35lb 12oz which included some big 2lb plus eels, bream, roach and rudd.
Another match I was looking forward to was the juniors versus seniors, which this year we fished on Westport canal, a nice little venue that held loads of small fish, sadly I couldn't emulate the success of the previous years event and my 7oz (one eel plus gudgeon and roach) was only good enough for second in the juniors and sixth overall. My records also didn't show whether the juniors or seniors were victorious on the day, one interesting thing was that I used Cosmic Cloud groundbait on the day, anybody remember that and who made it?
I'd also been asked to fish for one of the Ilminster senior teams in the Mini League where all the participating clubs hosted one or more of the rounds, to be honest I struggled on some of venues, blanking twice at Sherborne Lake and only managing a gudgeon and a roach on the River Yeo for a magnificent 1oz!
I did better in the remaining junior matches though, winning the final round of the Points and Ounces series with 15 fish for 12.5oz which also saw my name etched on the shield and for good measure added the Club Cup with 1lb 8oz of roach and dace on the Isle and along with my partner, David Tolman, won the pairs for the third year on the trot.
I was also now fishing a few senior matches on the Isle with Vernon Case picking me up on Sunday mornings in his Ford Escort diesel which sounded like a tractor! I enjoyed moderate success with the highlight probably being a third place in the senior Club Cup with 9lb 7oz which included a chub of 2lb 15oz and won me and extra £2.50 for the heaviest fish of the day on top of £6 for third place! It was an opportunity missed really because, Jim Lock won with 10lb 6oz and I lost a chub and bumped off loads of roach and dace. In my last match of the year, which was also a senior fixture, I struggled to catch six roach for 2lb 3oz and I only mention it here because one was nice fish of 1lb 3.5oz, a cracking roach to end my look back at 1984.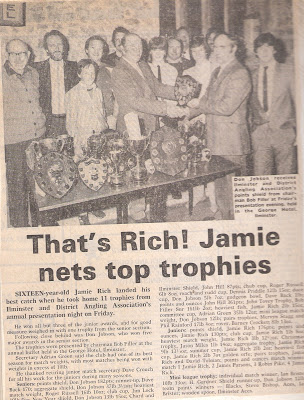 Headlines at that years presentation evening. Some very young faces there! From left to right, Dennis Priddle, Adrian Green, Robin Pike, Ollie Brister, someone I don't recognise, Bob Filler snr, Jason Miles, Dave Back, Jim Lock, me, Phil Rainford, Don Jobson and Steve Bishop
At that years presentation night I had quite a haul, points shield, points and ounces shield, club cup, heaviest match weight, aggregate trophy, summer cup, heaviest fish, pairs (with David Tolman), trophies for winning two rounds of the points and ounces series and for good measure I won the senior heaviest fish trophy with that 2lb 15oz chub!
Next up – So as I wave goodbye to the juniors part 5 takes a look back at 1985