With temperatures plummeting and matches being cancelled all over the place due to snow, this had the makings of being a real grueller. The weather wasn't too bad on Saturday but waking up this morning is was chucking it down and judging by all the water around, it had been all night and with strong winds to contend with as well, we were in for an uncomfortable day. I got to the Bowling Club and the decision was made to move the match to the pond which was definitely the right decision and hopefully we should get plenty of bites.
I drew number 2, which is a great peg and one I haven't fished for a while, Baz was on peg 1 with Bill on 24 and these three pegs are normally pretty sheltered which would be a massive bonus on a day like today. We got out the pond and all headed to our pegs, Adie was on 19 again but said he wouldn't be able to fish the pole as the wind was horrendous, I must admit I felt for Steve P and Frank who were on pegs 13 and 14 on the bottom bank and would have the wind straight in their faces.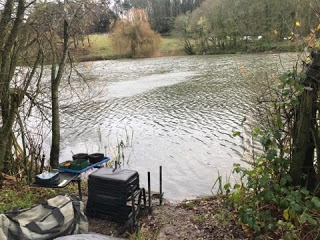 The view from peg 2
I mixed up some Bait-Tech Pro Natural Dark before setting up my rigs, a 4 x 16 Preston Chianti for 8.5 metres just off the bush on my right where I would feed two balls of groundbait containing a few pinkies and casters, a 0.5 gram Drennan Roach for fishing over groundbait at 8.5 metres (because of the wind) straight out and a 0.4 gram Drennan Pencil to fish off the end of the bush to my left where I would feed chopped worm and caster but after last week, I wouldn't fish it unless loads of big fish started getting caught.
Rob got us underway with a single toot on his whistle and I fed all three lines before starting by the bush to my right with single disco pinkie on the hook, bites from small roach came quickly but I was soon trying single and then double maggot in a bid to catch a better stamp, I had a couple of 2-3oz fish so I tried caster but had to wait ages for bites and the fish were no bigger so it was back to maggot. Baz was catching quite well and had netted a couple of rudd, I couldn't really see anybody else apart from Adie on 19 and Karl on 18 and they were both fishing the feeder although I hadn't seen them catch yet.
Although windy, the rain wasn't too bad to start with but then after about 30 minutes, it ramped up several notches and I had to put my coat on and the lids on my maggots and pinkies to try and stop them escaping. I was catching quite well and after an hour I had 24 fish for probably a pound and a half but as I thought 8-10lb would be needed to get in the money, my catch rate would need to improve if I was going to do any good today. I was feeding casters and hemp and kept trying caster on the hook but they weren't really having it yet.
In the second hour, my bites slowed up and much like the last match, I started getting some small perch so I cupped in another small ball of groundbait but it didn't really help, then Adie had two skimmers in the space of half an hour or so and I had to remind myself that the skimmers tend to average a pound apiece so there was no need to panic yet! During the second hour, I added another 21 fish to put me on nearly 3lb but my catch rate was going in the wrong direction.
As we headed into hour three, I tried caster again and had a really good run of fish catching 21 in half an hour, mainly roach with the odd perch and a Dillington barbel, just when I thought they'd arrived, bites tailed off again and I only added another five or six fish in the next thirty minutes. Adie had another skimmer on the feeder but as he was swapping between the feeder and the pole, I don't think he was getting many indications on the tip. The wind had eased off a bit but the rain certainly hadn't and it continued to lash it down, there were maggots and pinkies everywhere and my groundbait was now slop!
With a couple of hours to go, I decided to stick with caster and caught well in spells, I did have a nice roach come off shipping back and I bumped what felt like a better fish but my catch rate had been pretty consistent all day, averaging around 25 fish an hour. Typically as the light started to fade in the last hour, some better roach put in an appearance and I was having to use my landing net more often. When the all out was signalled, I don't think anybody was too upset as we were all soaked through. My final tally was 122 fish which I thought might give me a pound or so more than the 7lb I had last week.
I'd just about finished packing up when Jake arrived with the scales to start the weigh in, Baz pulled his net out and had loads of small fish for 6lb 12oz, then it was my turn and I was pleased to see the needle pull round to 9lb 1oz. Jake had several skimmers and a nice perch for 7lb 8oz on the feeder from peg 5, Stu had fished the whip all day to weigh 2lb 12oz which included a chub that had been through the wars and Rob had some lovely roach and a skimmer for 3lb 15oz on the feeder from peg 8.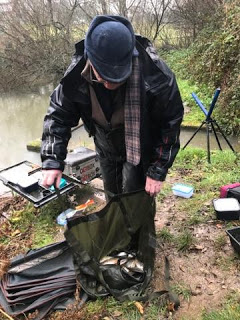 Baz had 6lb 12oz from peg 1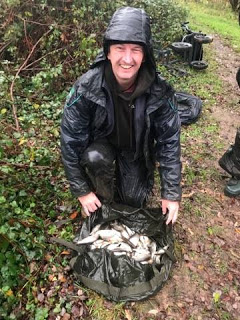 I had 122 fish for 9lb 1oz from peg 2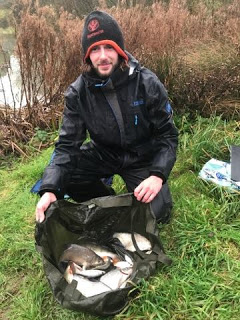 Jake had 7lb 8oz which included some skimmers and a nice perch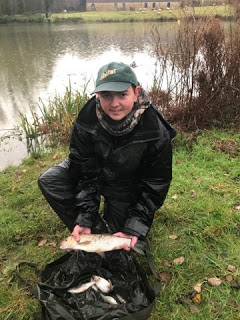 Stuart had 2lb 12oz which included another whip caught chub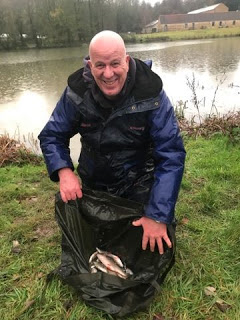 Rob had some quality roach on the feeder for 3lb 15oz
Last to weigh in our section was Justin who said he thought he'd just done me and he was right as he had a nice net of roach for 10lb 10oz. We then headed back to the cars for the results and Frank had the top weight in the other section with a level 9lb of skimmers on the feeder, so I ended up second on the day and picked up £35 plus a nugget off Steve P who had struggled for 1lb 3oz on peg 13. Adie weighed 5lb 12oz to take the section money, Bill had 4lb 12oz from peg 24, Fieldy had 1lb 9oz from 17 and Karl didn't weigh on peg 18.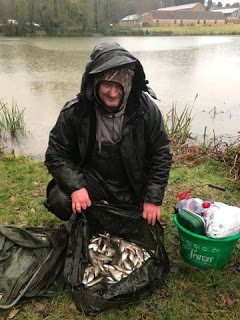 A rather moist looking Justin had the top weight on the day with 10lb 10oz
As you can see from the photos, everybody was soaking wet and the weather had been atrocious but considering the conditions it had fished quite well and as ever it was a tight match with fish being caught on a variety of methods, a little gem of a venue that we need to make sure we look after.
1 – Justin Charles(Ilminster) – 10lb 10oz
2 – Jamie Rich (Against Men and Fish) – 9lb 1oz
3 – Frank Woodard (Ilminster) – 9lb
Sections
A – Jake Woodard (Ilminster) – 7lb 8oz
B – Adie Bishop (Taunton) – 5lb 12oz
After five matches and dropping the worst result, here's how the IBC league is shaping up,
Graham Field – 7 pts (dropping 30)
Adie Bishop – 9 pts (dropping 4)
Jake Woodard – 10 pts (dropping 4)
Jamie Rich – 10 pts (dropping 30)
Bill Hopping – 15 pts (dropping 20)
Karl Aplin – 17 pts (dropping 20)
Stuart Aplin – 18 pts (dropping 6)
Frank Woodard – 24 pts (dropping 30)
I can't go without saying well done to Hurf who fished Taunton's Xmas Fayre on the Tone on Sunday, the match was called off at 12:30 due to rising river levels making it unfishable but he winkled out some bleak and a roach from a swim with a little bit of slack to finish third with 310 grams! He took home a nice prize plus pools money and for good measure he also won two prizes on the raffle, so all in all a decent day.
Last but not least, if you haven't already, please take a minute to vote for me in the UK Blog Awards,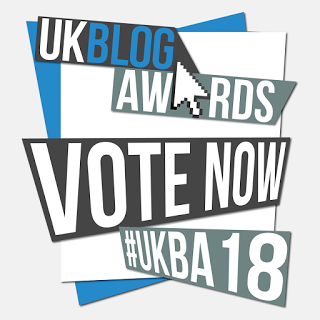 Next up – Charity match
Coming soon – My next great interview
Check Out – My latest trip down memory lane (below)