*Sponsored Post*
Over the years I've reviewed several fishing apps, a couple of which are still going strong but several have fallen by the wayside so when I was contacted recently asking if I'd review another one, I was intrigued to see if it would offer anything different.
It's called Fishing Calendar and according to the info I received it 'is a great tool to help you increase your fishing catches' and features include;
Weather and tides
Prediction of the best fishing times
Moonrise, moonset and moon overhead times
Minor and major periods
Keep a log of your catches and share them
Save fishing locations and much more….
My first thoughts were that it's obviously aimed more at sea fishing so the first job was to download the app and have a play around with it. After entering in my details, the first screen I came across is below,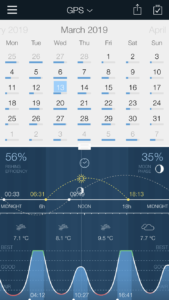 The top half is a calendar and the bottom half shows the different elements like the various phases of the moon, temperatures, tides and the best times to fish. To be honest I think a key would have been really handy as I wasn't too sure what all the elements were or how they related to the optimum fishing times.
There's a menu in the top left hand corner which gives you four options, Calender, Catches, Locations and Settings. Calendar is the screen I've already looked at above, Catches is where you actually log what you've caught and when you tap the cross (+) in the top right hand corner of the screen, it takes you to another page to enter the details. You can either take a photo or use one you've already taken, the app then automatically fills out some of the fields for you (now I'm not a tech expert but I guess it uses the properties of the photo), so date, time and GPS co-ordinates are populated.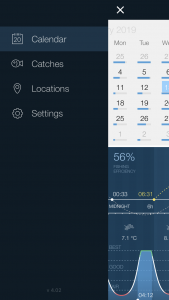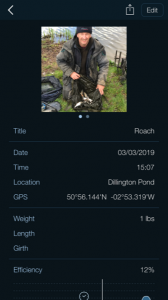 You then enter a title (e.g. roach) and the location (in this instance, Dillington Pond), next is the weight and you can change it to lbs or kgs in the Settings to suit your preference. I did try and enter in the actual weight I caught (1lb 10oz) but it only seemed to accept the pounds and not ounces. There are also fields for length and girth so it looks like this app is aimed more at single fish rather than bags of fish so not really applicable to match fishing.
There are loads more fields, some are fairly self explanatory while some of the others I wasn't sure what sort of info I should be entering, Method (I put pole fishing), Gear (wasn't sure what to put), Bait (red maggots) and then there were several fields to do with conditions, Water Temperature (not something I measure), Water Clarity (I just put clear), Water Level (not sure whether I was supposed to put an actual figure in so just put normal).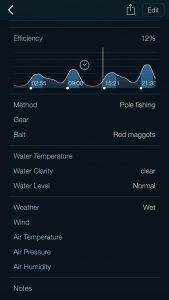 Weather (wet), Wind (I was going to put strong but you have to put a direction and wind speed in ft/s, again not something I record), Air Temperature (degrees C), Air Pressure (mbar) and Air Humidity (%). I'm sure there's probably an app you can use to measure all of these. There's also a Notes section which is really useful. I really like the fact it stores the details you put in, so for example the next time I visited Dillington, I would just choose it from the list rather than enter it again, also you can go back and edit each logged catch which you can't do with some apps so if you want to make a change you have to start again.
There's a Locations section, which takes a GPS reading from your current location and allows you to log and name it. The last menu choice is Settings and here you can change units for several parameters including temperature, metric or imperial and you can choose either weekly or monthly views for the calendar.
When you've entered several catches, you can sort by Date, Length or Weight and you can have Tile view or Map view. As I touched on earlier, this app doesn't really lend itself to match fishing, although for all other types of angling I think it could be good fun and really interesting to keep records of catches and link them to conditions or moon phases etc to highlight the optimum times for fishing.
I've entered two catches at Dillington and Midelney and below you can see the Tile View and then the Map View which you can zoom right in on.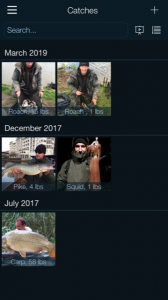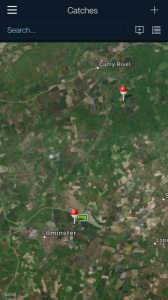 Here are the links to download the app if you fancy having a play with it,
a subscription for one month is £2.99, six months is £13.49 and a year is £17.99 although you can get a free trial for three days but you will have to make sure you cancel your subscription before the three days is up or you will be charged for one year.
A really intriguing app which I think would come into it's own as more and more catches are recorded.
*Sponsored Post*