With the Spring League starting in two weeks, this match was a bit of a practice for those fishing the league and after a really good day at the Big One yesterday, I woke up, the sun was shining and I was really looking forward to this match and before that, another lovely Millfield cafe breakfast. I made a flask and went to put my kit in the car, as I opened the garage door, the first thing I noticed was the ping pong balls we use to do the draw all over the floor, then as I looked to my right, all the cupboard doors were open and so was the garage door, we'd been broken into!
They'd nicked dad's power tools and used my keepnet bag to to carry them all, absolute scum, I phoned the police who took the details and I wasn't sure I'd be able to fish today but then thought there was nothing much I could do hanging round the house so spoke to Les to tell him I'd meet them out the pond. Words can't describe the hatred I feel for these lowlife pieces of sh*t, it's not so much what they took, which they'll probably flog for enough dosh for their next fix, it's the feeling of violation that they've been rooting around in our garage, it's the loss of peace of mind and seeing how upset my poor 83 year old dad was.
Right, that's enough of that, I headed out the pond and Hoff told me I was on peg 13 which is a good peg but if I'm honest, my heart wasn't really in it (thought I'd better get my excuses in early!). I got to my peg and it was fantastic to see Rocking Roy on the next peg, what wasn't so nice was seeing the Tart opposite on peg 8!
As always there were a fair few carp swimming about up in the water so I set up my trusty inline dibber to fish 6mm banded pellet at 11.5 metres, a Drennan 0.4 gram Carp 1 for the five metre line plus a little hand made float for the inside on my left at top two plus two. On the side tray I had live and dead red maggots, Bait-Tech Scopex corn, micros, 6mm pellets and I'd also mixed up some groundbait for the margin line.
The start time arrived and there was a rather pathetic toot from Hoff on his whistle and we think he might have swallowed the pea! I cupped in some micros, corn and dead reds at five metres before starting shallow on the longer line. I thought I might get a couple of early fish but after half an hour, I'd only had one bite which I missed! It was fishing really hard, the Tart had mugged a decent fish, Rocking had one on the pole and Oz over on peg 7 was practising catch and release after he discovered a hole in his landing net when he netted a carp!
As the first hour came to a close, I'd still only seen two carp landed and was just thinking about trying something else when I saw a couple of carp cruising so flicked the rig in front of them, the float buried and elastic streamed from the pole tip as a decent fish moved off. After a short scrap, I netted a nice common of around 6-7lb to open my account. Then not a lot happened for the next hour or so, there were loads of carp swimming about  but they didn't want to know. The Tart went into a 3-1 lead as he carefully stalked a couple more but it was slow going for most, I'd seen Picky up on peg 1 land two fish quite quickly but that was about it.
I managed to tempt another one shallow to at least keep in touch with the Tart but then he had a fish from his short line to go 4-2 up. As we approached the halfway point, it was still rock hard for everyone at our end, Mark G on 10 hadn't caught yet, Beki on 11 had one and Rocking hadn't added to his early carp. With about two and a half hours to go, I noticed the odd bubble coming up on my five metre line so decided to have a look with corn on the hook. After about ten minutes, the float sailed away and I missed it! Next chuck and a further five minutes passed before another positive bite resulted in my third carp which was a smaller one around 2lb.
I was still pinging a few pellets out and typically now I wasn't waving the pole about at 11.5 metres, there were fish everywhere! I did miss another good bite short but with all the fish milling about on the longer line, I had to have another go and of course they then disappeared! A pod of carp cruised into view and I flicked the rig in their general direction and the float went, followed by the elastic, as a fish went berserk, I was convinced it was foulhooked but after a lengthy battle, I netted a big 7lb common hooked fair and square in the mouth. It was now 6-4 to the Tart with about 90 minutes left.
Oz caught two Ian Beale's (eels) in quick succession, the Tart had his seventh carp, Beki had a couple more and Mark had a good fish. I'd seen Picky land several more fish, apparently Paul H on 20 was catching and Chilly had a few as well. I cupped in four pots of loose groundbait on my inside line and would try it with an hour to go. Back on the five metre line and I missed a bite before catching a six pounder and it felt like there were a few fish there. The Tart was still ahead 7-5 but with 40 minutes left, I thought I might get a couple more to run him close. Bushy on peg 6 was getting the odd fish shallow and had two quite quickly to put him on six fish and he wouldn't be far off.
I had a quick go on the inside line and had a knock on the float but when the Tart had a three eels one after another, I switched back to the five metre line. Time ticked by and I didn't think it was going to happen and then with two minutes left on the clock, the float slid under and I missed it! I still had time to get back in but that was the last of the action. The Tart was admitting to 28lb and I thought I had around 20-22lb so I was pretty sure he'd be taking one of his pounds back home. I packed up and as I took the kit to the car, I asked how people had got on, most had struggled with the exception of Chilly who was admitting to five carp and a big eel and Paul who had nine carp on peg 20.
Picky was first to weigh and had seven carp for 30lb 2oz from peg 1, Derek had 8lb on peg 3, Butch weighed 8lb 6oz and then Bushy had 26lb 2oz, the Tart was next to weigh and his seven carp and three 'Ian's' went 29lb 14oz, Mark G only had one carp but it was a good one of 10lb 10oz, Beki had three carp for 8lb, Rocking had 10lb 6oz and then my five carp went a level 25lb.
The Hoff had 8lb 10oz from peg 14 and then Chilly weighed 22lb 6oz but had lost a decent carp at the net, last to weigh was Paul and his nine carp pulled the scales round to 36lb to win on the day.
1 – Paul Homewood (Taunton) – 36lb
2 – Alan Gage (Chard) – 30lb 2oz
3 – Brendon Ions (Torquay) – 29lb 14oz
Sections
A – Steve Bush (Chard) – 26lb 2oz
B – Jamie Rich (Against Men and Fish) – 25lb
C – Andy Winter (Chard) – 22lb 6oz
I picked up £40 for winning my section but had to give the Tart one of his pounds back, so a really nice day after such a crappy start and I'm really glad I went, just what I needed (also a huge thanks to everybody who sent messages of support, it means a lot). I do enjoy fishing the pond, it's normally really close (just 4oz between second and third Brendon!) and today was no different with just one fish separating several places.
Also I bought my new EA licence online last week and it arrived today (Monday), excellent service, the Agency gets a lot of bad press about the issuing of licences but I've never had a problem so credit where credit's due.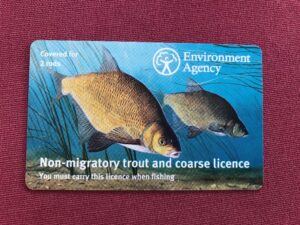 Before I go, don't forget to sign up to for the Against Men and Fish newsletter (it's free and details are in the sidebar on the right if you're reading this on a laptop or scroll down if you're on your phone), you'll get all the latest posts as soon as they're published plus some exclusive content and competitions (first comp when 50 people have signed up), you won't receive any spam and your details won't be shared with anyone else.
Next up – ?
Coming soon – Another great review
Check Out – What I thought of the Big One