Hi Rob, I know you're a very busy man, so thank you so much for agreeing to answer my questions;
On your Facebook page it says you're a 'BT Sport Presenter, 2x World Champion, England Manager, CarpSpirit/Dynamite Team, writer, diver, author' which of these keeps you the busiest?
They're all pretty busy to be honest. I love every part of my job and the fact that it is so varied is the attraction.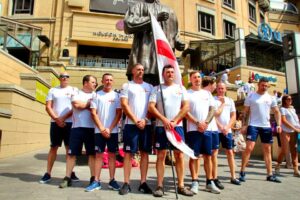 And which one would you like to do more of?
Fish obviously lol. Competing is great and a bit more dive time would also be lovely.
Can you tell us how you got into fishing and what was your first fish?
First fish was a gudgeon and I started when I was a pup fishing farm ponds in Shropshire and also the Llangollen canal.
And when did you get into carp fishing?
I'd seen carp and tried to catch them with modest success but I suppose I became a proper carper in 1986/7
I bumped into you recently doing some lure fishing for perch, do you do any other styles of fishing?
I fish for everything in every way. Light lures in winter, fly fishing on rivers, plenty of specimen fishing, sea fishing for wrasse etc, but ultimately I'm a carper.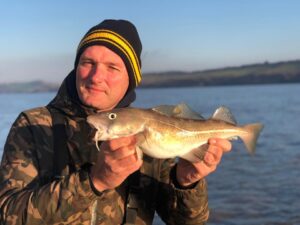 You do a lot of underwater filming in freshwater looking at how rigs, baits and fish behave, what's been the biggest revelation you've observed?
There's always more weed around than you think, you never put as much bait in as you think, and fish behaviour is amazing. They do the strangest of things.
As a match angler, much of the carp fishing scene is a mystery to me but it does seem that you guys are streets ahead when it comes to flavourings and additives, what can we learn from you and is there anything the big fish boys can pick up from us?
Your strategy for little and often baiting is something we could learn a lot more from rather than bait and wait. Equally liquid flavours are such an edge with pellets and on feeders that you guys sometimes miss out, everyone uses the same fishery pellets. Spice 'em up a bit!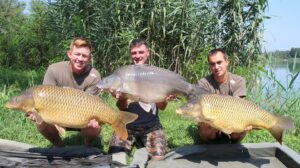 Carp fishing is massive nowadays and seems to be one of the growth areas in angling along with dropshotting and lure fishing, why do you think this is? Is it just the attraction of big fish or do you think the social side comes into it?
It's a mixture and carp fishing offers so much more than just the fishing element. Equally with drop shotting and LLF it's time, or the lack of it, that makes it so accessible.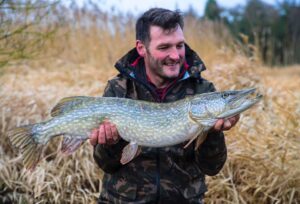 When I started fishing back in 1980, carp had an almost mythical aura about them and it was several years before I banked a modest specimen of 3-4lb, it was then decades before I caught a 'double' and a similar amount of time passed before I caught a 'twenty' (a 28lb 4oz fish in a match at Chard resi that I'm still very proud of!). Admittedly, I'm not a carp angler but these days carp are everywhere and 10lb and even 20lb fish are regularly caught in matches and nobody bats an eyelid. Sitting here typing this, I can still picture Dick Walker with Clarissa and Chris Yates with his 51lb 8oz fish, both had an massive impact on the angling world but although there have been many bigger fish caught in preceding years I couldn't tell you their weights or who caught them, have carp lost their allure?
Never. People always gravitate towards the biggest, strongest and hardest in all walks of life. It's the same with carp. They are incredibly accessible now so if anything more people will start carp fishing.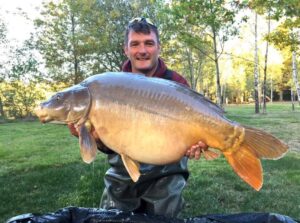 It does seem to me that youngsters used to get into fishing with a Woolworths starter kit or hand me downs from a relative and then had a kind of apprenticeship, if you like, where they progressed from say roach and perch on the local canal to stillwaters and rivers after different species and then perhaps become all rounders, pleasure anglers, specimen anglers or match anglers. These days they are getting straight into carp angling with multiple rods, alarms etc, do you see this as a good thing or in this instant era do lots of youngsters become disillusioned as there is nowhere to go or progress to? 
The issue is that our sport, like almost all of the others, is suffering from a drop in participation and numbers. I don't care how people start or what they fish for, be that carp or small fish with a whip, as long as we get them started. A big fish will thrill adults more than a small silver on a whip. Kids I feel should work their way through, but ultimately we simply need to get people to like fishing. Once they do they become anglers, and when it's in you….. it's in you. I know many people that started carping that have now moved into catching pike, fishing matches, or chasing specimen roach on rivers. It's just a different journey to the conventional one. Doesn't mean it's wrong.  
Carp matches (particularly pairs events) seems to be huge at the moment with some big money to be won, do you envisage a time when being a professional carp match angler is a viable career?
It potentially is now. Overseas there are massive prizes, but the nature of matches is a difficult thing to make a living from consistently. For a full pro career you need a sponsor and until companies outside of fishing start looking into it, a pro career will be something that many will dream of but very few will achieve. The same could have been said for darts 20 years ago though.
What are your views on the impact the internet has had on angling, do you think it's a good or bad thing i.e. loads of free content available now at the click of a button (although there's no guarantee of quality!)?
Great for spreading good info, terrible for spreading bad feeling. People need to calm down a little and think about what they post, especially with social media. In the past journalism was controlled. Now everyone is a journalist with no regulation so they can say whatever they want. If some of the conversations on FB in particular were a group discussion in the pub, some things would never be said, and if they were there would be a right kick off.  
In a similar vein, do you think the days are numbered for angling magazines and weeklies, I've seen a fair few fall by the wayside in recent years?
I'm afraid I do see them having a problem. The ones that have embraced digital are surviving. Those that haven't will fall. It's called evolution and you can't hang on to candle light forever. Electricity is coming.
This might seem like a silly question, but is your favourite species carp?
Probably… but I love grayling especially big ones….. and perch… and tench… and bin lid bream…and wrasse lol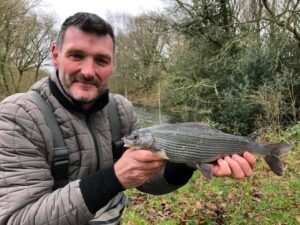 Where is your favourite venue?
At the moment it's Shearwater near Warminster. I fish there on short sessions with my son stalking carp and fishing on the top and on zigs. Never done a night there. It's such a lovely place, and brilliant on the float and feeder and dare I say it drop shot too.
Have you any angling heroes or anyone who has inspired you?
As a young lad into match fishing Tommy Pickering was uber cool when I was growing up. The young gun of the England Team and a brilliant angler. I also liked Dickie Carr as he was good on canals and of course Ivan marks who was just god. As I moved into carp fishing Rod Hutchinson became my super hero and still is.
What's your biggest fish in the UK? And abroad?
In the UK it's 49.07 and overseas 75.14. I have the ultimate claim to fame of being the 1st ever UK angler to catch 70lb plus fish from 2 different countries.
You fished all over the world, are there any other exotic locations you'd like to visit or species you'd like to target?
I'd love to go sail fishing in Zanzibar in the Indian Ocean, catch a Goliath grouper in the Florida Keys, and fish the incredible Lake Bled in Slovenia for a big carp over 50lbs.
A lot of people say commercial fisheries have been the saviour of fishing, especially with the decline of the rivers, what are your opinions on them?
They offer great fishing in controlled environments and are wonderful places to fish. I love Viaduct in the winter for all species and again fish there regularly with my lad who is 13.
On the whole, angling is an aging sport (present company excluded of course!) any ideas on how we can get more youngsters into the sport?
Bring it into schools as an education project about water and the aquatic environment. Teach kids about fish and why they are important. Why we should like and respect them, and encourage them to embrace nature.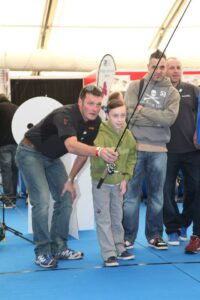 If you had a time machine is there one moment in fishing you wished you could go back and change? i.e. a dream fish coming off at the net?
The World Championships in Serbia 2018 where, with just a few hours left, we were in the gold medal position. I heard that Greece had caught a small fish that meant nothing other than it knocked us into bronze from gold, gifting the win to Ukraine who had actually caught less than us. Que sera….. but it still sticks in my throat.
Have you got one piece of advice that will help the readers put more fish in their nets?
If in doubt…. recast.
Well thank you for giving up your time but before I let you go, here's a few more quick-fire questions,
What's your favourite drink?
Coffee
Favourite meal?
Mexican Chicken
Do you support a football team?
Wolves
Favourite film?
Star Wars Ep 4 – A New Hope
TV show?
On The Bank 🙂 BT SPORT MONDAYS 9pm
What music do you listen to?
Anything, but love rock, Oasis and late 90s trance. Now there's a mix!
What's your idea of a perfect day?
Early start, nice dawn, rods out, mist over the lake, family staying with me, and a whacker in the sling waiting for a piccy.
Many thanks again Rob, from Against Men and Fish
*All photos courtesy of Rob Hughes