After no fishing last week I was well up for this one, I'd seen Chris's pond once before and it looked lovely with loads of features and mixed stock. Picky collected me at 7:30 and we met up with Les and the rest to travel up in convoy. We made good time and got there in an hour to be met by a sausage and bacon roll reception which was great and certainly filled a hole. After coffee and rolls we sorted out some bait and made the draw. There were nine anglers and nobody really knew where we wanted to draw. I got peg 5 which after a short walk (I could get used to this) I arrived at, I was between two islands and it looked nice. Tommy Lee the venue expert said I had to fish on the inside and to the point of the left island at about 11.5 metres.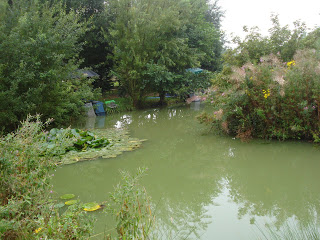 Looks fishy doesn't it?
Picky was on my right and Mike T on my left, the side bet with Picky was double or quits as I slapped his ass on the resi two weeks ago. I set up a Drennan 0.4 gram rig with 0.14mm bottom and size 18 Tubertini 808 hook for fishing at 5 metres and by the island and a Trabucco float with 0.14mm bottom and a size 18 Kamasan B911 for the insides. For bait I had red maggots, corn and some Sonubaits micro pellets (which I soaked for a minute) and some 4mm pellets. I also had some 6mm Sonubaits S-Pellets for the hook. Chris walked round and offered everyone some advice on how to fish, which was nice.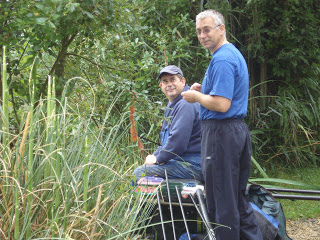 Chris giving Picky some advice (I don't think he listened!)
On the whistle I cupped in some maggot, micro pellet and corn at 5 metres, the same by the island and on my inside to the left. I started at 5 metres with double red maggot on the hook and soon started getting bites from small roach. Chris's advice had been to stick with the maggot because eventually the bigger fish would move in and push the roach out but after 10 minutes I had very little in the net as most of the bits fell off on the way in! With loads of fish fizzing over my baited area the temptation was too much and I slipped a piece of corn on. I had several indications but no positive bites.
Picky and Steve Bishop next to him seemed to be catching decent silvers quite well and even at this early stage the warning bells were sounding. I tried a soft pellet and finally had a decent bite and the blue hydro finally made an appearance, I soon netted a small carp of around 8oz which was very welcome. Next put in I hooked it's bigger brother but the hook pulled straight out, which wasn't so welcome! The bites on this line then stopped so I tried my inside but after several small perch and roach I was reaching for the corn again. The float slid away and a swift strike saw more blue hydro out as a 3lb bream came to the top, foul hooked under the chin! I netted it gratefully as the slab had put me firmly back in the hunt.
Some half decent roach and a half pound perch followed (all on maggot) but I was struggling again. The bank side telegraph reported that Les and Alan Dunn were the early leaders and Tommy and Dave Abrams were also catching well. Bish was still banging out the roach and Picky had netted a couple of small carp. I re fed my two shorter lines before trying the island with pellet on the hook. After ten biteless minutes I tried my other lines once again but I was already scratching my head.
We were now halfway through the match and I was trying the inside to my right (towards Picky) and I had a few more roach but Picky was now eating into the early lead that the bream had given me. I went back to the left margin just as Chris and his daughter Megan came round with the beefburgers for lunch so at least I was getting some bites! As they moved on to Picky my float went and I had another small carp quickly followed by four more, had they arrived? No was the short answer and I tried my other lines once again.
It was now becoming obvious I needed big fish if I was to stand any chance, Picky was now fishing the island and I decided to do the same. Mike was now getting the odd carp and he had lost several too. I went across with corn on the hook and spooked a big fish immediately, after a few minutes the float sailed away but a small roach was the result. The next two put ins were better as I had another two small carp then this too died. Picky had a better carp by the island and Bish netted one that looked to be around 4lb.
With an hour and a half I decided to shallow up my margin rig and fish up in the water at 11.5 metres with pellet on the hook. Chris had said this doesn't really work but I had nothing to lose. After a few minutes of feeding 4mm pellets and lifting and dropping the rig, the float went and I had a slightly better fish on which turned out to be a chub of 12oz or so. This was quickly followed by a decent skimmer of a pound and a couple of roach. There were obviously a lot of roach out there as the float was going under all the time. I had a small carp but despite there being some bigger carp out there I couldn't hook one. I did add another skimmer and some more roach.
Picky was now fishing a little blob float right against the island and had two carp in two chucks but was it too little too late? I had another little carp right on the whistle but I knew I had come nowhere. Who had claimed the side bet though? We packed up and went to watch the weigh in which started at Dave Lawrence on peg 1. Dave weighed just under 10lb which surprised me as I had heard he was bagging, he did admit to losing 11 big fish though! Then Les stuck 43lb 1oz on the scales to set the bar really high for the remaining anglers. Bish only had the one carp and weighed 16lb odd of mainly roach, Picky then weighed 9lb 8oz. I stuck my fish on the scales and was relieved to see the digital read out settle on 14lb 1oz and the side bet was mine – phew.
Mike Thomas had double figures before we reached the anglers who had been catching well all day, Dave Abrams had 20lb 3oz to go into second place briefly before Tommy weighed 21lb 4oz to replace him and finally Alan Dunn slapped 30lb 8oz on the scales to take second. All the top weights had come from the other end of the pond to me so nothing new there then! A lovely venue though and I must say a big thank you to Chris for his fantastic hospitality and to Dunner for supplying the burgers. We're coming back on 21st so hopefully I'll be able to do better then. Next week is the last match of the JMA summer league and I need to beat Graham Field to cling onto second spot.
Results
1 – Les Braunton (Chard Remains)- 43lb 1oz
2 – Alan Dunn (Chard Remains) – 30lb 8oz
3 – Tommy Lee (Haines Angling) – 21lb 4oz
4 – Dave Abrams (Weymouth) – 20lb 3oz