We were finally back on the river and I was really looking forward to it, I even made some new rigs up on Saturday night! I woke up to a rather misty morning but the forecast was pretty good. At the draw there were 12 anglers which is a good turnout for this friendly little league which is sponsored by Tommy at the Crown Inn, Ilminster. There were some good pegs in and some I really didn't fancy, I wanted pegs 14, 79, 82 or 85 but drew 27. My peg is the first one in the copse and used to be excellent (the current match record of 35lb odd came off it a few years back) but in recent years it's tailed off a bit.
I got there and it looked nice, a fairly shallow run with a branch in the water at the bottom of the swim. When I've done well off it in the past most of my fish have come from holding back against the ivy on the far side. I set up a 1.5 gram Drennan Carbo with 0.12mm bottom and size 18 B611 hook (which in hindsight was probably a little too heavy). Also thinking the pole over the fishes heads in the shallow water might not be good, I set up a waggler as well. This rig was a 2AAA Drennan Crystal waggler with the bulk around the float and just a couple of number 8's and a 10 down the line. Again the business end consisted of a B611 to 0.12mm line.
There were only two other anglers nearby, Alvin Jones on the big bend (peg 28) and Richy White on the stump (29). I had a small 1oz chublet first run down on caster and had a good first hour, catching 27 fish (all small dace and chublets). The second hour was ok and I had another 13 fish, all on the waggler, most were small but I did net a couple of better dace. Richy came up and said he'd had a similar amount of fish but he could see big chub swimming up on his inside but hadn't hooked one as yet. He also reported that Alvin had caught a decent chub plus bits.
My swim was starting to slow so it was time to try the pole, I started catching more dace and chublets right opposite where I'd been feeding hemp, caster and maggot. I did try down by the ivy and had one better dace. I had 16 fish during hour three to take my running total to 56, which I reckoned must give me about 5lb or so. By now the mist had burnt off to be replaced by blazing sunshine and I'm sure the brightness wasn't doing me any favours in the shallow water. Into the fourth hour I was struggling for bites and a change back to the waggler didn't improve things. I poled right down past the ivy with double caster on the hook and missed a couple of bites before catching two slightly better chublets. Going into hour five I was on 62 fish.
With the small fish doing a disappearing act I decided to try half a lobbie to try and tempt a couple of better fish to boost my weight. Fishing tight against the ivy I had two bites quite quickly before hooking a fish which I was convinced was a chub but turned out to be a 12oz trout. Luckily they count in our matches. I only added one more dace to make my final total 64 fish which I thought would give me between 5 and 6lb. I packed up and went to give Alvin a hand weighing in. Richy hadn't managed to hook any chub but had loads of small fish for 3lb 11oz, mine weighed 6lb 13oz and as Alvin had ended up with four chub plus bits I thought he must have done me. In fact he weighed 6lb 12oz (I didn't call his weight!), so I had beaten the anglers around me but didn't think it would be enough for a brown envelope.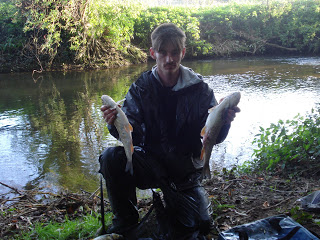 Alvin with two of his chub (not enough to beat me though!)
Back at the results and the river had fished well with the majority catching loads of small dace and chub. Neil Dring won with six chub plus bits for 14lb 9oz from peg 85, Justin Charles was second from the tank traps (14) with 12lb 6oz and Bruce Hunt was third with over 180 fish for 10lb 14oz from peg 82. I won my six peg section and picked up £15, as it turned out Alvin was in the bottom section and he won that section. I also had a pound off Janders who had 3lb 11oz but lost a chub which might have made the outcome a little closer. I ended with two section points which was a good start to the league. Next week is the first match in the V.E.S. winter league and after finishing second and third in the previous two years I would dearly like to go one better. As you can only drop one match a good start is vital, I'll let you know.
1 – Neil Dring (Ilminster) – 14lb 9oz
2 – Justin Charles (Ilminster) – 12lb 6oz
3 – Bruce Hunt (Tiverton) – 10lb 14oz
Section A – Jamie Rich (Chard Remains) – 6lb 13oz
Section B – Alvin Jones (Chard) – 6lb 12oz