As I've probably said before, this is a league I'd love to win after coming second and third in the last two years. The format is seven matches and as you can only drop one result a good start is so important and there is little room for error. At the draw there was a good turnout of sixteen anglers. As the golden ball money had rolled over from last year everybody wanted to know which pegs they were. There were two good ones in pegs 14 (tanktraps) and 85 (big bend at Ashford) and three not so good ones. I stuck my hand in the bucket and pulled out peg 29 (Richy's peg from last week) and was fairly pleased as he had said there were chub swimming about on the inside all day.
Martin Heard drew 85 and as he's such a good angler everyone was sure the golden ball, worth £121, would go. I got to the river and again it looked good, although it probably was a little lower than last week. Roger Russell was on peg 28 above me and Big Frank Woodard had drawn peg 27, where I was last week. On reaching my peg I saw a chub in the flow although it disappeared on my arrival. I made myself comfortable and surveyed the situation. The main flow was down the middle of the swim and there was quite a bit of inviting cover on the far bank. I decided I would start down the middle while feeding across where the slacker water seemed to be going back the other way.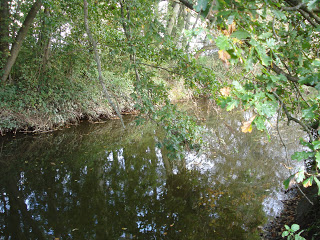 Peg 29 (the stump swim), looks fishy doesn't it?
I set up the usual 1.5 gram Drennan Carbo with 0.12mm bottom and size 18 B611 and was ready with about five minutes to go. At the off I catapulted some hemp and caster to the far bank and started down the middle with caster on the hook. I soon had my first fish which turned out to be a little chublet of less than ounce. After a few more chucks it wasn't really happening so went across sooner than I would have liked. I added a couple more small chublets and dace but I wasn't catching them quick enough to do a weight. I stuck half a lobbie on to try and catch something a little bigger but after several more bites I only had more small fish.
Also the rig was too heavy for the slacker water and not really picking up the flow so I made an early decision to set another rig up. This one was another Carbo but 0.75 grams with a shot bulk instead of an olivette and again finished with 0.12mm bottom and size 18 B611. The rig seemed to work better but my catch rate didn't improve and I only had a couple of small fish. This really wasn't going to plan and I could feel a disaster on the cards. Just past the hour mark Steve Hurford turned up to see how it was fishing and I told him I wasn't doing very well. He said Frank was catching small fish well, as we were talking I noticed a big black shape on the inside and sure enough there was a chub mooching about. I quickly shipped the pole back and plonked the rig on it's nose and the fish promptly swam off!
Bored with the lack of action Steve soon wandered off. I started putting some feed just off the main flow on the inside to hopefully hold anymore chub that came to visit. I was back on the lobby hoping for chub when I noticed another chub on the inside, again I put the bait right near it but it didn't want to know. I changed to double caster and went back in again and this time with a flick of it's tail, the float went and after a short battle the white hydro did it's job and I netted a chub of around a pound and a half, this was more like it. The trouble was that when the sun came out you see every inch of the inside line and there were no more chub there!
Roger appeared on the far bank (his and Franks pegs were on the other side) and asked how it was going. I told him and he said he'd had a decent chub and a couple of better perch. After he'd gone back I had a slightly better perch of my own, quickly followed by a chublet of about 6oz, caught on the inside but further down the peg. I was now over two hours into the match and didn't really know what to do next, I tried poking the rig into any likely looking spots on the far bank but to no avail. Then I spotted another visitor on the inside, I shipped back in and could see the chub rooting around, sure enough a positive bite followed and I netted another of a similar size to the first. Again after the splashing there were no more to be seen.
I added a section and ran the heavier rig down through the middle, in the flow as I was convinced there were more chub about and they had to be somewhere. A good bite saw chub number three grace the net and then I had a slightly better perch of around 4oz. No more bites in the flow so I tried further down on the inside and a sharp bite signalled another good scrap before I landed my fourth chub. With about three quarters of an hour to go I was hoping I might get a couple more. But despite trying everywhere, no more bites were forthcoming. With ten minutes to go I was back inching the float down in the flow when I had a positive bite, which I missed! I shipped back and both the casters had gone, quickly rebaiting I went back out and had a bite straight away. This one I didn't miss and with white hydro streaming from the pole I realised this was a better fish. I could see the fish burrowing in the far bank and there were clouds of crap being kicked up. Praying, I applied as much pressure as I dared and started to win the battle. I netted the fish which looked to be around two and half pounds and even had time for one more cast but that was the last of the action.
I ended with 20 fish (5 decent chub, a slightly better chublet, 2 perch and 12 small dace and chublets), I reckoned on having between 6 and 7lb, I packed up and took some of my kit back to the car. I met Frank who said he'd caught well and thought he'd had about 6lbs or so. We walked back to weigh me first and I was surprised when my catch registered 10lb 1oz. Judging by the weights of the last match I thought I might have a chance of the section money. I took the rest of my stuff back but missed watching Roger weigh in, he had caught 3 more good chub to weigh 10lb 12oz – bugger! But it wasn't like I'd lost anything to say 'If only'. Frank also had more than he thought, weighing a lovely bag of small fish for 9lb 4oz.
Back at the pub, Janders had a good day catching 7lb 2oz of small fish but still had to hand over a £1. Pete Lonton on one of the fancied golden pegs, the tank traps, had weighed 5lb 8oz so we were all on tenderhooks waiting for Martin to come back to see if he'd done it. Robin Cox turned up from that section to say Martin had weighed 8lb 15oz, close but no cigar. So Roger had won with me second and Frank third, I picked up £45 to keep the winnings ticking over and more importantly the two section points gave me a good start to the league.
The river had fished well again with loads of chub being hooked although loads were also lost!
1 – Roger Russell (Ilminster) – 10lb 12oz
2 – Jamie Rich (Chard Remains) – 10lb 1oz
3 – Frank Woodard (Ilminster) – 9lb 4oz
Section A – Alvin Jones (Chard) – 7lb 7oz
Section B – Martin Heard (Tiverton) – 8lb 15oz
The elusive win on my favourite venues, Dillington and the Isle still evades me this year, maybe next week on round two of the Crown league eh?