For round two, conditions were once again good and there was another good turnout of 13 anglers. For this one we were fishing the South Bradon and Isle Brewers sections, there were four pegs I would love to draw 66, 74, 125 and 126 and a few I really didn't want 69, 75 and 123. I put my hand in the draw bag and pulled out 74!, over the years I had this peg four times and picked up money every time so I was really looking forward to the day ahead.
I drove to South Bradon to find Roger Russell was the unlucky angler on 75 next to me. This peg seems to produce the odd chub and that's it. After walking across the field I arrived at my peg and it looked nice. You are basically opposite a bush with branches to the left and right of you. I set up the usual 1.5 gram Drennan Carbo with 0.12mm bottom and size 18 B611. It was raining fairly heavily and I was hoping a bit of colour might help things as well.
I started above the bush to my left and soon had a couple of tiny chublets on caster, I then had a gudgeon and a better chublet of 12oz or so. Things got even better just before the first hour was up when I landed a chub of a pound and a quarter, so far so good I thought. Roger shouted up that he hadn't had much but had missed a good bite on a lobbie. Going into the second hour I had a couple more gudgeon, so tried a lobworm but this just produced lots of bites from small fish. It was time to try in between the branches, more gudgeon followed and then a pound and a half chub. The rain had by now eased off but it had gotten a lot colder.
Roger said he'd had a decent chub and I thought that would be it for him. I was now struggling and despite trying all over the swim with caster or lobbie I couldn't get a bite apart from the occasional gudgeon. It's nice to see them but it was the chub I wanted! I don't normally take a radio with me but as Chelsea were playing Liverpool I wanted to hear the game, things got worse when we went 1-0 down after 9 minutes. Rog then asked how I was getting on, I said I was struggling and asked if he'd had anymore and was rather taken aback when he said he'd had six!
I couldn't get a bite anywhere and with Chelsea losing I was right royally pissed off and felt like chucking the poxy radio in the river! Still I pinned my hopes on the chub showing up at some point and doing a respectable weight. Time was ticking by (for me and for Chelsea) and the result for both of us wasn't looking good. Roger hadn't caught anymore either. The normally golden last hour approached and it just didn't happen. I packed up gutted (oh and Chelsea lost), and went down to weigh Roger in. His six chub weighed 8lb 6oz and was the best weight off this peg for years, well done Rog (see I told you I'd big you up!). My 15 fish (3 chub, 3 tiny chublets and 9 gudgeon) went 4lb 1oz, a bad day at the office.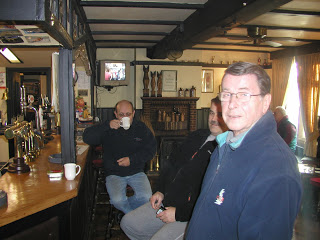 Roger, my man of the match (and can you please stop spanking my ass off the next peg!)
I walked back across the field and also had to weigh the old fossil (Malcolm Levy) in on peg 72, he had a nice bag of small fish weighing 8lb 2oz to push me even further down in the section. As the other anglers in my section started to come back it just got worse and worse. Justin Charles had 11 chub from peg 66 for an amazing 27lb 5oz and Richy W pipped me with 4lb 4oz. The only angler I beat was Martin Heard who had 2lb 14oz but had a lot of pike trouble during the day.
Back at the pub for the results and Janders had beaten me for the pound as he weighed 5lb 13oz, so really bad day got even worse. Isle Brewers had fished really well too with Graham Field catching over 300 fish from 125 for 17lb 11oz and Alvin Jones had 15lb 12oz from 126. So of the four pegs I wanted only mine didn't fish (perhaps it's me!). With five section points I would have to drop this match, not good with it only being the second match of the series. Justin leads the league at this early stage with a perfect two point score so far.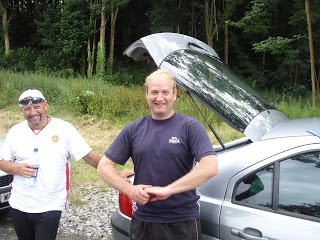 Justin rubbing his hands on getting yet another good peg!
Next week is round two of the V.E.S. league so lets hope for a better result then.
1 – Justin Charles (Ilminster) – 27lb 5oz
2 – Graham Field (Taunton) – 17lb 11oz
3 – Alvin Jones (Chard) – 15lb 12oz
Section A – Roger Russell (Ilminster) – 8lb 6oz
Section B – John Anderson (Chard Minnows) – 5lb 13oz