With the river flooded we decided to have a match on Dillington. I drew peg 19 by the fence, an area that can be ok. Martin Heard drew peg 22 by the bush, not normally a great peg but with peg 1 left out, I fancied him to get a result. The pond looked nice with a tinge of colour and several decent fish topped in the middle as we were setting up.
I set up two rigs, a 0.5 gram Drennan Roach with 0.12mm bottom and size 18 B611 for fishing at 11.5 metres in open water and a 0.4 gram Drennan Carp with the same end gear for fishing against some reeds to my left.I mixed up some Sensas Roach and Magic and chopped up some worm and casters and was just about ready in time. I had Pete Lonton on my right and Graham Field on my left, Roger Russell was opposite on the point.
On the whistle I cupped in three balls at 11.5 metres and half a cup of choppie towards the reeds at about 8.5 metres. I started on the longer line with double red maggot on the hook and fully expected bites straight away but this didn't happen. After 20 mins I shouted down to Graham who was fishing the whip and he hadn't had bite either. After half an hour I thought it was going to be hard, I put half a lobby on my other rig and tried by the reeds, no indications here either. After an hour I was starting to think we might all blank when I saw Janders, who was next to Pete, strike into a fish and he swung a small perch in.
Then Pete hooked into a good fish which turned out to be a perch of about two and a half pounds, I shouted up that he'd probably win it with that. I went back out with bronze maggot and had a bite straight away and started catching small perch, rudd and roach quite quickly. I tried caster but the size of the fish didn't really improve. After two hours I had twenty fish and was comfortably ahead of Fieldy who was now catching a few as well. I could see Janders and Justin, who was next to Roger, getting odd fish as well but nobody was setting the world alight.
Hour three saw my action slow up although I was still getting odd fish on bronze maggot, another brief try by the reeds was non productive. It was very cold and Janders wandered up to try and warm up a little, he'd around the same amount of fish as me so the pound was in the balance. I looked up to see Roger net a good perch on the waggler and shortly afterwards he had another and had probably overtaken Pete who had only had a couple of small fish to go with his bonus perch. With a couple of hours to go my swim had dried up and I was only getting the very occasional fish. Martin landed his first chub which prompted me to have another go by the reeds but I never had a bite over this line.
I did catch a small eel on my longer line which was full of chopped worm and I hadn't fed any on that line! Fieldy was also slowly but surely catching me up and I was fearing the worst. Roger netted another couple of good perch and was also catching some small fish. Then with an hour to go Martin had another chub followed by another and another. In fact he had eight in the last hour to take his total to nine. My last hour was very slow and I ended with 44 fish which I reckoned might go two pound.
I quickly packed up and went to watch the weigh in, Martin's chub went 16lb 6oz for yet another win, Graham ended with sixty odd fish for 3lb 4oz. When it came to my turn I pulled my net out and I realised I had more than I thought but the needle stopped just short on 3lb dead. But when Pete weighed 2lb 11oz I thought I might have a chance of my section by default. Janders had stopped catching after his walkabout and weighed 1lb 6oz so I claimed back my pound he took off me last week.
Roger shouted across to ask if I had my camera as he wanted a picture of his perch, he weighed 10lb 9oz with one of his perch going a whopping 3lb 4oz. With Rog second I was hoping Graham would frame and I'd get the section but Justin put a stop to that when he weighed 3lb 6oz and I was left ruing several bumped fish – oh well there's always next week. My man of the match for the second week on the trot has to be Roger for his haul of specimen perch.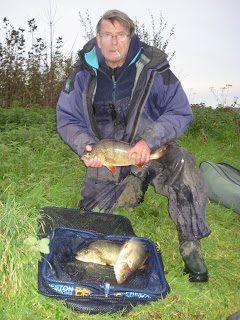 Roger with his lovely net of perch with the one he's holding weighing 3lb 4oz
1 – Martin Heard (Tiverton) – 16lb 6oz
2 – Roger Russell (Ilminster) – 10lb 9oz
3 – Justin Charles (Ilminster) – 3lb 6oz
Section A – Bruce Hunt (Tiverton) – 2lb 2oz
Section B – Graham Field (Taunton) – 3lb 4oz