With the river once again flooded, six plucky (or should that be stupid!) anglers headed for the canal. With both ends either covered in duckweed or leaves we were restricted to the middle, although the ends of the middle (if that makes sense!) were still the favoured pegs. I drew peg 4, slap bang in the middle – typical! Still my peg looked ok with reed beds opposite and odd small fish topping. Neil Dring was on my right and Justin Charles on my left, the two anglers on the end pegs were Rob Cox and Janders so my pound was in danger today.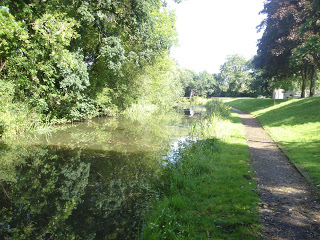 Ilminster Canal (looks nice in the Summer doesn't it?)
I set up a 0.4 gram Drennan Carp with 0.12mm bottom and size 18 B611 for fishing at 10 metres towards the reeds to the left and right of me and a small Trabucco dibber style float for fishing tight across at 11.5 metres. Hook etc were the same as the first rig. On the whistle I cupped in some chopped worm and caster by the reeds to my left and some hemp and caster to the right. With caster on the hook I hooked a small roach first put in but it came off on the way in, then I bumped a fish next chuck – here we go again I thought. I then had a couple of small roach and a perch of about 4oz which was more like it.
I had a couple more perch but also lost a better fish on the way in and bumped a couple more. After an hour I was on five fish and it was obvious it just wasn't going to fish. Rob and Justin were still fishless, Neil had one although at this early stage, Janders was doing ok with seven perch. Hour two was slow and I only added a couple more small fish and I had to keep swapping lines to get bites. Hour three was much the same although I did have a bite to my right and the strike saw loads of blue hydro heading under all the far bank crap. The battle was short lived though and I lost the carp and the hook came back with rubbish all over it. I had already bumped/lost probably enough to win it and I was hoping those fish weren't going to cost me.
The weather was pretty grim with strong gusts of wind and showers, Rob was walking about as he'd only had one fish and reckoned Janders was winning it with ten perch. I added a couple more fish on double red maggot before trying over my hemp and caster line, after a couple of minutes the float sunk from view and I hooked another carp. The fish did it's best to lose me and ploughed through loads of weed but eventually the fish was in front of me but I wasn't sure where 'cos of all the weed up the line. I netted it and after removing all the weed, my prize, a carp of about 2lb was deposited in the keepnet. I felt I must now be in the lead with about 3lb because everybody seemed to be struggling and if Jander's perch were a similar size to mine I had to be ahead.
Due to the weather Rob asked all the anglers if we wanted to finish half an hour early and we all agreed. I was still getting the odd small roach and see through perch and I did drop off a 2oz skimmer. Neil lost a carp but with an hour left everybody was struggling for bites and I thought I had it in the bag. Right on the whistle I lost a slightly better roach when it went round some reeds in the water. I ended with 16 fish which I reckoned would give me between three and four pounds.
We all packed up and Janders walked up with the scales, Rob and Justin didn't weigh, my catch went 3lb 12oz, Neil had 14oz and Alvin had 4oz (yes it had been that hard!). Then when we got to Janders and he took his net out, there was more splashing than I'd anticipated. He had some nice perch and a cracking roach and I really thought he'd done me but the needle settled on 3lb 8oz and I'd done it – phew!
I picked up £50 plus another £1 off Janders who was second, hard luck mate, if it's any consolation you were my man of the match. This was only my 4th win of the campaign so far and winnings wise I'm lagging behind the previous two years by some way. Hopefully I can have a good run in to Xmas (if we ever get on the river again!).
Man of the match – Janders (go on give us a smile)
1 – Jamie Rich (Chard Remains) – 3lb 12oz
2 – John Anderson (Chard Minnows) – 3lb 8oz
3 – Neil Dring (Ilminster) – 14oz