After not being able to get on the river for two weeks I was really looking forward to this one. The river was in good nick and the forecast was ok, at the draw there was a good turnout of 17 anglers. After an excellent sausage sandwich (thanks Tommy), it was time for the draw. There were loads of good pegs in, 14, 24, 29, 37 and 85 all sprung to mind, I stuck my hand in the bucket and pulled out 36! I hadn't even thought about this peg as it had only done 6oz last match and I couldn't believe they'd put it in, I was gutted. It hasn't done much for years, in fact the last time I'd drawn it I'd blanked. Still there was a match to be fished and fish swim don't they?
I parked the car up and discovered Janders was on 39, where he'd done 7lb odd last time and Langport invader, Baz Morgan, had drawn a flier in the shape of 37. The last time he'd fished the ditch he'd won the golden ball and had been afraid to come back until now! We started the long yomp across the field and I finally arrived at my peg after doing it in two trips. As Baz walked past I said he'd have to be a numpty not to do double figures today. My peg looked ok with a stream coming in on the far side and a big bank of grass to my left. There is also a tree to my right which always looks inviting.
I set up two Drennan Carbos, one for fishing to the far side and down past the grass and another deeper rig for fishing the deep hole under my feet and by the tree. Both had 0.12mm bottoms and size 18 B611 hooks. After the mammoth walk, I didn't have long to set up so my opening gambit was across towards the far bank on the other side of the flow. With caster on the hook I started edging the float down the swim, after ten biteless minutes I started getting that deja vu feeling. I then tried down past the grass but this was fruitless too. Next I tried in the deep hole under my feet with double maggot on the hook, the float sailed away but only a tiny minnow was the result. I went back in with caster on and was getting indications but I'm pretty sure it was minnows 'cos just the end of the caster was being nipped. With an hour gone I was already nearly all out of ideas.
My last hope was up under the tree, I had a couple of indications before getting a small dace then a tiny chublet. I was setting any records but at least something fishy lived in the swim! Again I was being troubled by minnow bites so stuck double caster on the hook. I had a decent bite but bumped the fish, next put in I had a good bite and hooked a better fish andsoon slipped the net under a chub of a pound and a half – this was more like it, I just needed another five of its brothers and sisters. The action was short lived though and I went biteless for the next half an hour. I tried all my other swims with no result so it was time for a wander.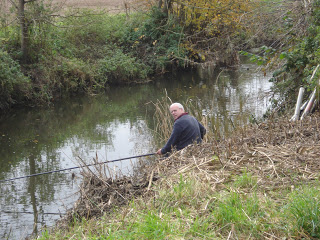 Langport invader Baz was scratching his head at how to get the chub out!
I got down to Baz who was looking rather bemused, he'd had five chub but had also lost three. He was fishing by a tree and the chub were heading straight for the snags everytime. He was feeding upstream to try and tempt them out from the dragons den. I wandered down to Janders who said he'd had about 20 small fish so my pound was looking like it might be heading his way this week. On my way back Baz said he hadn't added anymore but was confident of doing so. I sat back on my box knowing I needed chub to do any good. I upped my feed under the tree and in the deep water and went back to fishing by the grass bank at 11.5 metres. To my amazement the float went straight under and I caught a small dace, followed by a small roach and more small dace. The trouble was they were only an ounce or so apiece and I wasn't catching them fast enough. I had around a dozen fish on double red maggot before it slowed and I went back under the tree in search of chub.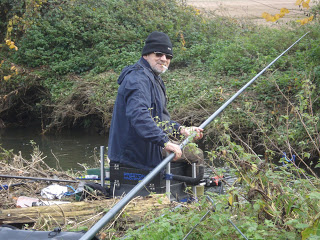 Janders looked pretty happy at the prospect of taking a pound off me!
Apart from a couple more dace here and few down by the grass the rest of the match was pretty uneventful and I knew I'd be well down today. I packed up and went down to watch the weigh in, Janders had started catching some better chublets and weighed 4lb 10oz to take a pound off me, Baz had added another chub but had lost several more and reckoned it should have been a 20lb peg. He weighed 11lb 9oz and I said he'd frame with that. I weighed a lowly 2lb 9oz. The rest of the river had fished pretty well, Rob Birch had seven chub from peg 85 to win with 16lb 11oz and it was also a golden peg so he took home over £200 – well done Rob. Baz was second and Pete Lonton had 11lb 6oz from new peg 84. Bruce Hunt had 10lb 4oz from 24, John Coxon had 9lb 2oz from 28 and the old fossil (Malcolm Levy) had 8lb 8oz from the tanktraps (14). I worked out that the average weight was nearly 7lb a man, I just wish I'd drawn a better peg.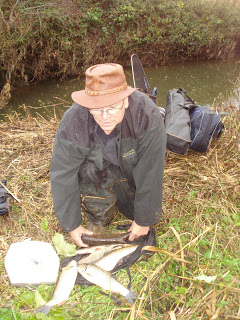 Baz with his second placed catch of 11lb 9oz (should have been a lot more though, shouldn't it mate!)
1 – Rob Birch (Ilminster) – 16lb 11oz
2 – Baz Morgan (Langport) – 11lb 9oz
3 – Pete Lonton (Ilminster) – 11lb 6oz
4 – Bruce Hunt (Tiverton) – 10lb 4oz
5 – John Coxon (Chard) – 9lb 2oz
6 – Malcolm Levy (Tiverton) – 8lb 8oz
After two matches, nobody is running away with the league, I would have to drop this match and can't afford a bad result for the rest of the series. Scotty Russell had just phoned me to say that the Yeo at Mudford is fishing it's head off so I've just booked in for a match next Saturday and I'll be back on the Isle on Sunday so lets hope for two good days!