After torrential rain on Friday I feared the worst but Saturday was dry and as I drove over the river on Sunday it looked ok with a nice colour although perhaps a little pacy. Still with no rain forecast it could only get better as the day went on. I was gutted then to discover it had been moved to the pond, still there was a match to be fished and prizes to be won. To make matters worse they had left out the two best pegs (1 and 22) so there was no chance of drawing a flier. I drew peg 9 on the far side which I was fairly happy with.On arrival at the pond, it was a horrible brown colour, higher than usual and with a frost during the night I knew it would be a struggle. Also the pegs were pretty tight with Martin Heard to my right and John Coxon to my left. There was some good natured banter whilst setting up and my mood was lifted somewhat when some tiny fish topped along with the odd better one. I mixed up some Sensas Lake groundbait and just had enough time to set up a 0.5 gram Drennan Roach float with 0.12mm bottom and size 18 B611.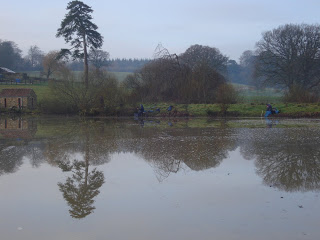 The pond was a horrible colour!
On the whistle I cupped in three balls at 11.5 metres, baited up with single red maggot and shipped out. The rig settled and I waited for a bite, and waited and waited! Nobody was catching and after an hour I honestly thought we might all blank! There were still odd fish plipping (is that a word?) and I kept thinking about setting up a light up in the water rig. Another biteless half an hour passed so I did just that. Out came a little Drennan Squatt rig with 0.08mm bottom and size 20 B511. Fishing shallow out at 11.5 metres saw no bites forthcoming so I plumbed up by some dead reeds on the inside to my right where I had about a foot in depth. I plonked the rig in and rested my top three on a reed and waited.
Everybody was still blanking so one fish could be worth it's weight in gold, then it happened, Martin whooped as he swung a tiny roach caught shallow. Then Bruce Hunt had one followed by Malcolm Levy (although he never saw his bite!). I was now back out at 11.5 metres with the shallow rig and then my float dipped before moving along the surface, I struck and I too had a tiny roach – phew! I really thought we might start getting a few but we all reverted to catching nothing. Still if the other three framed I would win my section!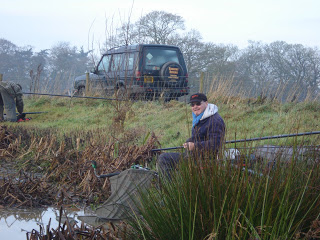 Martin was overjoyed at being the first person to catch
Other people started getting the odd fish including my nemesis Janders, so once again my pound was in jeopardy. Justin Charles netted what looked like a decent roach to really put the cat among the pigeons and Bruce was also getting the odd small fish. I hadn't added to my tally and couldn't buy a bite, with time running out, I had tried all my lines at various depths for zilch. Most people had now caught tiny roach although there were still five or six blanking including poor old John on my left (who was now singing and possibly a little demented).
Martin had caught a couple more from the reeds on his inside, so I tried mine again with no success. Bruce was still getting odd fish and looking good for a frame place and Alvin Jones had a slightly better roach, again from by the reeds. I was now seriously bored and it was now really cold and I just wanted the match to end. I had by now plumbed up at 6 metres and was sat on the lighter rig when I had another roach but I didn't even see the bite. Martin had three late roach which he netted and I thought he would win. Neil Dring also netted a fish and the rumour was it was one of the venues better perch. I spent the last quarter of an hour on the long line with double red maggot hoping for a bonus but it didn't happen.
The weigh in didn't take long, Roger Russell didn't weigh, Neil's big perch turned out to be a 3oz roach and he weighed 4oz, Andy Welch had 2oz, Rob Cox had 1oz (serves you right for not putting it on the river!), Justin had 7oz, Alvin 2oz, Martin only weighed 5oz which suprised me, my 'haul' went a wind assisted 1oz and John never had a bite. The other section fished much! better with Pete Lonton having top weight on the day with 8oz. Bruce had around a dozen fish for 7oz and joint second with Justin.
Then it was back to the Crown for an excellent buffet and the prize giving, as there had been five blanks, my ounce won me some chocolates, biscuits and wine. Janders had bagged up with 3oz to take yet another pound off me. Well that's my third shit day on the trot, they say it comes in threes so I'm bound to bag up next week!!!!! All joking aside I'd like to thank Tommy at the Crown for the grub and Pete Lonton for his excellent organisation of the match and to all the anglers who donated prizes.
1 – Pete Lonton (Ilminster) – 8oz
2 – Bruce Hunt (Tiverton) – 7oz
2 – Justin Charles (Ilminster) – 7oz
Section A – Martin Heard (Tiverton) – 5oz
Section B – Stuart Brown (Ilminster) – 5oz