After several bad weeks including last week at Dillington I was gagging to get back on the river and after no rain for a while conditions looked set for a good match. Also there hadn't been a frost and the weather was mild, all I needed to do now was catch some fish! There were 13 eager anglers at the draw, including the Langport invader, Baz Morgan, who was obviously short of a few bob to do his Xmas shopping and ready to relieve us of our hard earned money. It was Janders turn to do the bait run so we sorted out the bait and all was fine until he came to give us our lobworms and he handed us tubs of redworms! Nice one John, it must be your age!
After a cup of coffee I had a look to see what pegs were in and could see my favourite, peg 125, was in. I hadn't drawn the peg this year and keep bringing my waggler rod and reel in the hope I do. It wasn't to be though and the old fossil, Malcolm Levy, had that pleasure. The only trouble was he didn't have a waggler rod with him and had to borrow one off of Baz, he promised he'd buy Baz a pint and a hush fell over the room! Nobody had actually ever seen Malcolm open his wallet and the rumour is that he still has some old white fivers in there. Still if I had a bad day there was this little treat to look forward to. I drew and slowly opened my fingers to reveal a number 14 on my ping pong ball, I had mixed feelings as this can be a good peg but I had struggled off it a couple of weeks ago.
I got there and it looked ok with a bit more water on it than when I had it last although it still appeared quite clear and the little cutback to my right was very pacy. I set up old faithful (a Drennan Carbo for those of you who don't know) and plumbed up by the tank traps and in the little cutback. I just had time for a quick coffee and then it was time to start. My opening gambit was to fish in the flow towards the traps and I really thought I'd catch straight away. This didn't happen and I found myself edging closer and closer towards the traps earlier than I'd expected.
I was feeding hemp, caster and maggot in the flow and in the little cutback and after about 20 minutes I finally had a bite only to bump it! It just wasn't happening towards the traps so I tried in the cutback, it was quite boily and the flow kept dragging the flow under. Luckily I still had a few lobbies left so tried one and once again the flow dragged old faithful under but this time the tip rattled only for me to bump this fish as well! Next put in I finally managed to land a fish, a chublet about 6oz. I started to get bites regularly and added another chublet, a trout (which count in our matches) and a decent dace. After the first hour I had six fish for about a pound and a half.
Bites dried up in the cutback so I decided to try by the traps again, a bite straight away saw me swinging in a small dace and next chuck I didn't even have time to feed before the float slid away and I landed a chub of a pound or so. Great they had arrived I thought, but the action was short lived and I found myself searching the swim again for bites. Double red maggot saw a brief flurry of three small dace, a better one, a roach and another trout before the minnows moved in and I was back on the caster again. I felt there were lots of fish there but they just wouldn't settle. Back to the cutback and no bites so I tried inching the rig through in the fast flow, the float shot away and I had another trout, next put in and I had another spotty before that died as well.
I kept swapping between the cutback, the traps and 11.5 metres straight in front of me in the flow and although I wasn't bagging most of my fish were coming from the latter line. I added four more fish from here, some nice dace and another chublet of 12oz. I reckoned on having 5 to 6lb and thought a good last couple of hours might see me close to double figures and a chance of a frame place. Big Frank arrived in the brightest cycling gear you've ever seen and said Neil Dring in peg 15 had only got a few fish but he hadn't seen anyone else. Just after he left Justin Charles turned up and said nobody in our section had much, he'd had a few small fish and Graham Field on 17 was struggling.
Into the last hour and as the light started to fail I was hoping the fish might switch on, it didn't really happen though. I had another chub at 11.5 metres and one by the traps to add another pound and a half. My last fish was a 4oz perch so I had quite a mixed bag, I did miss a bite right on the whistle and that was it. I packed up and took some of my gear to the car just as Graham and the scales were coming up from peg 23. Bruce Hunt had weighed 6lb 12oz and I thought I might be close to that. Justin had 3lb 15oz from peg 20 and Graham had only 13oz from peg 17. My 22 fish weighed 8lb 7oz which was more than I thought and I started to think I might have a chance of sneaking the section.
Back at the results and the best weight in the copse was Martin Heard's 4lb 5oz from peg 27 and all of a sudden a frame place looked possible. Janders only had a minnow from 37 so I gratefully received a pound (the first one for ages) and Alvin Jones had a chub from 38 so that just left the three pegs at Isle Brewers although I fully expected them all to beat my weight. Baz arrived back with the weigh board and the old fossil had done an amazing 22lb 9oz from 125 – well done Malcolm. He didn't come back for the results though and Baz was gutted he wouldn't see his pint for the loan of the rod and we were all gutted we wouldn't witness the fabled opening of the wallet! Baz had 7lb 2oz from 124 and Roger Russell had 3lb 9oz from 126 so I had finished second. I picked up £50 which was very welcome as it was my first pick up for a while. My winnings for the year now stand at £947 and I don't reckon I'll reach the grand with only one match of 2008 to go. Still a very enjoyable day.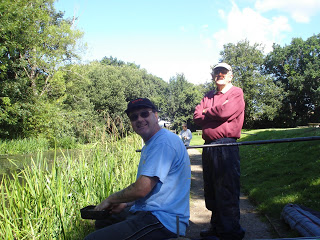 The old fossil next to Martin earlier in the year (he was probably trying to borrow a rod then as well!)
Justin did enough to be crowned Champion with Martin second and Neil third, I ended up in fourth place and was left ruing a blank which really cost me.
I would just like to thank Tommy at the Crown for sponsoring the league and his excellent breakfasts and to Robin Cox and Neil Dring for organising the matches. Also I'd like to wish you all a Merry Xmas and tight lines.
1 – Malcolm Levy (Tiverton) – 22lb 9oz
2 – Jamie Rich (Chard Remains) – 8lb 7oz
3 – Baz Morgan (Baz Angling) – 7lb 2oz
Section A – Bruce Hunt (Tiverton) – 6lb 12oz
Section B – Roger Russell (YDAC) – 3lb 9oz