After two really hard frosts it was always going to be a struggle so the match organiser put us all down Isle Brewers to give us all a chance of catching something. Of course everybody wanted to draw the flier, peg 125 and personally I didn't want to draw 133 as it's hell of a walk and I've got a stinking cold. Bruce Hunt drew the flier and of course I got 133 although I had the choice of either that one or 130.
The drive to the river was quite hairy as the roads were really icy, on our arrival fish could already be seen topping in 125, Bruce was in for a good day. I started to take my kit part of the way there as it really is a long walk. 133 used to be a really good peg but they don't put it in that often because of the walk. After crossing three fields, going through three gates, crossing a bridge and climbing two styles I was finally there. It looked quite nice and pretty much how I remembered it from the last time I had fished it several years ago. I struggled then for a 1lb but it was high and coloured. I did have a look at 130 as I passed but really didn't fancy it.
The river was painfully low and clear and there was a biting wind, I made myself as comfortable as possible and started setting up. I set up the usual 1.5 gram Carbo and plumbed up, there was a nice depth to my right and towards a tree on the far bank but it shallowed up to the left. I wasn't ready at the all in and eventually started about 15 mins late. Despite the cold I half expected to catch small fish quite quickly but this didn't happen. After about 20 minutes I had my first fish, a small gudgeon, so I slipped on a caster but after 10 minutes or so I only had one indication resulting in a nipped caster. Back on double red maggot and I had another gudgeon and was going nowhere fast. Then a big fish rolled to the right of the tree which gave me renewed enthusiasm.
I was fishing at 11.5 metres and went to 13 and then 14.5 by the tree but nothing, it was time for a cup of coffee. I left the rig out while I warmed up for 5 mins and when I lifted the rig up I had a tiny, see through roach on the end. It was now getting on for half way through the match and I probably had about an ounce in the net – great. Then Janders and Alvin turned up, they were both blanking so it was fishing hard. I had a tiny minnow on maggot but just couldn't buy a proper bite and all I could think about was the walk back.
In a bid to stave off the boredom and warm up a bit I went for a walk down river, I went a fair way and never saw a single fish, I went back up as far as Janders on 129 and he was now on the tip and still blanking. I went back to my peg and gave it another hour but with only half an hour of the match left I couldn't see me catching enough to frame so I packed up early. I took some of my kit half way back and met Alvin with the scales who kindly carried some of my stuff back to the car – cheers mate. He had packed up early as had Janders and Roger Russell on peg 126, in fact nobody below the bridge had weighed in.
I loaded my stuff into the car and went to watch the weigh in above the bridge, Stuart 'Fred' Brown had 2lb 12oz from the weirpool (peg 121) and Rob Cox had two nice chub for 5lb 8oz from 122. Martin Heard had six chub for 12lb 8oz from peg 123, which is the best weight I've heard of from the peg for ages. Scotty Russell struggled for 1lb 5oz from 124 and Bruce Hunt had a lovely net of roach, dace and chublets for 11lb 11oz from 125.
So a poor end to the year for me and I just missed out on reaching the grand, finishing with a total of £947. I only won four matches in 2008 and not a single victory on my beloved Isle or Dillington. I did however beat my heaviest match weight with 69lb 14oz of bream on the resi and topped my heaviest fish by a mile with a lovely carp of 28lb 4oz from the same venue. I'd like to wish everbody a Happy New Year and tight lines for 2009.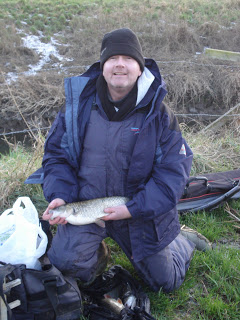 Martin Heard with his 12lb 8oz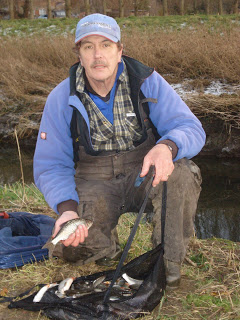 Bruce Hunt with his second placed 11lb 11oz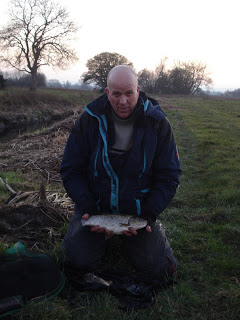 Robin Cox with his chub
1 – Martin Heard (Tiverton) – 12lb 8oz
2 – Bruce Hunt (Tiverton) – 11lb 11oz
3 – Robin Cox (Ilminster) – 5lb 8oz
4 – Stuart Brown (Ilminster) – 2lb 12oz