I was looking forward to this one but feared for the worst when I woke up to yet another hard frost. The annual pairs open was to be in memory of Barney Crockett who sadly passed away last Xmas and continues to be missed by us all. There were 26 anglers booked in which just goes to show how popular Barney was. My partner for the day was Justin Charles and we've always done well when we've fished together and I hoped this would continue. At the draw I wished everybody a Happy New Year and it was nice to see some faces I hadn't seen in a while who turned up out of respect for Barney. Among these were Steve Chant, Les Braunton and Alan Dunn who I hadn't seen for ages, Steve said he was now a regular reader of my blog so welcome aboard Steve!
As it was a pairs match there were two sections and after drawing you could decide who goes where. I drew first and pulled out peg 37 and was very disappointed as it was only put in for the first time a couple of weeks ago and Janders only hooked one chub (and he lost it!). Then Justin drew peg 79 which used to be very good but hasn't done bugger all this year – great we were buggered already! We decided that we both would fish the pegs we'd drawn despite me trying to swap as 37 is a mammoth walk. The good news was that Steve (Chanter) was on the flier below me so at least we could have a chat while I watched him bag up.
The hot favourites had to be Martin Heard and Malcolm Levy and Alan Dunn and Stuart 'Fred' Brown as both pairs had drawn two decent pegs. I wished Justin luck and set off. I parked up and started the long trudge across the field which took me several trips and any onlookers would have thought it was the retreat from Stalingrad all over again with the amount of kit I left strewn across the field on my way.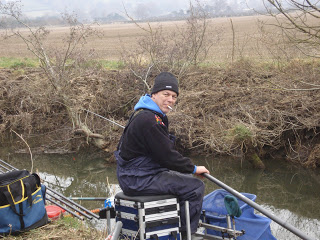 Chanter looked happy with his flier!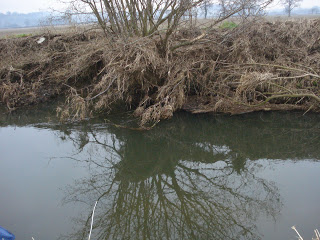 Peg 37
My peg looked quite nice with a tree opposite and another just downstream that had gone over in the recent floods. Butch Baker was downstream on 39, another peg that has been doing ok and I thought I might be in for a battering. After the yomp there was only just enough time to get old faithful out and plumb up, it was fairly shallow by both trees and I shouted down to Steve that it was time to start at 10:15. I slipped a caster on and started by the tree opposite. I started feeding caster and hemp above the tree and catapulting maggot down the swim in the hope it might bring some fish up. I was also feeding caster and hemp by the other tree half way down the swim.
With no early bites opposite, I was soon searching down the swim but with no indications there either I was back under the trailing branches opposite, thinking it was going to be a waiting game. After about twenty minutes there was a dip on the float which got my attention, then it slid away and a swift strike saw loads of black hydro streaming out. I quickly shipped the pole back to get the fish away from the snags and was soon netting a 2lb chub. Phew – I was mightily relieved as I reckoned a fish would be worth it's weight in gold today. I shouted down to ask Chanter if he'd had any bites yet to which he replied in the negative.
A quick look at the watch revealed only half an hour had passed but if that was the only fish in the swim the rest of the match could be pretty boring. But next put in I had another bite which I missed! Chub number two soon followed and I felt there were a few fish there. Then in the flow I saw a flash and could see a chub head down obviously feeding, then another bite saw me land chub number three and I started to think a big weight could be on the cards. Then it went a bit quiet so I started swapping hookbaits in a bid to get another bite. I tried double maggot, double caster and half a lobbie all with no success.
I saw another flash by my feet and then again halfway across the peg as a fish spooked in the shallow water. I then had another bite and soon landed chub number four, again on single caster. Steve was still blanking as was Butch and things were looking good and then Chanter had a phone call from his partner Les who was blanking and reported that Justin was blanking too – great, just what I needed to hear. Steve said he missed a bite which resulted in his rig going up the tree – whoops! My peg had gone a little quiet after the commotion of the last fish.
A bankwalker appeared and was asking about the fishing when my float went under and I had my fifth chub. He said I was doing ok as the pegs in the copse above me weren't catching much. I was more worried that my catch could be in vain if Justin blanked. Another check on the time and we'd only been fishing two and quarter hours and with half the match still to go I already had 10lb in the net. Butch came up to see how I was getting on and called me quite a few names when I told him I had five chub. But all of a sudden I couldn't buy a bite and tried down the swim again but no bites were forthcoming.
Steve asked me if I'd show him where they normally catch in his swim so thinking a rest wouldn't harm my swim I poured a coffee and walked down to see him. From what I could see he was doing everything right so maybe the fish had moved up into my swim. I said to him that often the chub will have a munch in the 'golden' last hour and that you only need a good hour to do a weight and left him to it. As it turned out the rest didn't help and I still couldn't get a bite. Time was ticking by and Les phoned Steve again to say he'd given up and was sat with Fred on peg 85, who'd only had one roach but he didn't mention whether Justin had caught yet.
The 'golden' last hour arrived and Steve wanted to know where his fish were! I said that perhaps it would be a 'golden' half hour today. With half an hour to go and the light fading I had what I thought was a bite but it didn't develop so I didn't hit it. Shipping the pole back I discovered the caster had gone so with renewed vigor I went back out. I also shouted down to Steve that maybe it was going to be a 'golden' last quarter of an hour! Then with ten minutes left the float went and I hooked chub number six which shot off downstream but the black hydro did it's job and the fish was soon safely netted. I had time to go back out when I heard Steve swearing and cursing, he'd hooked a chub only for the maggot to roll over the point of the hook and he lost it. He wasn't a happy bunny.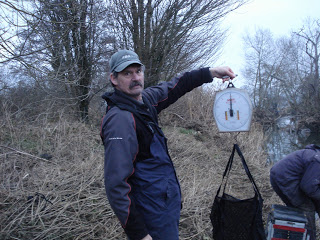 Butch just about to weigh me in.
I quickly packed up and as Butch and Steve blanked they came up to weigh me in. My six chub went 12lb 15oz but the big question was, had Justin caught? I yomped back across the field which took me several trips again and as I was loading up the car Paul 'Ned' Overd came by and said the pegs in the copse hadn't fished that well, Ned was the best weight with 4lb 12oz. Alan Dunn had blanked and John Coxon only had 1oz.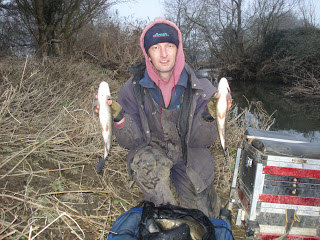 Me with my chub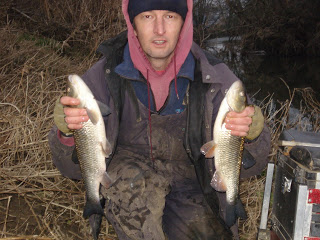 Another piccy (well it doesn't happen very often!)
Back at the Crown and as the weighboards started to filter back it became clear that there had been loads of blanks. Dunner and Fred had blown out, Neil Dring and Robin Cox both had half decent weights and were looking good until Martin Heard got back, he'd caught eight chub for 12lb 14oz from peg 123 (his second 12lb+ weight from that peg in as many weeks). His partner Malcolm had also got good section points for his 2lb 8oz. Then finally Justin's board came back and he'd caught, but only 2oz. Would it be enough for us to sneak into the frame?
Pete Lonton finally sorted the results and there was a tie for first with Martin and Malcolm and Robin and Neil on five points with the former taking it on weight, we sneaked into third with six points and picked up £65. We had £30 each and gave the odd fiver to Barney's wife Mary for the air ambulance which along with the pegging fees that Ilminster AA donated and a £50 donation from the club saw over £100 raised. Well done everyone and as this will now be an annual event, lets see if we can raise even more next year.
On a personal note I really enjoyed the day (and the company Steve!) and it was nice to finally register a match win which I didn't manage at all on the river in 2008. And especially nice to win as it was my old mate Barney's match, lets hope it's the first of many. Oh, almost forgot to mention I had a £1 off Janders for the first time in ages as he weighed 12oz.
1 – Jamie Rich (Chard Remains) – 12lb 15oz
2 – Martin Heard (Tiverton) – 12lb 14oz
3 – Robin Cox (Ilminster) – 8lb 3oz
Pairs
1 – Martin Heard and Malcolm Levy – 5 pts (on weight)
2 – Robin Cox and Neil Dring – 5 pts
3 – Jamie Rich and Justin Charles – 6 pts