Well the weather had warmed up slightly for this one but frosts had been replaced by strong freezing winds – great. At the draw Robin said he'd put all chub pegs in, so now all I needed to do was draw a sheltered peg! I stuck my hand in the bucket and pulled out peg 28, now this peg had gone from being quite poor to winning several matches this year but the last two matches had seen two good anglers not catch very much. Also it's a big peg and I feared it might be pretty exposed. I got there and it looked nice but I was right about the wind!
I made myself comfortable but the wind was biting, I set up the usual 1.5 gram Carbo and plumbed up to find I had a nice depth at 11.5 and 13 metres towards a little cutback in the far bank where the chub normally come from. The trouble was the gusting wind was making holding the pole nigh on impossible. On the whistle I put a caster on and shipped out to 11.5 metres and started feeding caster hemp and maggot, no bites were forthcoming which was hardly surprising with the pole being blown all over the place. I went through the bait changes including half a lobbie and maggot but when I couldn't even get a bite from a minnow on maggot I knew I was in trouble.
I tried coming short where I could control the pole a little better but never had a touch. I had a nagging thought that perhaps the lead might be better and after an hour or so I walked down to see Alvin Jones on peg 29, he was blanking as well and his peg was also like a wind tunnel. I went back and gave it another half an hour but it was pointless so decided to set a tip rod up. I put on a little bomb and a size 16 Kamasan B611 and started casting a lobbie round the swim in search of a chub. With the tip being buffeted by the wind I was waiting for the tip to pull round but after another hour I knew I was going to blank.
I walked up to see Justin Charles on peg 27 and as I sat behind him he swung in a small dace. His peg was lovely and sheltered and he was getting a bite a chuck from small fish, I watched him catch half a dozen before I had enough and walked back to carry on catching nothing. The end couldn't come soon enough and as I started to pack up I realised I couldn't get my reel free from the screw fittings on the rod – great and I've only used it a few times. Could the day get any worse? As I also had the scales I asked Alvin if he'd caught and he said he'd had five minnows so we gave him an ounce. Justin had a nice net of mainly dace for 4lb 10oz and I reckoned he'd frame with that.
As we were putting our kit in the cars my nemesis Janders turned up, he'd blanked as well so at least I didn't have to cough up a pound. He was at North Bradon on yet another golden peg, he said that it hadn't fished well there either and Robin Cox was top with three chub for 6lb 14oz. Back at the results and Rob's win was confirmed with Justin second and the top section was won by Bruce Hunt with 1lb 14oz and Neil Dring won the bottom section with 2oz!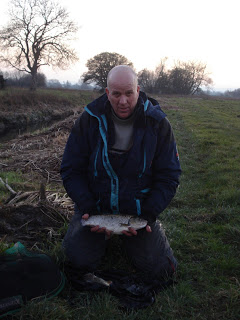 Robin caught some more chub like these he had the other week – well done mate
So after the high of last week it was back to earth with a resounding bump! This was also the first match of a new Crown league and as you can only drop one match, this wasn't a great start! Still, rain is forecast tomorrow so maybe next week we'll have some much needed colour.
1 – Robin Cox (Ilminster) – 6lb 14oz
2 – Justin Charles (Ilminster) – 4lb 10oz
3 – Bruce Hunt (Tiverton) – 1lb 14oz
4 – Neil Dring (Ilminster) – 2oz