My prayers for rain were answered but we got far too much so we were headed to Dillington again. Strong winds and more rain were forecast and I wasn't looking forward to it at all. I drew peg 2 on the point and this didn't improve my mood any as, although it's a good peg, I've never done very well off it. On reaching the pond it looked pretty dirty and I envisaged a repeat of the Xmas Fair, few bites or fish.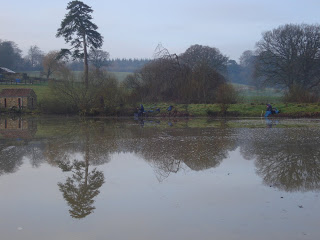 The pond was that horrible dirty colour again.
My peg was relatively sheltered as was Alvin's next door although I didn't see any small fish topping which wasn't a good sign. I mixed up some Sensas Lake and Matchblend in equal quantities and then set some rigs up. I set up a 0.5 gram Drennan Roach for 11.5 metres with 0.10mm bottom and size 18 B611 and also a little Drennan Squatt rig for fishing at 6 metres just past some dead reeds on the inside. The lighter rig had 0.08mm bottom and size 20 B511 hook combined with a number 4 elastic.
On the whistle I cupped in three balls containing a few maggots, casters and a pinch of hemp on the longer line and one at 6 metres. I put on double red maggot and started on the longer line. The wind was a pain but far worse for those on the opposite bank including Martin Heard who hadn't actually drawn a flier for a change! After ten biteless minutes it was all rather deja vu when suddenly I had a bite which I promptly missed! A repeat performance happened on the second put in before I finally connected on the third cast and had a tiny roach. I had a another small roach and a perch quite quickly. I tried caster to see if I could get some quality but never had a bite on it. Alvin was also catching although I couldn't see anybody else setting the world alight.
I decided to try the shorter line as it would be quicker (if the fish were there!) and the pole would be easier to control at shorter lengths. I carried on catching and had 26 fish after two hours for around a 1lb. I fancied if I could carry on at this rate I could do around 3lb which would be a good weight. I thought I was ahead of Alvin but then the bites stopped! I cupped in a small nugget and went back out long but couldn't get a bite here either – great. Alvin carried on catching and was pegging me back, he was fishing a line somewhere in between my two and I toyed with the idea of putting another line in. Another couple of fish on my short line stopped me putting in a third line for now.
Robin Cox walked round and reported that he was blanking but that John Coxon had caught a perch, so Rob's secret bait wasn't working today! He wandered off to see how the rest were doing and went back to not catching. By now I swapping between my two lines but really struggling. My inside line was dead so I decided to concentrate on the longer line as Alvin was still catching. Rob came back and said that Neil Dring and Martin Brook had around a dozen fish each but the leader was Bruce Hunt on peg 16 who was catching consistently.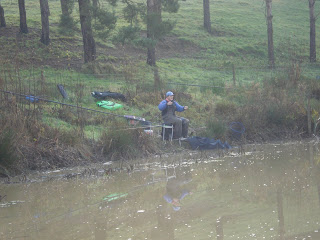 Bruce was bagging again
With about an hour to go I started catching at 11.5 metres, not fast but at least I was putting something in the net although I did miss quite a few bites and bumped several fish. On the whistle I ended with 42 fish (mostly small roach along with a couple of rudd and perch). I packed up and Roger Russell came along to weigh me first, my 'haul' went 1lb 12oz. Alvin pulled his net out and it looked very similar but I was relieved when his weight was called out at 1lb 6oz. Next was Roger who had 1lb 1oz, so far so good. Then Justin Charles pulled his net out and again it looked very close, Roger called 1lb 13oz – bugger! Last to be weighed in my section was Martin Brook who had a pound exactly.
Back at the results and Bruce was announced as the clear winner with 4lb 2oz, Justin was second and I sneaked into third and picked up £30 plus a squid off Janders who had 12oz. Alvin won our section and Martin Heard won the other one with 1lb 8oz. I ended up with two section points but I'm still way down in the league. Once again no big fish were hooked although several were seen topping in the middle.
Next week lets hope we can get back on the river!
1 – Bruce Hunt (Tiverton) – 4lb 2oz
2 – Justin Charles (Ilminster) – 1lb 13oz
3 – Jamie Rich (Chard Remains) – 1lb 12oz
Section A – Alvin Jones (Chard) – 1lb 6oz
Section B – Martin Heard (Tiverton) – 1lb 8oz