We met down the river but as it was like a raging torrent we decided to give the canal a go for a change. There were only five of us so we made sure we had plenty of room between pegs and I drew peg 4, which was where I was last time. The level was quite high and most of the reed beds had died off but I still had some decent cover across. On my left I had Alvin Jones on the end peg and on the other side was Janders so at least I would be able to keep a close eye on whether my pound was safe or not! The Old Fossil (Malcolm Levy) had drawn the other end peg with his travelling partner, Martin, next to him.
I set up two rigs, a 0.4 gram Drennan Carp with 0.12mm bottom and size 18 B611 for my chopped worm line against the reeds and a Drennan Squatt rig with 0.08mm bottom and size 20 B511 for fishing down the middle. I chopped up some lobbies and casters and was ready for the off. On the whistle I cupped in some choppie by the reeds at about 9 metres and some hemp and casters at 10 metres towards the back into a little alcove. I also cupped in a few casters and a pinch of hemp in the middle at about 7 metres at an angle to my left. I started down the middle with the lighter rig and single red maggot on the hook.
I didn't catch straight away but decided to stick at it for now to allow the worm line to settle. I looked up to see Alvin shipping back with loads of elastic out but the fish (a carp I think) came off. Then my float dipped but I missed the bite, next put in I bumped a fish before catching a 2oz perch on my third attempt. I had a couple of roach but every time I looked up somebody seemed to be netting something. Janders and Alvin landed decent perch and both Martin and the Fossil landed small carp. After half an hour I had three fish and was itching to go across so I slipped a caster on the heavier rig and shipped out. The float settled and kept on going and I was soon netting a decent roach.
It was a bite a chuck from decent roach and perch to 8oz and after an hour I was up to twelve fish. The second hour was slightly better and I was up to 25 fish although the average size had got smaller. Alvin and Janders seemed to have slowed up although apparently Malcolm now had two carp and was catching loads of silvers and Martin had also netted a couple of carp. I decided to feed some more choppie and come back on the shorter line. The fish weren't really there though and I only had one better roach and some smaller ones on maggot. I tried on the longer line with the lighter rig and had a couple of quick fish before it slowed right up.
I found myself switching between all three lines without catching much (in fact I never had a bite on the 11 metre line) and was convinced I was out of it and as we were only paying the top two I was sure Martin and Malcolm had these places filled. I stuck at it on the longer line with caster and had a disastrous ten minutes where I hooked three better fish only for the hook to pull out. I was convinced they were perch and that my light number 2 elastic didn't have enough 'umph' to set the hook. I went back out with the heavier rig and promptly lost a better roach! No more bites saw me back down the middle with red maggot on the hook.
A couple more roach followed before I hooked another better fish, again it felt like a perch and as I was gently shipping back the poxy hook pulled out of this one as well! Janders and Alvin were now really struggling and it seemed to me that only Malcolm was catching so I kept plugging away hoping Martins carp weren't too big. The trouble was that bites were now at a premium for me as well, I was still catching small roach on the light rig but felt I needed caster fish to compete. I kept trying it but when I got a bite the fish were the same size as the ones I was catching on the maggot.
I tried just off the reeds in the slightly deeper water and had a run of three small skimmers before it slowed and I was back down the middle. I did lose a skimmer where I didn't even see the bite. I kept trying caster here too and missed some sail away bites but did have a couple more roach including one on the whistle where, as I went to ship in the fish was on! I ended with 54 fish and thought I might have 4lb or so. After packing up I went to weigh Alvin in as he had the scales, he had 2lb 5oz although he did lose some better fish. My turn came and when I pulled my net out I realised it might be more than I thought, the needle settled on 6lb 8oz and even Janders conceded that it was a nice net of fish – blimey! Malcolm reckoned I'd win with that but I've been had like that before.
Janders was admitting to a 1lb but actually weighed nearer double with 1lb 11oz, I said he been listening to me too much! Martin said he'd be nowhere near but weighed 5lb 3oz and could have won as he lost five carp! Then to Malcolm and when he pulled his net out I thought he'd done me by miles but the scales settled on 6lb 13oz – bugger. I kept thinking of all the fish I'd bumped/lost/missed but then if Martin had landed one of those carp he'd have pushed me out of the frame. Still second and £25 plus the all important pound off Janders combined with a nice days fishing can't be sniffed at.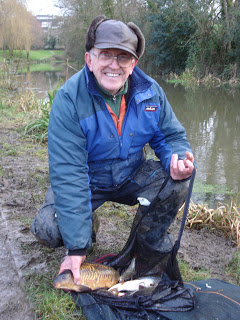 The 'Old Fossil' with his winning bag
Hopefully we'll actually be able to get on the river before the season ends! Before I go I must just say 'Well Done' to Ashley Tomkins for coming second in the Brue Championships yesterday.
1 – Malcolm Levy (Tiverton) – 6lb 13oz
2 – Jamie Rich (Chard Remains) – 6lb 8oz
3 – Martin Heard (Tiverton) – 5lb 3oz
4 – Alvin Jones (Chard) – 2lb 5oz