Well I got my wish and we were on the river which looked nice with a tinge of colour, the bad news was that it was freezing cold with a bitter wind. I managed to pull peg 24 out of the bucket although I had the choice of 23 or 24. As I had blanked on 23 the last time I fished it I opted to fish 24. As I was unloading my gear I started to realise just how cold it was, within minutes my hands were numb. The peg looked nice and I quite fancied it.
I set up the usual 1.5 gram Drennan Carbo with size 18 B611 and 0.12mm bottom and was ready a few minutes after the start (mainly because I had to keep putting my hands in my pockets to try and warm them up). The peg has a tree/bush opposite and a tree growing out of the water to the right, in between are numerous brambles hanging down and it looked really chubby. I started by the bush with caster on the hook, feeding caster and hemp and also firing some maggots down the peg. The wind was blowing the pole all over the place and with no early bites I soon found myself searching the peg.
After about half an hour I was by the brambles when the float buried and I missed it!, the caster was smashed so with renewed vigor I re baited and went back out. This time I was ready and when the float went I struck but instead of seeing black hydro streaming out, a 2oz dace came splashing along the top. Still I'd avoided the blank. I had another dace bite which I missed so I tried a lobbie without any luck. It was so bloody cold it hurt and despite yet another cup of coffee, I couldn't warm up and I wasn't enjoying it at all. To top things off it kept trying to snow.
After about two hours Alvin turned up he was in the tank traps (peg 14) and blanking, he said Bruce Hunt in 17 had a couple of trout (which count) and Martin Brooks was blanking in 20. While Alvin was with me there was a huge bow wave to my left and just as I said 'What was that?', a bloody otter got out of the river and bounced about a bit before diving back in – great!. It probably explained why I wasn't catching much. Alvin left me to it and I decided to concentrate on the tree to my right, away from where the otter showed itself.
Time was ticking by and although I knew I wouldn't be winning any money, I kept thinking one chub would give me mega section points. With no more excitement (and loads of coffee drinking) the end approached with me stuck on just the one fish. I tried double maggot but couldn't even get a minnow! Just before the end Alvin turned up again, he had packed up and said Bruce had only added minnows although Martin had sneaked in a 2lb chub. All of a sudden there were a load of ripples opposite me by the tree and the poxy otter poked it's head out of the water and stared at us for a bit before submerging. I reckon it was tame and Alvin had trained it to balls up my peg!
Quarter to four arrived and I couldn't pack up quickly enough, I loaded my car up and sat in it with the heater on full until Martin turned up with the scales. My dace weighed a massive 2oz and I drove up to weigh Martin in, his chub plus minnow went 2lb 3oz and I said he'd pick up with that. Bruce weighed a hard won 1lb 8oz and Alvin recorded a DNW. Back at the results it became apparent why most of the river had fished hard, all the fish were in Robin Cox's peg! He had a lovely net of quality roach to a 1lb plus weighing 20lb 3oz from peg 125 to win by a country mile. Well done mate. My nemesis Janders was second with three chub for 4lb 12oz from 123 and took his first pound of 2009 off me. Roger Russell was third with 3lb 13oz from 125a and the top four weights were all from Isle Brewers. Martin Brooks won the top section with 2lb 3oz and Dave Lawrence won the bottom section with 2lb 14oz.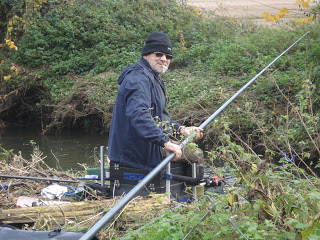 Janders finally took a pound off me this year!
After five matches and dropping the worst result, Martin Heard is leading the league with six points followed by Roger and Martin with nine. I'm well down and even two section wins in the remaining matches won't help (unless the others don't turn up!).
1 – Robin Cox (Ilminster) – 20lb 3oz
2 – John Anderson (Chard Minnows) – 4lb 12oz
3 – Roger Russell (Yeovil and District Angling Centre) – 3lb 13oz
Section A – Martin Brook (Ilminster) – 2lb 3oz
Section B – Dave Lawrence (Chard Raiders) – 2lb 14oz