I was looking forward to this one but it turned out to be a bit of a non starter for me. Things didn't start well when I woke up with the hangover from hell, I'd been to Hoff's 50th the night before and we ended up back in Chard at the Phoenix. Well wrecked and not at all match fit! It got even worse when I discovered at the draw that Robin had left all the good pegs out! The final nail in the coffin was when I drew poxy peg 129 at Isle Brewers, it hadn't done anything all year.
I got to my peg and it didn't look at all inviting with no fish topping or anything, still feeling terrible I thought I'd have a quick kip. Two hours later I woke up and the peg still didn't look any good. Without even setting my kit up I thought I'd go and see how the others were getting on. Malcolm Levy on 128 had caught one chub, Janders on 127 had three minnows and Justin Charles on 126 had a few tiny fish. I sat behind him for a bit and fell asleep again. After an hour or so I went back to collect my kit.
While I was loading the car, Janders packed up as well and Justin decided he was going to fish a decent peg for a bit and went and sat on 125. First put in he had a roach and with me asking if I could have a go, he said I could use his pole as he was fishing the stick. I sat right on top the fish and was soon catching some nice roach with Justins float running under the pole, he was still getting a fish a chuck. After an hour or so we probably had 6 or 7lb between us (I can't believe he left the peg out!).
I didn't go back for the results but later found out Roger Russell had won with 7lb 2oz from peg 38. I can't believe the river had fished so poorly. Malcolm had added another chub to take second with 6lb 12oz and Ashley Tomkins was third with 5lb 5oz.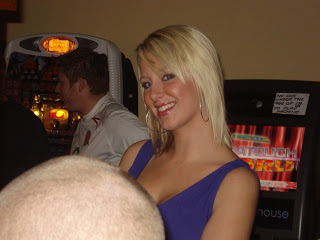 No fishing pictures this week so thought you might like a picture of a nice blonde from last night!
Hopefully next week I'll be able to report on a better day!
1 – Roger Russell (YDAC) – 7lb 2oz
2 – Malcolm Levy (Tiverton) – 6lb 12oz
3 – Ashley Tomkins (YDAC) – 5lb 5oz
Section A – Scott Russell (YDAC) – 3lb 8oz
Section B – Alvin Jones (Taunton) – 3lb 11oz