It was a glorious day and match organiser Robin Cox had promised he was going to put all the good pegs in. Pegs 55, 66 and 125 were all in and capable of doing 20lb. I stuck my hand in the bucket and pulled out 27, a peg that can do decent bags of small fish but realistically I was looking at a section win at best. It had blanked last week which didn't exactly inspire me either. In form Roger Russell had drawn 125 and was looking good for his second win on the spin, my nemesis Janders had drawn 55 and was whinging about the walk! as was Justin Charles who was debating not going to peg 39 because the peg hadn't been doing much.
I got to the river and it looked quite nice, I set up the usual 1.5 gram Carbo with 0.10mm bottom and size 18 B611 hook. For company I had Ashley Tomkins who wasn't overly impressed with his swim, peg 29, although I told him it was worth a few chub. On the whistle I started fishing in the hole opposite while feeding hemp and caster upstream in the slacker water at around 10 metres as sometimes the fish can be found there. Things started ok with a small dace first put in and I caught regularly for the first hour ending with 11 dace and a trout (which count), I also bumped a couple of fish. I thought if I could keep this up I might do 5 or 6lb and have a chance of the section.
Going into the second hour, the sun had moved around a bit and was really bright and I just stopped catching. I tried upstream where I had been feeding but nothing and likewise by the ivy – great. Ashley walked up, he had only had minnows and said that Scott who was sat with his Dad Roger had phoned to report that Rog was getting a few without really bagging. We went for a walk up the river and had a look at some other swims and Ash said he'd give it another hour and then perhaps move to have a days fishing. We went back to our pegs and I had a couple of dace quite quickly before they shut up shop again and I knew there'd be no brown envelope for me today.
Half way through the match I started to get odd bites down by the ivy when Ash turned up again, he'd gone back to his peg and had two chub in two chucks but now couldn't buy a bite again. While he was there I finally connected with a couple of bites and had another dace and a small chublet. He phoned Scotty again who said Roger was now catching quite well and would probably end with 15lb+, he also said that Martin Heard on 123 had landed three chub. I missed a couple more bites and Ash went back to his peg for the final part of the match.
I was just going through the motions really, I did manage another couple more chublets but at quarter past four I hooked a decent fish that went straight under the ivy and snagged me and that was the last of the action. I ended with 17 fish plus a couple of minnows. Whilst packing my gear away in the car I checked my phone and had a missed call from Janders, I phoned him and very excitedly he said he'd had 14 chub for 37lb 8oz – blimey. His weight smashed Frank Woodards long standing record of 33lb 10oz and could have been a lot more as he'd lost five as well. Although I don't normally like handing over a pound, I couldn't really grumble today, a fantastic weight, well done John.
Ash turned up with the scales and my fish went a very lowly 1lb 15oz, just as we were walking down to weigh him in, Alvin and Justin turned up. Alvin had 4lb 8oz and Justin had 17lb 2oz from the crap peg that is 39! He'd had eight chub and lost three, any other day his weight would have been enough to take the golden ball but not today. Ash had found another two chub and weighed a respectable 10lb 5oz although with all the big weights he was worried he might not even pick up his section.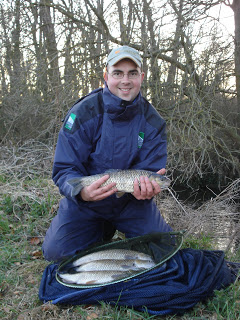 Section winner Ashley Tomkins with his 10lb 5oz
Back at the results it transpired that Roger had caught well after a dodgy first couple of hours to weigh in a lovely net of roach weighing 17lb 2oz for joint second with Justin. Roger's peg was pleasure fished yesterday by Woggy, who reckoned he'd had 30lb which probably didn't do Rog many favours although he still had a great days fishing. Ash did win his section and the ever consistent Martin Heard won the bottom section with 7lb 11oz.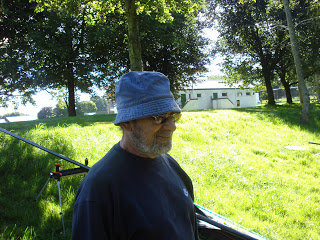 New River Isle match record holder John Anderson (go on give us a smile)
The story of the day (and my man of the match) has to be Janders new match record, well done mate. If only I could draw pegs like that! I do think the river could do a 40lb weight and I never thought I'd say that. As for the league Justin already has two section wins out of two and he can drop one of those!, with only a couple of matches to go I reckon it's in the bag. Well February was dire for me, lets hope I can draw a good peg next week and start March with a good result.
1 – John Anderson (Chard Minnows) – 37lb 8oz
2 – Roger Russell (YDAC) – 17lb 2oz
2 – Justin Charles (Ilminster) – 17lb 2oz
Section A – Ashley Tomkins (YDAC) – 10lb 5oz
Section B – Martin Heard (Tiverton) – 7lb 11oz