The weather was once again gorgeous (if anything a little too bright and sunny) and at the draw there was a good turnout of 17 anglers. Everybody wanted to draw one of the hot pegs, which Robin had put in again. 125 or 55 were the pegs most people wanted, Rob had also put some pegs in at Ilford and these were a bit of an unknown quantity as most hadn't been in this year. We queued for the draw and Digger pulled out 125 and then Martin 'Drawbag' Heard pulled out 55, does he ever draw badly? I stuck my hand in and pulled out 43, one of the Ilford pegs which hadn't been in yet this year. I was disappointed once again as it has done some weights in the past but not for a while (and it was a mega walk).
I pulled up and parked and also in my section were Martyn Brooks, Fred and Pete Lonton. Fred looked at his peg and decided not to fish as it was very shallow, I thought this strange as two weeks ago it had produced two chub for Ashley Tomkins who also lost two! I unloaded my kit and started the long trudge across the field, after four trips I finally reached my destination – phew! The peg looked quite nice although you could see the bottom over much of it. Opposite there were several branches in the water which looked decidedly chubby.
I set up my favourite Drennan Carbo rig (which is becoming quite famous if comments at the draw are anything to go by!) with 0.12mm bottom and size 18 B611. I plumbed up and there was a decent depth opposite and in the flow. I just had time to pop up and see Pete in the weir, his peg looked nice too.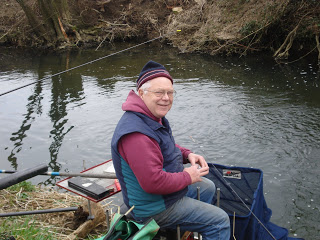 Pete Lonton in Selvidge weir
On the whistle I started feeding caster and hemp in the flow to my right and inching the float along in the flow with caster on the hook. With no bites after ten minutes I found myself trying under the branches on the other side of the flow. There must have been some weed or something there under the water because every now and then the float would get dragged under. I struck the first time it happened and got snagged up. It happened again next put and I was just thinking 'That's not a bite' when the tip of the pole rattled and my black hydro elastic was ripped out. After a brief battle I netted a chub of 2lb or so, a quick look at the watch and only 25 minutes had gone. I really fancied I might get a few more.
No more bites were forthcoming despite trying caster and lobbie in all the chubby looking areas. I decided to stick it out where I had caught the chub but after two hours I still only had the lone fish. I walked up to see how Pete was getting on, he'd only had a couple of minnows. While I was there he phoned Martin Heard to see how he was getting on, Martin said he'd already had four chub and also that Ashley Tomkins had caught eleven and lost four from the council house swim (peg 70). Pete suggested we walk up to see how pegs 38 and 39 were getting on.
Justin Charles was on 39 again (he'd had 17lb off it last week) but he was struggling with only seven minnows to show for his efforts, Dave Lawrence was on 38 and had one chub but had lost two. We walked back and I wished Pete good luck before going back to my peg. To be honest I didn't think the bright sunshine was helping matters and was pinning my hopes on the last hour. I kept going through the motions as the last hour approached, I had a few minnow bites on maggot and double caster was a non starter so I decided to stick to single caster.
The last hour arrived and then the last half an hour and I still hadn't added to my tally. I did have a couple of bites but just the end of the caster was nipped off and I'm sure it was minnows and that was it, another bad day. I packed up and started to take some of my kit back across the field, after dropping the first load off I walked across to Martyn on peg 44. He'd had two chub and as he was doing well in the league I was sure he'd secure good points today as well. We walked up to Pete who had four minnows for 1oz, my single chub went 2lb 4oz and Martyn's two went 5lb 7oz.
Back at the results and Ashley had enjoyed a lovely day catching fourteen chub for 26lb 10oz from peg 70 despite the attentions of the grumpy home owner who always comes out and moans at the fishermen for fishing. Blimey, anglers fishing a river, whatever next! What did he expect buying a house next to a river? Anyway Phil 'Digger' Denslow was second with yet another cracking net of roach from 125, his bag weighed 16lb 4oz and Martin Heard was third with five chub weighing 13lb 4oz from 55. Martyn Brooks won the top section with his 5lb 7oz and Malcolm Levy won the bottom section with 10lb 6oz from peg 123.
The only good thing about my day was beating Janders who finally came down from the highs of last week by recording a DNW from peg 85. Martin Heard leads the league with 8 points followed by Martyn Brooks on 10 and Roger Russell on 13 so its all to play for on the last match. It will also be my last chance to draw a good peg on the river until October, I must be due one!
1 – Ashley Tomkins (YDAC) – 26lb 10oz
2 – Phil Denslow (Taunton) – 16lb 4oz
3 – Martin Heard (Tiverton) – 13lb 4oz
Section A – Martyn Brook (Ilminster) – 5lb 7oz
Section B – Malcolm Levy (Tiverton) – 10lb 6oz