Well the final match of the V.E.S. Precision league arrived and although the top two places were pretty much sewn up, my nemesis Janders and I both had an outside change of sneaking into the league frame if we did well. The weather didn't look too bad although I wasn't sure what was forecast. As always the fourteen anglers were hoping to draw peg 125 or 55. I stuck my hand in the bucket and keeping the ping pong ball in my hand, slowly revealed the number. First there was a 1 followed by a 2 and then finally a 5! had I finally drawn my dream peg? The answer was no as somebody had added an A on the end of the numbers which meant I was on the peg above – bollocks.
The last time it was in, Roger Russell had 3lb 13oz off it so I thought I might get a few although would be hard pushed to beat John Coxon on 125 or Martin Heard on his usual flier, peg 123. Janders had also drawn on a good peg in the shape of 29. On reaching the river, it looked quite nice with a tinge of colour although it was blowing a gale and as we were all perched on top of the high banks it could make for an uncomfortable six hours. As I said earlier I had John Coxon on my left and to my right was Martyn Brooks on 124. With the wind I decided to only set up a waggler to trot down to the bend to my left.
I was slightly late setting up and missed the first quarter of an hour as did John below me. I baited up with caster and flicked the float out followed by some loosefed casters and maggots. The wind was playing havoc, blowing the line all over the place and after going through the motions for an hour I knew I wasn't going to catch on the waggler. I shouted down to John who said he'd only had a couple of small fish. Then the freezing rain started and it was time for a walk to try and warm myself up. First stop was at Martyn Brooks who said he'd only had three minnows, next up was Heardy who had one minnow and had cracked a pole section – not a happy bunny! To make things worse his travelling partner, Bruce Hunt, had phoned him from peg 24 to say he'd caught a 3lb chub second put in and had added three more.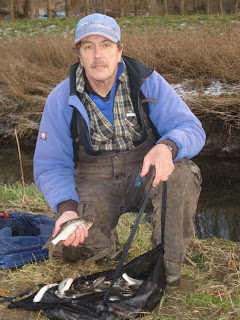 Apparently Bruce was bagging again
I walked down to John who said he was struggling but while I was there he netted a 4oz roach. I went back to my peg and set up a pole rig to fish some slacker water on the inside to my right, thinking that as things stood a few minnows would give me good section points. With double bronze maggot on the hook I soon had three minnows in the net but just as soon I got fed up with that! I tried caster but never had a bite on it. By now hail had joined the earlier rain and it was truly a miserable day and I wasn't enjoying it one bit. A couple of times I tried the pole at 11.5 and 13 metres but the wind made this an impossible job.
A couple of times I looked down to see John trying to keep his keepnet in the water as the wind tried to blow it out! Both Martin and Martyn came down to see how I was getting on and they both looked as miserable as I felt. Martin had added a couple of tiny roach and more minnows but Martyn hadn't added to his earlier tally. They soon got bored of watching me catch nothing and went back to their pegs. Throughout the day Martyn would look down and give me a little wave and I happened to look up as he waved again so I cheerily waved back. He waved again and this went on for a little while before I realised he was frantically waving for me to go and assist him. I got off my box and noticed what a wet ass I had before walking up to see what the drama was.
On reaching his peg it became all too apparent as his rod holdall was floating next to his rod bag! the wind had blown it straight in. I didn't laugh (much) before giving him a hand to get it out. I was by now ready for the end, I went back and in between gusts of wind fished the pole long with caster on the hook. I tried maggot a couple of times but this only resulted in minnow bites before the wind blew my bait box and maggots straight off my side tray. I decided to stick with caster! With just under an hour left my float went under and wonder of wonders, some blue hydro came out of the top of the pole and I soon swung in a 2oz roach. Blimey if I could have a good spell perhaps I could do a couple of pounds. It wasn't to be though and that was the last of the action.
I packed up in double quick time and took most of my kit back to the car, Heardy packed up quickly too and said he'd had five tiny roach and twenty or so minnows so I knew he'd done me. We weighed John in who had 5lb 7oz of roach which was a decent weight given the conditions. I weighed 2oz and Martyn had an ounce, Heardy had 4oz and Neil Dring on peg 122 had two good chub for 6lb 2oz. Back at the pub and a bedraggled group of anglers awaited the results. Bruce Hunt had indeed pissed the match with ten chub for 21lb 9oz, Janders had four for 8lb 8oz and second place (along with another pound off me) and Neil Dring sneaked into third. Dave Lawrence won the top section with 2lb 13oz and John Coxon won the bottom section.
I ended with three section points and any chance of third place in the league had gone, Janders also just missed out as Roger Russell did enough with 2lb 11oz to hang on to the third spot. In fact it was as you were in the league with Martin Heard winning yet again with 10 points followed by Martyn Brooks on 14 and Roger on 16. So my river season and challenge for the much coveted title fizzled out to a damp squib once again. Maybe next year eh?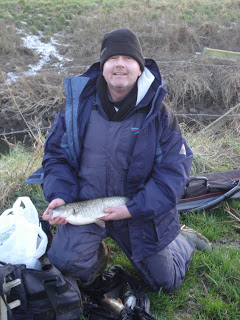 V.E.S. Precision winter league champion Martin Heard
I would just like to thank V.E.S. Precision for their much valued sponsorship and Pete Lonton, Robin Cox and Neil Dring for their excellent organisation and hard work. One thing though chaps, can I have a decent peg next year? Congratulations also to Bruce for an excellent weight on a difficult day and well done to Martin, Martyn and Roger on their league successes.
Next week it's back to the carp puddles so wish me luck.
1 – Bruce Hunt (Tiverton) – 21lb 9oz
2 – John Anderson (Chard Minnows) – 8lb 8oz
3 – Neil Dring (Ilminster) – 6lb 2oz
Section A – Dave Lawrence (Chard Raiders) – 2lb 13oz
Section B – John Coxon (Chard) – 5lb 7oz
League
1 – Martin Heard (Tiverton) – 10 pts
2 – Martyn Brooks (Ilminster) – 14 pts
3 – Roger Russell (YDAC) – 16 pts